Men are always preferred in the workplace when compared to women. But women are also equally capable and efficient as compared to men and especially older women. There is a particular mindset of people in the society about the way older women looks, dresses, behaves, etc. Older women are that section of the society which is mostly neglected, but they can actually add to the workplace. Here are a few points which help us to understand why we should employ older women in the workplace.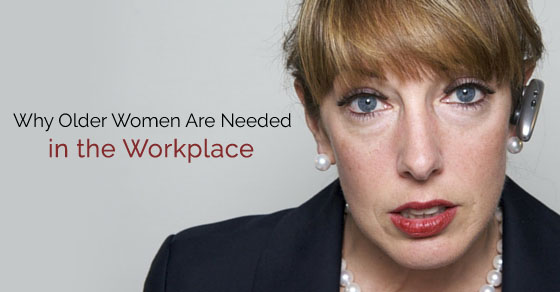 19 Reasons for having Older Women in the Workplace:
1. Experience speaks for itself:
Young employees are always filled with fresh and new ideas. They are always ready to deal with new problems and demands, the company faces. But, a company when in problem always looks out to its experienced employees to solve it. Employers always welcome their young employees to work for them, but in situations where the company is at stake nothing can substitute for experience. So, experienced women are always a better choice to solve the problem. Experienced women know how to solve these problems with more calmness and positive attitude. Also, they have more solutions for every problem in their of experience gained over the years.
2. Work is always done by women:
Males are generally happy in doing with what they like doing. But, sometimes they are stuck in a situation when they are forced to do things which they don't like. In such a situation having an older woman as their head will be plus point for them. They can in such a situation not only explain their inability to work, but can also persuade their older female employers to get their work done by other employees. Older women have an extra emotional side and will definitely understand their problem and provide a solution for the same. They will get the work done without affecting the work process of the company and at the same time will also get an extra respect in the eyes of its employees.
3. Innovation is welcomed:
As older women are more associated with yesteryear's technology and way of working, they always welcome innovation. They are more keen to learn the new techniques of working and apply to their workplace. They always welcome new methods that will help them to be a better performer. Learning new ways of doing the old work will make them more efficient and productive.
4. They are ready to face challenges:
Since older women have a great experience in the area of work they are always ready to face the challenges the company faces. Professional working is to some extent is affected by the personal life of the employee, a woman has to face many challenges in their personal life too. As a mother, especially a working mother has to manage so many things together so they get that experience and strength to face these challenges. Thus, this helps them to face the challenges they face in the work area.
We all know that all women are far more competitive than men, this quality of women not only will make them stand out of from men but will also help them to be more efficient.
5. Older women are more competitive:
We all are aware of the fact that women are far more competitive than men. Older women are more eager to know about the latest trends that are going on and how they can implement them in their work area. Older women not only want to know about the latest things, but will also want to be far better than the other women employees that are working in the office. Women generally want to have that special attention and to get that they are ready to have that work done in a better way than anybody else.
6. They have the ability to make employees work together:
All the women have the ability to make all the employees work together, especially the older women. Like in a family, they have to make adjustments for every member and have to take care of all the members, same goes with the workplace also. In a company where there are so many people working, older women can bind them together and can make them move towards the growth and development of the company. Young employees will also follow the footsteps of the older employees and it will also be beneficial for the company in the long run.
7. Have ability to connect with more people:
Older women have a great ability to connect with other people. They have great communicative skills and also ability to understand other people's problem. In today's working atmosphere where communication is an important skill to get more business for the company, older women are more helpful in this area. They with their experience have the ability to judge that what kind of way has to be adopted to communicate with what kind of people.
8. Good listeners to all the people:
Old people generally older women are good listeners to all the employees in the company. People working in the company, especially the young generation today are disturbed by small problems they have to face. Senior employees, especially women are good listeners to all their problems and can help them to face these problems and also get solution to them. Women don't only have good vocal strength, but also are patient listeners and thus young employees can always confide in them.
9. Setting examples for the young generation:
Older people are the role models of the young generation. Famous personalities like Indira Gandhi in the field of politics, or Kalpana Chawla in space have not only become role models, but also have excelled in their field of work. These older women become the inspiration for the young females who aspire to become like them.
Women are generally considered the weaker section of the society. In a country like ours where females are generally not allowed to work, hiring these older women not only is helpful to the society but also to the nation as a whole. Perception of the people about older women will change and will help them to get more respect.
10. Confidence will boost up:
Older women will have more confidence to share their experience of what they have in their professional and personal lives with the other employees of the company. Confidence level, which they have built up over the years will definitely be more helpful to the company. Not only they are more efficient, but are also more effective in their work. Their experience and the confidence will definitely have a great impact on the young employees.
11. They take pride in what they do:
Older women generally take great pride in what they do. Older women are generally treated as non productive part of the society. If they are given responsibility to work their morale is highly boosted and they take great pride in what they do. They will put their full knowledge and will try to be as productive as they can. This attitude of the employee is not only good and beneficial for the company, but it is beneficial for the economy as a whole.
12. Mentor to young employees:
Older women will be a great mentor to the younger employees. All the young employees will definitely have a great impact if they have older women as their mentors. They can not only explain the work process to the employees but can also guide them to move in the right direction. This way young employees can not only understand better, but it will be beneficial for them as well.
13. Older women in higher ranks will bring more success to the company:
According to many surveys a company which has older women in higher levels have more chance of being successful in their work. They have great chances of getting more work in their workplace as compared to companies which don't have older women in their team. The reason for this is that they are more adaptable to changes and also have the ability to make others work for them.
14. More keen to secure their future:
According to the latest surveys that are conducted by various organizations, women approaching towards their mid age tend to get less paid as compared to what they earned when they were young. This makes older women work harder as they will definitely want to have financial support in their old age.
15. Women and men together can make it happen:
Women and men if they work together can make lots of things happen. Generally, men are working in an organization till they grow old. To match their thinking process and working style, older women should be employed. Employees who have to work together should have the same level of understanding and thinking process, so it would be better to have older women in the work place.
16. Employing older women helps in economic growth:
Employing older women definitely helps in the economic growth of the society at large. As these people are employed, they get extra spending power with them on various recreational, medical and personal items. If they are not employed then they will not have money with them to spend and they will also be non productive. This point is not only applicable to older women, but all those who can work but cannot work for some reasons. Employing older women will not only help in eradicating job unemployment but will also bring growth and stability in the economy.
17. Money is saved by older women for the employer:
Older women can save money for the employer as they are ready to work at the same level in an organization at lower work benefits as compared to the male counterparts.
In other words it means that to hire younger employees in the organization an employer will have to increase the variety of benefits offered by them. This would mean that the profit level of the employer would be reduced, so it would be better for the employer to have older women in the organization as they get the same work done at lower cost.
18. Unfairness towards older women will have impact on their health:
It is generally observed that women who want to work but don't get it because of certain reasons will face health problems in the future. When unemployed older women might have to face problems for their various needs, this will affect their health. If they will be employed then they will not have to be worried about their future and will be fit both physically and mentally.
19. Older women can set an example for the next generation:
Older members, whether male or female are generally looked upon as the trend setter of the family. If the older members, especially the females are going to be employed, independent, financially secure, active and physically fit, then it is going to set a great example for the other female members of the family and also of the society as such. This will not only help them to be good members of the society but will also help in building a better society.
Thus, older women should be treated with equal respect as the elderly males in the society and the workplace of any company. If we want an economy to grow and develop we have to utilize all its resources, same goes with the older women. If their talent, skill, expertise and work ethics are utilized to their fullest, then it will be beneficial not only to the company, but also to the economy. Older women are generally looked upon as the unproductive section of the society and if they are employed, they can set examples for the younger generation.