Since we spend a lot of time at our workplace, the employers need to ensure that the employees are working in the right state of mind and leave home in complete healthy mind. Health and safety have been implemented to ensure safe working conditions for the employees.
It is mandatory for employers to implement Occupational health and Safety at work and within the offices to make sure that their employees are safe and healthy. Know the importance of occupational health and Safety at work.
Every industry comes with its own risks which according to the laws implemented, the employers need to address and restrict. Worker unions have played an important role in getting the laws in place and forcing the employers to implement it.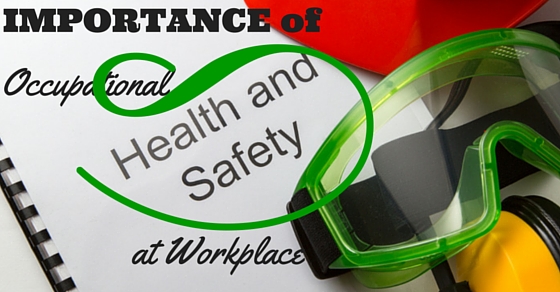 In the past:
Workers or employers were not treated well in the past. They were thought of as slaves and were working in the most dangerous of the conditions. Employers were not responsible nor were taking measures to ensure employee health and safety.
There were many health hazards in the workplace and accidents which came along with the work causing a lot of economic damage to the family of the employee. It was a time that there was something for the employees to save them from such horrible conditions.
What is Occupational Health and Safety (OHS)?
Every organization has its own list of risks that they need to address for the safety of their own employees. Be it a desk job or a job that requires a lot of travel, till the employer does not look after the employee, he or she will not work hard for the company.
Many organizations did implement safety measures without the laws but there are many who feel that it is a waste of time. These laws force all the organizations across industries to take care of the health and safety of their employees to ensure an increase in productivity.
Why Should Occupational Health and Safety (OHS) be a Priority?
OHS needs to be a top priority for the organization to implement workplace health and safety measures for their employees. It is also mandatory by law to make sure that the employees are aware of all the safety measures.
If the workplace is not capable of keeping the employees fit and healthy then there will be issues and leaves hence, costing a lot to the company. The other costs that the company will bear is a loss of skilled labour, reduced productivity, loss of business reputation, etc.
To curb these additional costs, every company should take occupational health and safety on high priority and ensure the good health of the employee.
What are the occupational health hazards an employee can face?
To implement the employees' health and safety in the workplace is the employer's prime responsibility. The list of occupational health hazards that an employee can face in the work environment is huge.
It can vary from slippery floors, unguarded machinery, bad chairs, no fire protection, and much more. There are many life-threatening dangers based on the industry that you are working with
Solids, fumes, gases, liquids, dust, vapours can cause chemical hazards.
Physical hazards, such as extreme temperatures, noise, radiation vibration, unsatisfactory lighting.
Biological hazards, such as infectious waste, viruses, bacteria and infestations.
Psychological hazards resulting from strain and stress.
Hazards associated with the non-application of ergonomic principles, for example, workstation design and improper seating, badly designed machinery, poorly designed work practices or mechanical devices and tools used by workers.
It is not necessary that you will face one but can be a combination of one or more hazards. Hence, it is mandatory to get these issues addressed and taken care. And the only way to do it is to implement the occupational health and safety system, occupational health and safety at work.
How to Implement OHS Awareness in the Workplace?
The company needs to be OHS compliant and for doing so you can implement an OHS Management System. This system helps you to curb additional cost to the company like accident, illness, injury and much more.
It helps you implement OHS throughout the organization meeting the legal standards. You can create a team within the company or get trained professionals from outside to do the job. Let us talk about how we can implement the Management system.
a. Creating Policy and staying committed:
The first thing that you need to do is to draft a policy that ensures all sections of OHS are addressed. The policy once finalized should be published within the organization. It also can save a company from any legal implications for occupational health and safety. Once the policy is published it is time to create a committed team that will work towards the concept of health and safety.
b. Create a Project Plan:
For any implementation of a project, you need to have a project plan. The team needs to work out on how to allocate the resources for analysis and implementation. The project scope and solution needs to be finalized in this phase. You need to be aware of what needs to be done and when for a smooth implementation.
c. Implementation:
It is time now to implement the solution across the company. While implementation you need to ensure that entire steps are taken to meet the OHS guidelines. As per the plan, you need to follow the steps and requirements to ensure a healthy and safe work environment.
d. It is time to test:
Every implementation needs to be tested and so is the OHS management system. Create situations based on the test cases to check whether the system behaves as it should.
This is a make or break phase, where you will know whether the solution that you have implemented addresses all the important issues of OHS or not. Once the test is passed you can announce your company as OHS compliant.
e. Review and Improvement:
Every system that you implement always needs maintenance and upgrading. You need to evaluate the system every now and then to check whether it is working without flaws. You need to install upgrades if any, to keep the system up-to-date. This is a lifelong activity that a company has to perform to ensure that their system has the latest software and is working well.
What does OHS Management System do for the Employees?
The occupational health and safety Management System help you in managing safety and health norms in your company. These systems help in implementing the laws and ensuring a safe environment for your employees. These systems will help in reaching the goals set by the OHS policy. Let us see the reasons to get the OHS system in place.
a. You need to address your company risk:
An expert can analyze your workplace and give suggestions on what needs to be taken care of from a Health perspective. An employee too can contribute in identifying the risks that a company is having for its employees.
You need to make sure that your staff is not working 24X7 and has some recreational time. You can organize your own entertainment within the team or make breaks mandatory. You can implement rules that will ensure healthy employees.
b. Be active:
You can create a monthly activity where you can step out of office and do some outdoor activity. It can be anything from sports to recreational. You can also have small birthday parties on a monthly basis that will help in lifting the mood up.
You can have team dinners or outing for bonding as well as sharpen your mind. You also need to ensure that the entire staff is aware of all the safety procedures and how they can implement the same on a day-to-day basis.
c. Train your staff:
Every policy has a Standard Operation Procedure (SOP) which helps in dangerous situations like fire. You can conduct fire drills so that every employee is clear on what you have to do and how you have to do in case of a fire.
It is important that you assign leaders who can guide them to safety when in danger. This training is mandatory and should be attended by the employees to ensure their own safety.
d. Audit and review your system:
Once you implement the OHS system in your company, you can have an external team to come and review it. You always need a third party to find whether the policies and activities are being followed diligently or not.
A third party gives a better perspective on whether your system is working as per the norms or not. This review also helps you to know whether your internal team is doing their job and making sure the health and safety of each and every employee.
e. Protect your employees to protect the company:
You need to provide a health and safety environment where you can get good productivity out of your employees. It is the duty and responsibility of an employer to make sure that the place is safe.
OHS can help in reducing the illness, accidents and other situations making sure that your employees are healthy and safe to work five days a week. Protect your employees to protect the company!
What does OHS Management System do for the Employers?
OHS System not only benefits employees but employers also. If you have healthy and happy employees then you have a profitable company. You can retain your skilled labour with full morale and zeal to work with the company and grow. There are 3 main outputs for an employer to get OHS system implemented within the organization, they are
1. Legal:
As per the law, you have to provide a healthy and safe environment to the employees. If you fail to do so then you can be booked and charged with negligence. It is a punishable offense where the employer can go to jail. It is a mandatory process that each and every company should implement in the workplace.
2. Economic:
With unhealthy employees comes low productivity which can hamper your deadlines and hence profit. A company can also lose its good resources and spend money on recruiting new ones.
The burden that other employees will have to face will cause low concentration, fewer efforts towards work and hence impacting deadlines. If legal actions are taken then huge sum of money will have to be spent in unnecessary legal battles.
3. Moral:
If you want a company to do well, the morale of the employee needs to be high. A workplace with occupational health and safety system ensures that your employee breathes in air full of moral which is transformed into results.
When you step out of the home to work, your loved ones believe that you would come back safe with the same mindset. A healthy mindset while reaching and leaving home boosts the morale of the company, worker as well as the family.
Final Words:
Occupational Health and safety measures are for the employees by the government. Since the company is utilizing the resources to earn profits, it is their duty to ensure that the resources get the right conditions to work in.
The company abides by the law and hence has to implement processes and systems to ensure full compliance with the OHS standards. These standards can help employees to be healthy and stress-free making their companies the best to work in.
Save
Save
Save