To hire an office manager who can manage your company well you need to look for a person who can be responsible for supervising and managing a company's routine operations, eventually ensuring that there are no problems, and the business runs efficiently.
It is a multifaceted responsibility that needs a person to possess exceptional organizational abilities and the skills to deal with professionals of distinct personalities, calmly and rationally. Since an office manager is required to perform multiple tasks, so it is essential to hire a perfect manager for all sorts of companies.
If you are also planning to hire an office manager for your organization, then here are some simple steps and convenient ways that you may follow.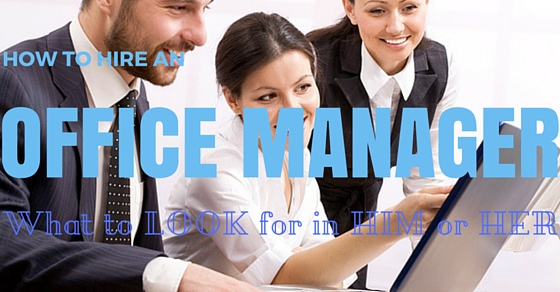 Things to Look For When You Hire Office Manager:
The role of an office manager is more of a service, and his job involves controlling the functions in the office to avail maximum benefit out of the available resources. The manager governs, controls and plans the activities of employees in an organization and hence there are some vital things required in the manager.
1. Leadership:
He is the person responsible for controlling the entire office, and he is vital to the efficient running of a company's regular functions. The manager is also accountable to maintain public relations.
He is the supporting body to other departments for achieving their goals. For all such reasons, a manager needs to possess leadership qualities so that he can impeccably lead the entire workforce and resources available at a given point in time.
2. Synchronization:
The office manager has to select the right persons for each job. He has to ensure that all the policies of the company are carefully implemented and followed. A manager is an intermediary person between the top management and the bottom workforce.
His primary concern is the management, and the secondary concern is the employee. It is, therefore, essential for the manager to know the precise way to maintain synchronization between the administration and the workforce so that the company does not bear any sort of loss.
If he is not able to maintain perfect sync between two departments, then he is deemed as a bad manager.
3. Recruitment and Training:
The manager must also possess the quality to recruit the perfect person for a job. He might invite applications, organize interviews and hire adequate personnel. He should be capable enough to provide training to the novel employees as well as to the existing employees to enhance their skills and make them apt to the latest techniques and methodologies.
4. Discipline:
It is the core base of any office and besides human resource manager, the office manager is the person accountable to maintain absolute discipline in the work area. He must ensure that the principles and rules of the company must be followed by the employees.
5. Measures the employee's performance:
The manager measures the overall output and performance of employees and rewards them, which leads to their increased efficiency. Also, motivated employees deliver better results, and this enhances their chances of better cooperation with others.
The manager must, therefore, be able to evaluate the overall performance level of their employees so that he is supportive of motivating the workforce.
What Makes a Great Office Manager?
You might be a better office manager, but if you intend to become a great manager or want to hire the best manager for your office, then there are some additional qualities that you must keep in consideration.
1. Enhance your communication skills:
It is essential to be an effective communicator and especially when you are in the management role. To become a great manager, you must possess excellent communication skills so that you can excellently epitomize your company in front of others, you can carry-on meetings and converse with your co-employees.
For brushing up your communication skills, you may attend meetings, networking events, speak with confidence and volunteer to conduct office meetings. All this will groom your communication skills to a great extent.
2. Be a creative thinker:
Being a great office manager requires the presence of creative or innovative thinking. Specifically, problem solving. As a manager, you have to experience numerous situations when you need to perform as a problem solver and come out of a situation without disturbing the official practices.
There are possibilities that you may feel demotivated or get frustrated during such situations, but you have to be a creative thinker and approach your team members with innovative thinking skills. As an office manager, it is essential to expose regularly yourself to novel ideas, industry trend and methods.
3. Try grooming your people management competencies:
It is necessary to learn to manage people as it is completely a different task than managing the tasks or projects. It needs more patience and better comprehending skills. Also, it will help you understand various people and how they generate an impact on the way people communicate and work.
To polish your skills, you may interact with new people regularly as it will also help you improve relationships with each person and gain a better understanding of their contributions and abilities.
4. Enhance your business acumen:
Being an office manager, you must comprehend every aspect of your company and your participation in it. You must be able to understand how your company makes money and how you can help in increasing the overall business revenue.
You need to be a business-savvy person and must possess the potential to make adequate judgments and instant decisions as and when needed.
It is the sole responsibility of the manager to ensure that the information keeps flowing, and there is no trouble met with any of the projects. The more you will be aware of your company's complexities, the more you will be able to function better.
5. Continue expanding your professional and educational development:
Even the best office managers do not stop learning, expanding and growing their knowledge base. If you intend to stay at the top, then you must maintain your knowledge base at the top level and make your professional development stay consistently top. It is necessary to stay ahead of others and ensure that your company can win over its competitors.
Office Manager Duties and Responsibilities:
The duties and responsibilities of the office managers can vary by type and size of the organization of employment. But some of the common duties that the manager has to perform despite the size and scale of the organization are:
1. Management of Staff:
The manager has to select and recruit novel candidates, prepare required paperwork for them and hire as well as terminate employees. He is also responsible for a motivator, coach staff and has to coordinate and delegate work tasks to each employee of the company. The manager must be able to resolve grievances and disputes and manage the performance including feedback and evaluations.
2. Accounting:
Besides managing the staff, the manager is required to record and manage expenses, prepare expenditure reports and maintain the office budget. Also, he should perform account reconciliations, follow-up overdue accounts, manage petty cash and process accounts payable and receivable payments. In short, the office manager must possess decent accounting skills as he is required to maintain a complete office budget.
3. Secretarial:
The manager of the office is as a secretary to the senior management, and hence, has to administer and manage all sorts of tasks both in the absence and presence of top authorities. He has to conduct meetings and appointments, maintain schedules and calendars, administer travel arrangements, distribute and prepare urgent meetings and communicate with correspondence.
Also, the secretarial responsibilities involve the manager to screen and answer all incoming calls, compile, and present essential reports and make necessary arrangements as and when required by the top authority or by the official staff.
4. Data Management:
Maintaining databases is another core responsibility of an office manager. He is the person responsible for protection, organization retention, removal and transfer of records as well as retrieval of information from various departments. Besides maintaining complete records of important data about the office, the manager also must ensure that data remains secured and safe.
5. Payroll:
If it is a small scale company, then the manager of the office is required to monitor and record hours of work including overtime. He must administer benefits, calculate tax returns, and monitor sick leave and vacations of the employees.
The office manager has to administer all sorts of vital activities, and hence, he is also required to distribute and write the payroll checks.
6. Customer Service:
Handling inquiries related to the customers, attending their complaints and maintaining adequate customer relations is a key role to be played by the office manager. In addition to this, he must also process customer reports and maintain an updated customer record file to ensure that customers are served to an optimal level, and the company can earn revenue from both novel and existing clients.
7. General Office Management:
The office manager has to manage other general activities in the office. The manager must upkeep and maintain furniture and equipment. He must ensure timely payments of utility bills, maintain and order office supplies, troubleshoot systems, and computer problems and liaise with the IT team as and when needed to resolve troubles.
Functions like to follow through maintenance contracts and agreements, researching delivery options and vendors for pricing as well as looking after other general office management activities are the other responsibilities of an office manager.
How to Hire Office Manager:
The office manager is a vital position in the culture of the company and its routine operations. A good manager can create a big difference in structuring the right environment and create a team that dedicatedly works for the office.
For such reasons, you cannot make a wrong hiring decision and so here is a list of some ways that you may consider to hire the best office manager.
1. Sourcing:
Create an impressive Job Ad for the post, one that highlights the major responsibilities and skills of the manger, which the company requires the most. Post that Ad template to distinct channels such as social networking sites, job portals, newspapers and other platforms in your knowledge.
2. Pre-screening:
Once you have shortlisted the candidates from received applications, it is then time to go through the resumes and scan them. Check for the experience, local, skills, qualifications and other essential before shortlisting an application.
If there are any introductory messages provided by a candidate, then you can even go through it and make sure that whether the candidate is suitable or not. For all shortlisted candidates, you must organize a pre-screening interview to shortlist the best out of all.
3. Interview Round:
You may either conduct a single interview round or may streamline rounds of interviews, depending on the scale of your organization. Make sure that you conduct the interviews for top candidates. Now shortlist the best two candidates and line up a final interview round for them.
4. Final Interview Round:
It must be the last round where you may introduce the candidates to your team members, with your office work culture, brief them about the duties and responsibilities and ask them about other essential details. Once the interview has ended, you may take feedbacks from your team members and then take the final judgment.
The office manager is one of the most vital persons of a company that is an indirect factor in dictating the success and sometimes failure of an organization. Besides managing the entire administrative tasks, he has to ensure that the team functions effectively.
If you, therefore, wish long-term success for your company, then you must hire an office manager who possesses excellent dynamics and leadership that can help dilute the internal business conflicts and bring better returns to the company.