In the age of telephones and Internet, proximity is really no problem. It is possible to interview candidates who stay in remote locations with the help of the telephone. Telephonic interviews are possible even for preliminary rounds of higher job positions. More and more employers and recruiters are using telephonic interviews to shortlist candidates for different positions. Here we have listed down a few vital tips for interviews that will help you simplify or acing a phone interview process. These phone interview tips and guidelines help you fare better in telephonic interviews.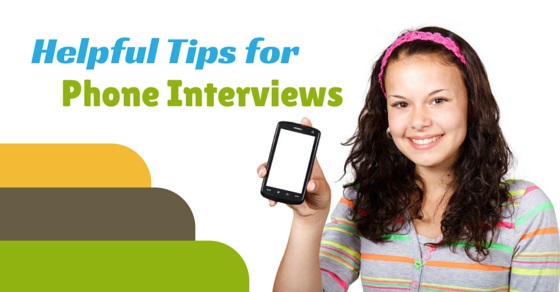 Good Interview Tips for Acing a Phone Interview:
The following mentioned are few tips for interview and phone interview techniques on how to prepare for a phone interview and different interview skills needed to crack the telephone interview.
Try to Schedule the Telephonic Interview:
It is not always possible to schedule a proper time for a telephonic job interview. Yet, when you get a call for interview from the recruiter, you need to ask whether the job interview can be scheduled for some later time. If you get an affirmative reply, schedule the interview at a time when you can be at home or any other convenient location. Arrange a location where there won't be interruptions or people to overhear you. You may give them a landline number for telephonic interview call because landline numbers do not get disrupted due to lack of range. Check your telephone and make sure it is functioning properly. You may also provide them with a backup phone number. They can contact you on the spare number if the main number is not functioning.
Prepare for Interview Well In Advance for Most Commonly Asked Questions:
You need to prepare well for telephonic interviews just like you prepare for face to face interviews. Better interview preparation helps you answer questions confidently. You may ask your seniors or check out the various job websites to get an idea what typical phone interview questions are commonly asked to candidates. Research well and prepare a list of the most commonly asked questions. Here we have made a list of questions that are repeated in most job interviews. You may refer this list as well while preparing for an interview.
What is your strength?
What are your core competencies?
Who is your mentor?
Where do you see yourself 5 years down the line?
Are you a good leader?
Are you a team player?
What are your hobbies and interests?
Why do you wish to join our firm?
What is your salary expectation?
These are just the common questions asked in most telephonic job interviews. These are not specific to any particular trade. We have also made a list of expected phone interview questions in different specialized job interviews. These will help you prepare well for specific trade related telephonic interviews.
Job Questions for Developers and Programmers:
What are some of your favourite coding tools?
Which are the websites for which you have worked?
Apart from these, the interviewers may pose technical interview questions related to logic. Logic is inevitable if you have to do coding.
Job Interview Questions Asked to Graphic Designers:
Have you worked on Infographics before?
How much time do you take to prepare a flier?
A Graphic Designer may also be asked most common interview questions related to colours, contrasts and aesthetics.
Sales Interview Questions Asked in Sales Jobs:
How do you deal with difficult clients?
What are the different sales methodologies that you use?
How strict are you about meeting deadlines?
Sales jobs require you to interact directly with the client and you may even be evaluated based on the way you communicate.
Good Interview Questions Asked in Content Related Jobs:
What is your typing speed?
What are the different genre for which you have written?
Do you have grasp over American and British styles of English?
Content jobs may have online grammar tests before the telephonic interview conversation to evaluate the knowledge of grammar.
successful Phone interviews can be real simple if you are well prepared for them.
Be Well Mannered and Polite When You Speak on Phone:
There is a major drawback in telephonic job interviews. The interviewer can only hear your voice but cannot see you personally. Many times, people possess hoarse voices that create a truly bad impression. If you are one such candidate, you need to put in time and effort to rehearse the telephonic interview before the actual interview. Rehearsing helps you amend your voice, tone and vocabulary to ensure that you sound polite and soft spoken.
Practice to start the interview session by greeting the interviewer. Once a question is asked, you can take time to think before answering but inform the interviewer about it. If you have any queries or doubts, feel free to clear these doubts on phone. Before keeping the phone, ask the interviewer when you can get back. You also need to make a note of their contact details before replacing the receiver.
Check Out Possible Interview Questions You Must Avoid On Phone Unless You Have Been Selected:
In the telephonic interview, one wrong question can ruin your impression completely. You need to avoid all those common phone interview questions that portray a dark picture of you. Avoid questions for phone interview related to remuneration and increment unless they have confirmed that you have been selected. Use words like 'sorry', 'please' and 'thank you' lavishly when you are appearing for a telephonic interview. The questions listed below appear rude to interviewers when asked on phone.
How much do you plan to pay me?
What are rules for increment?
How many paid leaves am I entitled to?
Do I get paid for overtime?
If you have queries like these, you need to wait for an opportunity to meet the interviewers face to face. It is always better to ask these questions directly rather than on phone.
During the telephonic interview, the recruiters may tell you when they plan to get back to you. You need to wait patiently for their call. You may give them a few extra days and then if there is no response on their end, give them a call or write back to them. Be prepared for rejection. Be brave to face everything. Even if the interviewers tell you that you have been rejected, make sure you ask them what was lacking in you. This gives you a great chance to improve yourself so that you can make it through in the next interview.
These simple and good  job interview tips and tricks, suggestions will help you through your toughest telephonic job interviews.
Save
Save
Save