No matter how good you are at the job you do, if you are unable to speak and write in a proper manner, then no company will want to hire you on-board. If your resume is filled with grammatical mistakes then you can be sure that it is going to be tossed in the bin by the recruiter. While you are drafting your resume as well as once you have completed doing so, you must keep checking it to ensure that it is up to the mark in every aspect. Given here are some of the ways on how you can easily get perfect grammar on your resume, so that you are instantly able to impress the recruiter.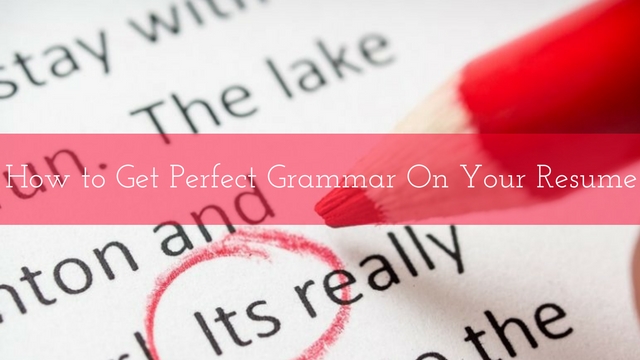 Grammar and Spelling Rules for your CV:
1. Brush up on your grammar from beforehand itself:
Prior to actually sitting down to write the resume, it is very important that you brush up on your own grammar skills. This might seem like a time consuming exercise, but it is important if you really do want to write a resume which will instantly blow the socks of the employer. A resume is the first and last chance you get to make a good impression in the mind of the recruiter, so you should not blow it, else a good employment opportunity might slip through your fingers. Pick up any grammar book and it is sure to help you a great deal.
2. Sit in a quiet room while writing down and drafting your resume:
Mostly people end up making grammatical errors on their resume, because they have not been paying much attention when they have been drafting it. So in order to avoid unnecessary editing work later on, you should give all your attention, while drafting it. If you really want the job, you must be willing to go the extra mile at every stage. No company wants to hire those employees who do not know what they are doing and are unwilling to give each project their all. A resume is very important and you should ensure that you draft it at your own leisure and in peace of mind.
3. Read every sentence as it has been typed in:
A well written resume is once which has been drafted in a very orderly manner, making use of proper subheadings as well as punctuation. To make sure that every point on your resume is constructed in perfect grammar, it is advisable that you read each point as you have drafted it. Doing this is not time consuming at all and it will enable you to check any grammatical mistakes. If possible make sure that you read it out loud so that any mistakes will instantly catch your attention. Doing this is both simple as well as effective when it comes to writing a grammatically correct resume.
4. Ensure that you proofread your work once it is complete

:

To all professionals, proofreading is considered the last stage of any project. If you do not proofread your document then you can never be sure of what mistakes may have slipped your eye the first time. Big companies want to hire those individuals who know exactly what they are doing and never make silly mistakes, if you submit a resume full of grammatical errors it will instantly show you in very poor light. Proofreading your resume is very  important so that you can ensure that what you are trying to say is getting across in a proper manner.
5. Pay attention to tense right from the onset:
When you speak of grammar, it does not merely pertain to one thing. It pertains to a number of small things. It is rather unfortunate that nowadays most individuals are not fluent in grammar and do not even care to improve themselves. Through your resume, you should try to point to the fact that you are not someone like this and that your grammar is very good. To ensure that the grammar in your resume is absolutely correct, you should make it a point to pay attention to the tense which you make use of. Ensure that you are not changing the tense as your resume progresses.
6. Make use of an actual dictionary to help you:
One of the simplest things which you can do in order to ensure that your resume in written in correct grammar, is actually making use of a dictionary. All of us have at least one dictionary at home, so be sure to make use of it as and when required. If you are unsure of something, be sure to check it out. This little effort on your part is sure to go a long way. It is always better to take this little effort rather than submitting a document filled with errors. If you do not have a dictionary, then you can always make use of an online dictionary. These dictionaries are easily available online and also free of cost.
7. Put the spell-check and grammar check option 'ON' while typing the resume:
You should make it a point to keep the spell check as well as grammar check 'ON' while typing your resume, this will prevent you from having any unnecessary mistakes in your resume. Most often than not, people make use of MS Word in order to type out their resume and if the spell check and grammar check is ON, it will immediately point out the mistakes which you have made. Having this ON, will ensure that you have minimum errors in your document. If you submit an error free price of work, you will automatically be short listed for the position.
8. Make use of the online applications which are available:
There are plenty of online applications which you can make use of, as well to help you ensure that the resume you submit to a company is written in proper grammar. If you do not wish to download an app onto your computer then you could always make use of the sites which are available online as well. These sites are very user friendly and will do a grammar check on your resume in a matter of a few seconds. Once you have uploaded your resume, the mistakes will be pointed out immediately, this way you can easily learn from the mistakes which you have made and not repeat them in the future.
9. Ask your friend to read your resume once you are done:
Once you think you have completed the drafting and typing of your resume you can always seek help from a friend of yourself. This friend, if reads well will immediately be able to point out mistakes which you have made. However this having been said, ensure that the friend you consult is someone who genuinely cares for you. Very often there are people who pose as our friends but do not really care about our well being or success. Have your head on your shoulders at all points in time so that no one is able to take advantage of you, at any point of time.
10. Taking inputs from an English teacher grammar is impeccable:
If you do not have a friend whose grammar is very good, then you should make it a point to get an appointment with a teacher or professor of English language. Such an individual is sure to ensure that your resume is well read and grammatically correct. If this person is unknown to you, then you might be required to pay them a fee. If you really wish to bag your job, then you should be willing to invest a bit of money in the resume. A little money spent on your resume will help you a great deal in the long run. Look online and you will be able to get in touch with such a person easily.
11. Be sure to get it read by a career consultant as well:
Career counselors are not tough to find nowadays and you can avail their services with a great amount of ease. Though some of them do charge a heavy price, yet they do an impeccable job of helping job seekers in their time of need. Words of advice or suggestions from them are sure to assist you along the way and ensure that the document which you submit is sure to bag you the job. The career consultant will browse through the resume and will instantly be able to tell you, if everything is written as it should be in proper grammar.
12. Ensure that you make use of short sentences:
One of the simplest things which you can do in order to ensure that your document is written in correct grammar is by making use of very short sentences. The shorter the sentences, the easier the resume will be read and the lesser chances of you making grammatical mistakes. Most often when people make very long sentences, the end of the sentence simply has no connection to the beginning. If your grammar isn't very good to begin with, you should just stick to the basics so that you do not end up making a fool of yourself.
13. Keep the entire resume short yet impactful as well:
As mentioned above, keeping your sentences short is a very good idea in order to ensure that your resume is written in proper grammar, but along with this you should ensure that your resume on the whole is not very long. A good resume is very brief and to the point. If you just say what you need to say, without using any unnecessary words, then that immediately lowers the scope of making any grammatical mistakes. A good resume does not take much time to go through, but yet is able to leave a powerful impression in the mind of the reader.
14. Do not try too hard to sound very smart and erudite:
In order to avoid grammatical errors, one of the simplest things which you can do is not use words which you are unsure of. If you try to sound too smart, you can be sure that your resume is going to be abounding in many mistakes. A resume is an official document and the best resumes are those which make use of simple language, There is no need to try and sound too smart as you might end up coming across very silly and childish.
15. Read as many sample resumes as you can lay your hands on:
A great way to get some practice is by actually reading as many resumes as you can. In this way, you can know exactly what is expected of you when you sit down to write your own. There are plenty of good resumes available online so be sure to go through them at your own leisure. Also refer to them, if you are unsure of how to express yourself at some point in time.
16. Keep editing your resume with every correction you receive:
Finally, as and when you get suggestions and grammatical corrections from various sources, be sure to edit your resume so that by the time you submit it, it will be a perfect piece of work which you can be proud of.
These are some of the few simple things which you can do in order to ensure that your resume has perfect grammar. In this day and age the importance of a good and well written resume cannot be stressed upon enough. Recruiters are individuals who have been around for a very a long time and are very proficient at what they do. Their eyes have been trained to pick up on even the slightest of mistakes, whether it is in grammar, spelling or even in formatting. In order to secure a good job, you need to ensure that your resume stands out and instantly makes the recruiter be interested in you.