Going to attend an interview soon?
Is it your first time and you feel nervous?
If yes, then give this post a good read. In today's article, we are going to talk about detail oriented interview questions and answers for job interviews.
This will help the recruiting manager asses your personality, style, and confidence and whether you are a detail-oriented person or not.
Keep reading the post to find out which interview questions are asked commonly nowadays.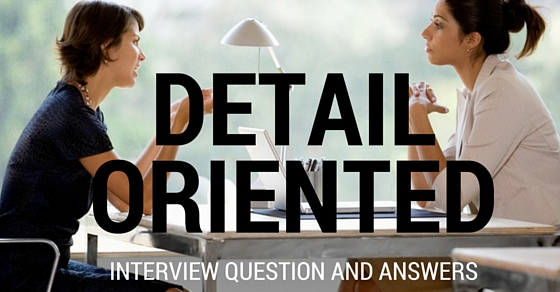 Here are a few examples of detail-oriented interview questions that are asked generally during interviews. But before that let us see,
Why is Attention to Detail Important?
Being detail oriented is not that easy, moreover, it is a trait which most of the recruiters would like to see in a candidate who comes in for attending interviews. The best part about being detail oriented is that your work would be effective and error free. It automatically helps you focus on your work and make it completely high on quality.
A candidate carrying such attention to detail characteristic is most desirable by any employer. The advantages of being in such mode are many, like
Your work gets better
Internal processes turn finer
Can help the organization grow and develop
Very reliable skill
Makes your work error-free
Top 12 Detail Oriented Interview Questions and Answers:
1. How would you describe yourself as a person?
Describe yourself, the first and most basic question you will be asked during an interview.
This question will help your interviewer know about your personality and if you are a detail-oriented person or not.
So when you are answering this question, try to use keywords and adjectives that flaunt you best. Use those words that will help you come across as a detail-oriented person.
Maybe you should talk about how organized you are and that you hate to see your desk cluttered up. These things can help you create a good impression!
2. Would you describe yourself as a perfectionist?
Now, this happens to be a tricky question. You have to be careful while answering this one.
Yes, you need to come across as someone who is a perfectionist but the truth is, you aren't because just like you, everyone is prone to making mistakes.
So what should you do?
Simple! Effortlessly answer the question.
Say that you like to give things your best shot and leave no room for error.
But at the end of the day, you are human and you do make mistakes but the damage is never irreparable. You can bounce back faster and correct those mistakes.
3. What is your style of communication?
While answering this question, talk about how good you are at communicating with others.
Say that you are confident, speak politely to others and have a style of communication that works well.
You should say how resilient you are as a person and that you find great pleasure in helping others. You're hardly rude or disrespectful to people. You don't like to force people either.
Saying things like these will let your boss know you are goal oriented, hard working and pay attention to everything.
4. Who would you describe as your role model and why do you hold them high?
Answering this question can reveal a lot about you and your personality. The question will also show how introspective you are as a candidate and more about your personal as well as professional development.
This has a lot to do with ambition and success, so answer this question wisely.
Don't talk about people who have found success using the wrong methods such as Paris Hilton and Kim Kardashian.
Instead, talk about powerful and inspirational people such as Malala and how they have inspired you to become the person you are today. All of these matters during interviews.
5. Would you describe yourself as a detail-oriented person?
When you ask this question, say that you are and what you pay attention to everything.
Talk about how you hate the idea of letting things be messy. Say you love to clean things up, finish projects on time and make sure they have been done just like your boss had expected you to.
You may also state a few real-life examples to show how detail oriented you are and how these things matter to you.
6. Why do you want to work for our company?
This is quite a common question people tend to ask during detail oriented interviews. There is a high chance you will be asked for the same thing so be prepared from beforehand.
So what we would suggest you do is prepare a cover letter from before that shows why you are interested in working for this company.
Alongside when you are answering the question, talk about the skills you possess that will help the company grow fast. That is a great response.
7. How do you handle/manage tasks?
Knowing how to handle difficult tasks is not easy. And that is exactly what your recruiting manager wants to listen to.
When you are talking about handling tasks, speak about how good you are at managing difficult situations and that you are a very patient person altogether.
Don't forget to mention your ability to finish projects and submit them within the stipulated period. You don't take tasks lightly. They matter to you a lot and you make sure they fetch good results.
8. Were you organized in your previous job?
This is one of the best questions that can help your manager know whether you are a detail-oriented person or not.
Being organized matters a lot during interviews and by this answer of yours, one can tell whether you pay attention to details or not.
So while answering, give a few examples to show how organized you in your previous company and that you also applauded for organizing and on time always. That will help you in getting the job fast!
9. What frustrates you about other people?
For this question, you have to talk about what puts you off about others and what you don't like about people.
Say that you don't appreciate people who don't come to work on time or show a lack of care towards assignments. Talk about how much you ignore and hate the idea of delaying work.
You only like people who are hard working and those who are willing to learn from their mistakes.
People who cannot do that put you off and you are unable to communicate with them after a while. Answering like this will surely make a fine impression.
10. Do you have any questions for me?
Since you want to come across as a detail-oriented person, you should have a few questions for the recruiting manager.
Talk about the working hours, leave, what they expect from you, salary-related questions that are not too direct, etc.
Asking questions is a must in areas like these since you are trying to create a good impression and show how detailed oriented you are. So make sure you have questions to put forward.
11. What has been your biggest accomplishment so far?
When you are answering this question, talk about the biggest accomplishments you have had and those which can prove how good you are at doing such jobs.
You should think about those details which link with the description of the job and how most of your accomplishments make you suitable for the job.
You have to learn to show and convey to your hiring manager that you are not just words but also about actions and that you focus on reaching your goals too. Answering like that works wonders always!
12. What sets you apart from the rest?
While answering the question, you have to see what will set you apart from the rest.
The hiring manager is hoping to find someone who can contribute to the company and do a good job. So you should answer in such a way that you come across as a different person altogether.
You should use those qualities that bring out the best in you, qualities that good in you and help the recruiting manager understand how good and talented and well deserved you for this job. That will surely create a high standard and make the manager like you!
Other Questions You Maybe Asked in this Interview:
Tasks:
Often managing recruiters like to make people do things so that they convinced you what you are talking about.
So many of them have assigned detail-oriented assignments for twenty minutes just to see whether the person has a good attention span or not.
When you give something like that, always remember to pay attention to everything that told to you, from the beginning to the end.
You could ask to analyze something for a few seconds and talk about it. It will help a lot if you stay focused.
Common Ways to Spot a Detail-oriented Candidate:
Interviews in recruitment are mainly helpful in assessing the candidate and the skills they possess. But in most of the cases, the interview process is based just on the job position. In such a situation, analyzing the complete skill set of the candidate may not be possible. Also, there are chances that the recruiter may fail to gauge the candidate's skills, traits and knowledge well.
Be it any kind of interview, the sole aim of it is to choose the best candidate for the organization who can turn out to be an asset. A candidate having a detail-oriented skill can be a perfect choice, irrespective of the job role or industry. Here are a few ways to identify a detail-oriented candidate easily.
Through their CV or resume
With the help of their cover letter
Sample work
Personality test
An overview of their previous work
Attention to Detail – Interview Questions:
Here are a few common detail-oriented questions asked in an interview.
Share us a situation on how you covered up when you have done a mistake at work.
How do you stick to quality especially when you have to meet deadlines?
In which way would your approach be, when you have to inform about some mistake of yours at work to your seniors or supervisors.
Explain your usual work process at the workplace
Are you a detail oriented employee type at work?
What would you do if you do not understand the client's or customers' requirements?
What would you do if you find out any mistake done by your coworker?
How do you acquire details from an important customer?
Explain your daily routine work
Have you worked on a project which needs to be accurate
Did you ever found an issue at the ending of the project
Do you use any tools to check the accuracy of your project work
How to Prove You're Detail Oriented in An Interview?
A candidate attending an interview tries to impress the interviewer well, to get the job. Though the approach of the candidate toward the interview process might differ, the ultimate goal is to get hired.
Being detail oriented is not a common trait which everyone possesses. And if you are the one, who has this special skill then you need to showcase it in the interview process. Here are a few tips to prove that you are a detail oriented person.
Being enthusiastic and energetic
Very focused
Paying attention
Check minute details
Provide examples from past
Explaining previous work experiences
Helping the interviewer understand well
Best Job Interview Tips:
Before we bring the post to a close, here are some interview tips and tricks you should be aware of!
1. Listen very carefully:
When you are attending an interview, remember to listen to the questions very carefully before answering.
Right from the start, your interviewer is going to hand out information to you may be directly or indirectly. Your job is to listen to them otherwise you will miss out on a big opportunity.
Good skills of communication also include listening or letting the person know that you have heard what they have told you. You should observe what the interviewer is saying very carefully.
2. Don't become too familiar:
A second thing you must remember is not to become too familiar when you are talking about business.
Don't talk about things in the same old clichéd manner. Of course, you need to be responsible but be very careful with what you are saying.
It is highly essential to bring out some enthusiasm and energy to all interviews and to ask questions but doesn't ever overstep the place you have as a candidate and someone who is in search of a job.
3. Never look desperate:
While answering questions in an interview, you should never look desperate. It will ruin your whole impression.
You should come across as calm and composed as possible so that they only thing good about you. And most importantly, always remember that you want the job but you don't want to show them that you are desperate for it.
This is why you should show, how eager you are but don't give away how much this job matters to you and that you can do anything to get it.
4. Use correct language:
While attending the interview, be very careful. The kind of language that you use matters a lot. You must learn to create a fine balance between modesty, confidence, and professionalism.
When you are speaking about something, always remember that overconfidence is bad. You shouldn't say things where you could be coming across as an arrogant person.
Using the right language matters a lot in cases like these. You getting the job, could matter a lot so be very careful and say the right things.
5. Dress the right attire:
Finally, you must remember to wear the right outfit. Don't wear the outfit you aren't supposed to.
Dressing up the right way is essential. After all, on your first day of the interview, you should only wear formal clothes. Make sure your clothes are clean and dried and iron them too.
Check your shoes are shining and are clean. You should wear good cologne so that you smell good too. That would give your interview a good start.
Conclusion:
With that, we would like to bring the post to an end. If you have found some benefit from the article, liked our tips, ideas and suggestions and have some feedback to give us, please do so by commenting on the box below. We would love to hear from you.
Also if you happen to be a recruiting manager and would like to share some questions you generally ask during interviews, let us know some of them as well.
If you want to do well in an interview, all you have do is make note of these points and implement the tips and ideas. On that note, good luck and here's hoping your interviews in the future are always successful!
Save
Save