The latest statistics shows that an average westerner spends about 99,117 hours at work. With this data it is sure that the office is your home and it is always a good idea to make your office space inspiring, fun and cozy.
The visual environment is another aspect that adds to your energy level and productivity. It is a usual fact that most offices possess flat chairs, cheap fluorescent lights, and blank walls. Let's glimpse into some great ideas which spruce up work place which brings in color and fun at work place.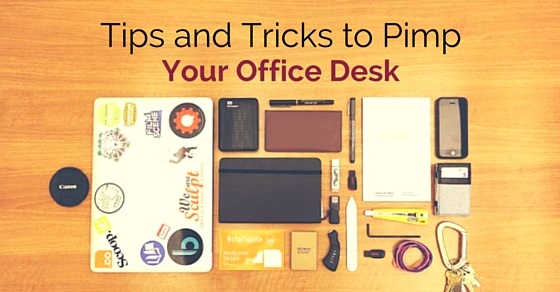 How to make your Cubicle More Comfortable and Less Boring:
1. The milk desk:
The milk desk has rounded edges and a white surface which is a great match for your apple. The best features of milk desk is that it hides up all cables, raises and lowers electrically, and holds four compartments. These four compartments can be used as aquarium, trash or storage.
2. Soft wall:
In order to partition area in your office environment, soft wall can be a good choice. The partition is a paper made one with a felt core. The best feature of a soft wall is that it does not eat up all the light in the room. Another beneficial fact of a soft wall is that it can be twisted and rolled when it isn't required. There isn't much sound like other room partitions. This also makes the office environment look amazing.
3. The wing desk:
Another creative way to pimp your office is by making use of a wing desk of a DC3 plane. This gives a completely awesome look and makes your work area exclusive. The color of the desk can be matched with the chair and interior décor of the office.
4. Saddle chair:
The HAG capsico office chair is the best suited one with varied adjustable heights and the adjustable desks. This is the best garden variety, and average office chair that is best used in an office. The best feature of this chair is that it can be moved everywhere and offers the individual an erect position so that blood flow to the legs are not stopped.
The seats are designed in a manner so that one can sit in the reverse, sideways and can tilt back completely for a very comfortable position.
5. Bean bags:
Four bean bags and a coffee table is enough to make your meeting place an exclusive one. These bean bags are exclusive ones as they can make a million varied positions for the one sitting. Officials can find it more comfortable and exciting to sit on a bean bag and discuss more aspects.
6. Bibliochaise:
Do you want your reference books and articles to be placed somewhere you sit by? Then a Bibliochaise can be a perfect one that can make your work place look trendy. The best part of Bibliochaise is that you can keep all your books and reading materials where you sit. Those things are actually around you.
7. Stoke garden:
This cannot be called a chair but an innovative one that suits work place in a tree like pattern. The stoke garden may loom strange and costly but is an extremely comfortable one. They are ones that allow you to sit and lie in a number of positions. Employees can sit and relax the way they like with this tree like structure chair.
8. Innovating meeting area:
If you're in an innovative business then your office should also look innovative rather than an corporate wasteland. A good example can be the spider cow placed in the lobby in an innovative company in London. In the same manner the meeting area can be placed with big red couch perfect to generate more ideas and make you comfortable so you think peacefully.
9. Conference bikes:
Make your work places cool and exciting with conference bikes where seven people can sit together and one amongst them pedals. These conference bikes are used in almost 18 countries and used for transporting employees.
10. Art tables:
Art tables are yet another innovative desk that adds trend to your work area. Weird and excellent work desks are available that makes your office desk look exciting. These fantastic creations can be used in your office to pimp your work area.
11. Wood wall:
It is equally important that your wall looks great inside your office. In that manner the wood wall where the complete wall is covered with cord wood can look amazing and beautiful. They are a great choice for acoustics and offer the wall an excellent texture.
12. Pixar:
They are great and creative office cubicles that not many corporates have installed. They make your work place trendy and outstanding. There are varieties where each desk or office is developed in the form of huts which makes your office completely exceptional.
13. Work related innovation:
Few offices are not made to look fancy but they are made to be appropriate to their work. They can have meetings outside the sidewalk, where a huge budget isn't required and they can be fun, exciting and interesting. Just willingness to do something, common sense and creativity are required to make your office desk quite interesting.
14. A chalk calendar:
Avoid flipping up your calendar pages and make use of a chalk calendar. Stay organized with this mode and also avoids the cheesy calendar designs and also looking at naked celebrities at work time.
15. Have a modern clock:
Avoid those ugly large clocks at your cubicles walls and go in for latest and trendy clocks that catch your eyes. Make your office desk look pretty with these latest clocks.
16. Use bulletin boards:
When you use bulletin boards which are completely filled with pictures, they are ones that show that you're a jovial person. They work great for organizational reasons and also your favorite inspirational quote, images and your favorite photos can be stuck at your desk.
17. Weird desk accessories:
There are number of weird desk accessories that add humor to your day and make you look smart. A few of them are dachshund mail organizer, G spot mouse, like-dislike stamp pad, help book mark, Libertine USB flash drive, pin sprouts, drumstick pencil, leaf-It stickers, falling bookend, birds on wire clip, AOK apple cleaner, rotating 360degree Lego sockets, lock mug and plenty more are available. These are few great starters for conversation for ones who visit your place.
18. Putting up Christmas lights:
To bring in creativity at work place, putting up Christmas lights are yet another exclusive and fantastic way. Also creative images, pictures and cool designs can be added which looks great when lights are flashed at them. A positive outlook and a work week can be considered when LED lights are utilized.
19. Adding varied textiles to your office space:
Adding exceptional tapestries, pillows and blankets can be the more inspiring and innovative way so that it looks aesthetic and you don't feel like working in an office environment. Your comfortable this way and work with peace.
20. Modern shelves:
Cleanliness is next to godliness is a true saying and hence keeping your work place neat and tidy is important. Put up contrast colored modern shelves at your work place so that they look trendy and feel like home.
21. Cable clips and holders:
Cables and other accessories are ones that are scattered cross your desk and make your place untidy. For the same cable clips are ones that makes your office desk look need and tidy. In the same manner holders which are great than old mugs can organize and hold your pens, keys, wallet and lot more.
22. Wall art:
Look at the great wall arts instead of blank walls which add a bit of personality to your walls. They also add a bit of humor otherwise you're always serious at work.
23. Seating arrangement near window:
Place your desk with all necessaries near a window along with focal light which can relive you when you're depressed. You also feel happier at that particular place and generate more ideas when your mind is fresh.
24. Place a potted plant:
You can allow air to circulate at your desk by placing a potted plant. They make your place look relaxed and cleaner too. Your office space is complete with greenery around too. Thus they make your mind fresh too.
Conclusion :
The physical workplace is very important so that it creates courage and presents how creative the employee is. Hence it is important to create an environment that suits the employee. Happy work environment boost the employee to work and be innovative. They are productive, happy and more interested to work. More innovative and exclusive ways are available too, to make your desk space look trendy and informational. Read the above tips and make your office space look innovative and chic with the latest ideas and gadgets that are out in the market.