Some positive decisions in life can also make you regret of it. It would be a tricky and regretful situation when you left your job for a new inspiring opportunity and soon you realize that it was not good decision.
Suddenly everything seems upsetting and you are not getting what to do.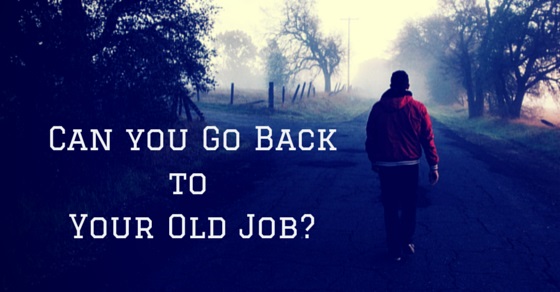 The new job would be as shining as gold or just a yellow stone; you'll realize it as soon as you start working. Company profile looks tempting but the inner environment leads to your personal growth or not would be decided after working there.
what if it's not as good as you thought?
what is the option left with you?
Either keep working or align back with your older company. Joining back your old job looks a good choice. But is that possible to go back and join again is the next question arises in the mind. And yes is the answer to it.
It's possible to align with your company again and they too will be happy to see their old employee back (If you were one of their good employee).
So it's not difficult to go back to your old job if you left it on good terms. But before you take a step towards this decision you must be sure of some things:
Going Back to Previous Employer? Remember these
1. Could you go for the job back?
You left the job for some reasons. Whatever if the new job was not satisfying the reason you left would not change.
Do you really want to go back or finding a new job is better option?
Before asking for a comeback do settle down and make a list about what you demand from a job, write the pros and cons of the old and new and check out if going back is the decision you should move on with.
2. Will they rehire you?
You can't be sure that your company would rehire you whenever you get back, even if you were their best employee.
It's possible that the position has been filled or they realized that they don't need anyone on this position. So it's important for you to check about the position you left.
3. Are you ready to sell yourself?
You were the one who left the job. Now you have to be ready to face all the questions on your rejoining.
Why would company rehire you and believe that you would not leave again when you get a better job.
You need to brand yourself and make them realize that why should they hire you back. You need to practice hard to bring in their confidence in you.
4. Was your resignation graceful?
Before going back to join your old job, remember, did you left the job professionally with dignity?
Or you broke all the bridges between you and your company?
It's important to know whether your departure was at good note or not. Otherwise you can't think of getting back to them when the end was left with harsh feelings.
5. Start over again:
Do you wish to start over again at your new job with new people or go back to your old one with the old people?
You need to know the value of your time and interest and be sure where you want to invest your time.
Starting over again in your old job would require less effort but would lend you to the same position from where you moved on. So it's time to think where to start again?
As soon as you start thinking about these things, soon you'll realize what you want. Getting back to your old job is a safer idea after you experienced a bad change but it could also be unsatisfying if the reason you left the job for still exist.
So it's important for you to understand your need and take up a right decision.
Tips for Returning to Old Job after Resigning:
After this if your decision is of finally asking your company to hire you back, you can go for it. Asking for the job is not difficult. You can:
1. Talk to your colleague:
If you're still in contact with some of your good colleague friends you can talk to them about your situation and check details about the job position you left.
You can consult them about the decision you are taking and enquire about the environment inside the office after you left. You may also get to know how much there is a chance of rehiring.
2. Have a good reason:
There might be any reason for leaving, family crisis or any emergency or just for better opportunity, what matters is that "you left".
Now for joining back you need to have good reason to join back and why you are leaving your new job. It's important that your reasons are quite appealing that the company think about rehiring you.
3. Follow Protocol:
For joining back, despite of being the former employee, you need to follow a proper procedure to join back. Make up your updated resume/CV with a nicely written cover letter applying for the job position and send it to the manager or the HR department. Wait for their call. Be confident even if it's your mistake don't let it make you feel low.
4. Be prepared:
Before going to the office, do check that are you prepared for the interview and the questions going to be arose on your leaving and joining back. Do you have logical reasons for the every bullet that strokes you?
5. Negotiate and get back:
They are rehiring you rather than giving another chance to any other person for the job. In this case sometimes company agrees to hire you again but at low pay scale you used to have.
At this time you need to be calm and negotiate with your boss. You would have to make him remember about your skill and talent and realize that you worked so hard for the company.
You have a chance to negotiate with best possible agreement decision but can't expect more from the company. So negotiate and get back your job with pay.
It takes time to apply in your old company but it's not always likely to be good decision. You may be realizing you need to change the job but not go back to your old job. Although getting back is not troublesome but you have other options like:
1. Try for higher position:
Rather than applying for the same position in your company, you can apply for higher position in some other company which would help you to grow in your career and develop you skills or even in your old company if they require.
It would give you a chance to give a twist to your return and also a personal growth.
2. Search better Option:
Start searching for new jobs in better positions around you studying their profile. Be careful while studying about their profile so that you do not get into same phase again.
Check out better positions you can do work in, Move out, have a job hunt and give it a try.
3. Try for something new:
Joining back on a low pay or working half-heartedly, you have a better option of trying some new field for working. This would give you a change in job life and could also be more satisfying.
Getting into a work you were thinking from an old time or following your hobby for sometime could help you to get a change from the regretful decision and start it over again.
4. Take a trip:
What if you have saved from your last job for you. It's the time to go and have a trip with yourself and your family.
This would give you a change, bring peace to your mind and would also help you take time with yourself and take a better decision about what you want to do with your future.
Job, career is an important part of the life. A wrong decision could be regretful and disturbing but it's not that it doesn't have any solution. Every problem has a solution if we think about it and understand the situation better.
Some era's of life are very delicate and come with the tag "handle with care". Job life is one of them. A single negative thing in job could make the whole day go bad then what a wrong job could do? It could bring hell out of you.
Sitting back and regretting on your decision is never a good choice, you need to face the truth that the decision has been a mistake which now need to be amended. The amendment could be signing back to the past or moving ahead with a new chance to the future but it's completely your decision. So be careful because every time amendments can't be done.