"What is your Daily Routine?" is one of the common questions asked in behavioural interviews. Usually asked to throw the candidate off-guard.
The daily routine of a person is a mirror of that person's personality. It shows how much he/she is ready to face the world. One's daily routine shows how much the person values discipline in their life.
Usually when asked about what is your daily routine question, try to explain how you basically start the day, how long you have been following this routine and what is your favourite activity in the routine and why. You should also explain what you do in your typical day to day life.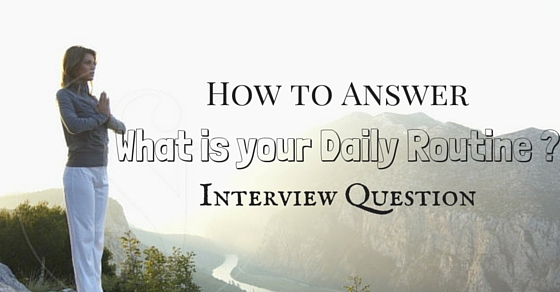 Tips to Answer What is your Daily Routine Like:
This question can have different aspects. For example, it can vary from being a usual day in your life to a typical day during holidays or to a relaxing day in your life. The answers can be endless since it is an open-minded question.
Usually, the interviewer will specify you if they ask you about your professional life or your personal life. Asking a candidate what is your daily routine, falls under the personal aspect of the question.
Tips for Making a Daily Routine:
Here we are a few awesome tips for designing your own routine.
Breakfast is a must but can be fast and easy
Keep creative work aside to do when you're tired
Have an alarm not only to wake you up but also to tell you, to go to sleep
You need to get into a zero notifications mode, to have a good night sleep
Have a morning routine that you can keep on, weekends too
Shadow your habits, it helps you understand yourself little better
Why is Daily Routine Important?
To get rid of all the unhealthy habits, the daily routine is very important.
A daily routine helps you stay happy, healthier and positive
You will be utilizing your extra time, without wasting it.
It helps you decrease the anxiety and nervousness you experience.
It improves your efficiency and productivity at work
Last but not least, help you develop good habits and get rid of bad ones.
Best Daily Routines for a Healthy, Calm and Higher-Achieving Life:
Though I understand that becoming the best version of yourself is tough instantly, but it is not impossible.
So for this reason, I have segmented the daily routines into four parts. You can begin with one initially and then can add others as per comfort.
A daily routine for good health and more energy
A daily routine for an organized life
A daily routine for more productive work
A daily routine for a stronger relationship
Daily routine for good health and more energy:
Morning routine:
Begin the day with a glass of lemon water
Exercise
Have breakfast (must)
Stay hydrated
Afternoon routine:
Have a healthy lunch
Do some mid-afternoon exercise
Evening routine:
Dinner
Get some time to relax
Have Vitamin C supplement before going to sleep
Daily routine for an organized life:
Before work rituals:
Clear your bed when you wake up
Make your workout kit and clothing ready the night before
Have a good breakfast
Check the list of all essential items before leaving the house
When you arrive at work:
During your coffee break:
Think about what you will have for dinner
At lunchtime:
Make personal calls and emails only if necessary
Complete your first shift of work
Afternoon routine:
Review your to-do list
Carry out all the easy tasks
Clear your desk before you leave the office
Evening routine:
Neatly arrange the clothes that you have worn that day
Do the dishes immediately after dinner
Spend 10 minutes doing a quick de-clutter
Bedtime routine:
Make your clothes and accessories ready for the next day
Run a review of all your ideas and tasks for tomorrow
Daily routine for more productive work:
Before work rituals:
Plan for the upcoming work in advance
Wake up at a time that suits you
Have a good breakfast
Back to work rituals:
Make sure your workspace is clean and distractions free
Avoid checking emails first
Tackle the worst thing first
Take a quick nap or meditate
Finish up and off on time
The daily routine also helps in building a strong relationship.
Types of Answers:
The answer depends on the individual answering it. If the candidate is a student and is still studying, their daily routines will usually revolve around classes and studying. This might not be the same for a working individual. Their routines are centered around work and managing time.
Example 1:
Describe your typical routine as a student:
Since I'm a student, my daily routine focuses on studying and classes.
I usually wake up at 6:00 am and do my daily routines like brushing my teeth, taking a shower and getting ready for class.
After which I check my notes and revise for the day. I leave my house a bit early, so as to not get in the morning traffic. I usually cycle to the university.
I reach the university by 7:30 am and I check my schedule to see which classes are there for the day. Classes start by 8:00 am and ends by 1:00 pm.
After classes, I hang out with my friends for a while and go back home. I reach home and then usually take a nap till 4:30 pm.
After taking a nap, I go out and play. I usually come back by 6 and have a bath. After which I get ready to study.
I study till 9:00, after which I check into my social networking sites and spend 1-2 hours on the internet. By 11:00 pm, I go to sleep and I follow the same routine again for the next day. I follow the same routine since I was in high school since it helped me manage my time a lot.
What it Means:
The above examples are usually more suited for students (more preferably college students). When asked for the daily routine, try to define what kind of duties you do for the day. For example,
When do you go to class
What do you do after college
How productively do you use your time
Do you follow any hobbies in between
Do you help others during the day.
These factors matter when the interviewer is assessing you as a person.
Give the person asking this question, a rough idea about your day. Do not tell any lies. Try to be as honest as possible. Moreover, also include what you do during your holidays and how you relax during the weekends.
Example 2:
What do you do when you get a holiday?
For my holidays, I usually go to my home town. I reside in the city because of the work, and whenever I get a holiday from work, I try to use this opportunity to meet my parents and my siblings. My typical holidays lasts usually for 4-5 days or even more on special occasions.
I enjoy the moments during the time I stay with my family and friends. I do a lot of interesting things such as swimming in the nearby lake, looking after the garden, helping my parents with their work and so on.
The reason why I love visiting my home town is that coming to the home town makes me loosen up all my nerves and makes me feel refreshed. Also, it is a great way of joining and having fun with the family and keeping up with the family and other happenings.
How to:
Usually, when asking about how you spend your holidays, try to include at least these four points:
Where do you go for your holidays?
How do you spend your holidays?
Whom do you go with during your holidays?
Also, add anything interesting that happened during the holidays.
While talking about this topic, you can add as many activities as you want. You can limit it to a single activity if you are confident enough to specifically discuss about it. Take notes on how you spend your holidays.
Activities should not only be outdoor activities, but it can also be indoor activities too unless the interviewer specifies what kind of activity it is. In abroad, holidays are considered a form of vacations and you can talk about vacations as well. You can also add if you had participated or seen any religious or social festivities that has happened while you were visiting.
Example 3:
Describe your daily routine when you are not working or studying:
For me, as a student who just finished studying, even when there are no upcoming classes or exams, I just try to spend my time with ease and with a calm mental repose. This makes me feel refreshed and recharged for the day.
During such days, I usually get up a bit late from my usual waking up time. After that, I freshen up and have a hearty breakfast. After breakfast, I sit down and make a list of chores that I have to complete for the day. I try to be as productive as possible during my leisure time.
After which, I go to the nearest supermarket and get all the groceries that I need for the rest of the week. Also, I try to do my chores, such as getting the tyres fixed, mowing the lawn, looking after the garden, cleaning the house and so on. These duties usually take up some time and by 12:00, I get most of them finished. After which I rest for a while by watching a movie or taking a nap.
Then, I get up and make lunch for myself and call up my friends, if they have any plans to spend time for the evening. Then I would usually go meet up my friends by 4:00 and spend a couple of hours with them, talking about various topics or doing some activities like cycling, playing any kind of sports and so on.
By 6:30, I come back home, take a shower and I usually check my social networking sites. I usually spend 1 – 2 hours, this includes checking my mail, future schedules and so on. The day usually ends with me having dinner, watching television and going to bed by 11:00 pm.
Example 4:
Describe a holiday that you have recently celebrated:
During December, I usually get holidays for Christmas vacations. Usually, it is 4-5 days long. I decided to visit my home town with some colleagues from work. I invited them to come and visit my home town and they accepted my invitation. I introduced the customs and traditions of my home town during Christmas to my friends. Then we visited some famous locations near our home town for sightseeing and did some Christmas shopping.
I introduced my family members to my colleagues and we had a family outing. We played games and had fun. After that, we all assembled for a family dinner. This was a moment to cherish because all of my family friends and colleagues were there so it was a fun event.
This holiday was advantageous for me in a spiritual and an intellectual way, since it helped me relax my nerve and be prepared for future tasks.
Example 5:
Describe a Typical Day at Work:
Don't get excited by hearing this question from your employer.
Though this question might sound simple, it has all the stuff that your employer wants to hear from you. Your employer will be smart enough to catch even the minute of mistakes you make because those mistakes can cost your job.
So before answering the question, take a minute time to think about it and craft the answer smartly. It is better to put yourself in the interviewer's shoes and think what type of answer will impress him.
As you will be doing your work for many years, you will obviously be well knowing all the tasks that you do on a daily basis. Craft your answer in a format and convey your interviewer through your answer that you make good use of your time.
Daily Routine Example:
MORNING ROUTINE:
Usually, I'll wake up at around 7 a.m. and immediately start my habit-stacking routine, which includes the following tasks:
Making my bed
Washing my face
Drinking a pint of lemon water
Preparing and drinking a nutritious smoothie
Reviewing my goals
Writing down two to four important tasks for the day
Around 7.30 am, I head for a walk.
From 8 a.m. to 10 a.m., I do my first block of writing
From 10 a.m. to 11 a.m., I'll do a few different things: work on a project, reply to messages from key members of my team or complete a number of small tasks.
AFTERNOON ROUTINE:
From 11 a.m. to noon, I'll relax a little by eating lunch, reading a nonfiction book for 30 minutes, running a few errands or driving to a nearby Starbucks coffee house to get out of the house.
The 12:30 p.m. to 6 p.m. time-slot is very flexible. Depending on the day (and specific deadlines), I do a number of things: write for a few more hours, clear out my email inbox, work through the steps of a current project, record a few podcast episodes or outline a future idea.
EVENING ROUTINE:
6 p.m. to 7:30 p.m. (or sometimes 8:30) is exercise time. I either do another walk (usually with my wife) or go for a run. If I'm training for a marathon, sometimes the long run will extend into the evening.
After 8 p.m. is relaxation time. My wife and I will eat dinner, do a little cleaning and basically unwind for the rest of the night.
At 11 p.m., I'll go to bed and do a little bit of fiction reading. I usually fall asleep around 11:30 p.m.
Source: developgoodhabits
Additional Tips:
This kind of question is mainly asked in behavioural interviews. If you get questions like this, try to include any kind of holiday you want. It necessarily doesn't have to be a religious/ national/local holiday. Try to include any kind of holidays that you like.
Another factor you have to keep in mind is the word "recently", do not try to include holidays no more than 10 months old. Try to include holidays as recent as possible, so that you could specifically remember the details.
Holidays can be a day that is celebrated widely by people. Not just religious holidays like Christmas.
Since the first part of the question is what kind of holiday it was, give a brief description of the holiday and when and where it was celebrated if possible. Do not turn the whole question into a lengthy 45-minute talk. Try explaining your holidays within 5-6 sentences.
The second and third part of the topic includes what did you do during the holidays, do not make it dull by saying that you spent the whole day indoors watching television and eating junk food.
The interviewer expects you to say something exciting about your holiday. Try to make it a bit more fun and add unusual activities that you did.
Then, as a closing statement give your opinion about your holidays. Express the reason why it is special to you and how it has helped you to get through work.
This also can trigger a conversation between you and the interviewer and can end up asking to follow up questions. These include:
What is your idea of a perfect holiday?
Do you consider holidays as a necessity?
Is it important to follow traditional customs during religious holidays?
What are the changes and behaviour of people towards holidays for the past decades?
Do you think a religious holiday is celebrated differently in different countries?
Try to include common things that people do on their holidays to make them more relatable. These include:
Taking a break from office or professional life and spending leisure time with family and relatives.
Cooking and preparing special dishes and visiting locations during holidays.
Visiting their respective home towns and spending quality time with family.
Doing shopping during the holidays.
Visiting other places or cities for sightseeing.
Maintaining social relationships and hence meeting families and relatives in their home town during the holidays.
People looking after religious rules and traditions during religious holidays.
Another important aspect is exploring a new place while on holiday. This shows how adventurous you are in life.
Example:
During my summer vacation, I decided to go on a trip to Kerala. The reason why I chose Kerala was the fact that it attracted me with its natural beauty and calm atmosphere. I went to Kerala during my holidays and spent a whole week.
It was a new experience for me because I got to experience a wide variety of activities like trekking, sightseeing, bird watching and camping. It was the first time I made food for myself in a campsite. After that, I went to a nearby animal sanctuary and went on a safari. It was a new and overwhelming experience to see animals so up close. After the safari, I and my friends who were accompanying me on this trip came back to the city and had traditional and homemade food for lunch. The weather made it even better to enjoy the food.
To explore a new place is always eventful. It made me evaluate myself as a person. Also, it made me forget about the tensions from work and the rigorous day to day life activities. So, next time if anyone asks what is your daily routine, give a better answer to them.
Save