Your work will always be work for an important reason. There are many who don't have a job they enjoy doing and even if they are lucky enough to do something they love and they genuinely believe in themselves, it can still be hard to stay focused at all times.
So how do you think you can stay focused and handle all performances? The place you can learn from is here. You should always take some advice from professionals. They are well aware of the business, understand the daily grind, have an established business by now and can help you have good and effective strategies.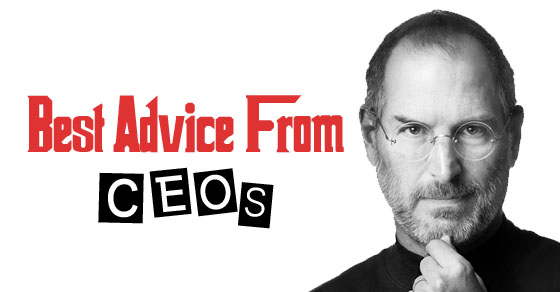 Today, in this post you are going to learn some of the well kept secrets of success and advice given to you by the CEO's. Yes, they are all given by professionals and promise to change your life forever.
Advice from CEOs to Become a Successful Entrepreneur:
The following points will teach you how to become a successful entrepreneur and take charge over your company.
1. Know what you need:
According to the founder and CEO of the company Wendy's, Dave Thomas once said that you need to know what you really need in order to start a business. There are three things that will help you.
You will get to know the product way better than anyone. You will get to know the customer well and also have a good desire to become successful. In that way, you will become successful sooner than later.
2. Be prepared:
If you are going to prepare something new or come up with an interesting idea, be ready for people to tell you that you're crazy. According to the founder and CEO of Oracle, this is quite a common thing and happens to everyone who is trying to be creative.
3. You have to have perseverance:
According to the founder of Apple, perseverance is very important. This is something that will set you miles apart from the others. If you want to become successful, this quality will take you a long way. So be prepared and get ready!
4. Stop making excuses:
Another professional tip would be to stop making excuses. If you want to be noticed, go out and make yourself noticeable. Don't just do something because you are worried you won't be able to land what you have always wanted. You never know if you never try.
5. Do something instead of nothing:
The most important ingredient to becoming an entrepreneur is that you should go out of you way and do something. There are so many people who have new and different ideas but there are a couple who decide that they should do something about this.
Don't wait for the chance to happen. It should not be next week or the next month or even the next day. Make it happen right now itself. Be a doer and not some dreamer!
6. Show some courage:
According to the founder and CEO of Opsware, you have to become courageous and stand for the right decision. Even though it could be a little hard and even though its quite easy to stand by the wrong thing, it would actually be a cowardly thing to do.
But since you are a CEO, you can change some of the choices in life and try to become more courageous and less cowardly by showing who you are. Just stand for what is right. Your goodness will automatically reflect.
Building a Collaborative Team Environment?
The following tips are for those who would like to build a team of their own in the future and collaborate with others. Since they are provided by experts, you can expect great results
1. Look for the right people:
You have to look for the right people if you want things to change. People who want to make a change in the world are those who can really help your company grow. If you want to hire the right people during interviews, these are the guys you should be hiring.
2. Don't be emotional:
This is a very important tip to remember when you are trying to build a team. Never make decisions on the basis of your emotions. You should not be too happy, too angry or even too surprised.
On the other hand, you should also never make any kind of decision unless you have spoken to all those you really trust. Let them know what you think and if they agree with you, then you can proceed.
3. Look at the character:
You should always look at the character of the person before you can hire them. Skill is something that can be taught and developed over time. But character is something that can never be taught. So make sure to look at the character carefully before you add them to your team.
4. What should you teach your employees?
You should always teach your employees something that is new and can help you develop an instant connection. People should also respect you for it. If you are able to do this in some job interview, you will also be able to attract the best and smartest people.
Money really does not mean much to most people or even the smartest lot in the world. They would want you to grow in intelligence instead of the wallet. But if you can show the employees that they will improve economically and intellectually, then probably they would want to work for you.
Why you should never fear failure?
This section will teach you how to deal with failure. Keep reading!
1. Failure is natural:
Always remember that failure is natural and very much a part of life. There is no need for you to worry about it so much. If it happens, don't stress too much over it. Always learn from your mistakes and be ready to move on.
2. Always be ready:
Always be ready to move past what already has been done. You should also be prepared for failure because it can happen almost anytime. Plus failure is a very effective learning tool that should be kept to a minimum.
Work-life Focus Guidelines:
1. Work when you're at work:
When you are at work, make sure to maximize your time and work as much as you are needed to. You should spend time with others when the time is right. The bottom line is to value time when you have it.
2. Learn how to prioritize:
It is not always about following a specific set of time. You have to know how to balance both your personal and professional life and you will be able to do that if you know how to allocate each one the right one. This will definitely help you manage your relationships and work very easily. In that way, you will always be successful.
3. Keep things simple:
According to the CEO and founder of LearVest, you should always keep things simple as far as you know how to handle and manage your time. Time management is very crucial and can really decide a lot. So make sure that is taken care of.
4. Try to be a complete person:
According to experts, you should try to become a complete person. People should always focus on the contents of their work but always remember that work is not everything. You must also open yourself to a few more interests. In the end, you will find a much better solution to your career and it will be much more attractive towards the others.
Learn about the Value of Reputation:
The following points can help you learn a lot about reputation and how much it can help you in the future
1. Advice by Warren Buffet:
According to Warren Buffet and almost any other professional in the world, it takes only five minutes to destroy someone's reputation but it takes more than 20 years to build one. If you think of things in that way, you will definitely be able to do it differently.
2. What people will always remember about you:
People will always remember your character and how you behave with others. There are some who will not remember the amount you have paid and the investments you have made so far. But they surely will remember that you were a good human being and that you were always fair, just and never forgot to show your sense of compassion. You have to tell people that they often get paid in order to make tough decisions but how these people speak and communicate with the others can really help them make an impression of a lifetime. Life lasts for long and deals will keep coming and going but your reputation is something that will never leave you.
Advice by other CEO's:
1. Advice by the author of The Kelly File:
My boss had often told me that people will be there to intimidate me. They will make every attempt to make me feel bad about themselves. But I should never worry because there is just one you in this world. People might imitate you when you've done something special but they can never be you and that should be your greatest gift. Once you have accepted that, you can make things much more fun and enhancing.
2. Advice by the CEO and Chairman of PepsiCo:
You should always be able to embrace those things and challenges that are tough. It is actually a better idea to keep challenging yourself. You have to raise your hand straight up when tough assignments come your way and keep working in order to solve all the problems that nobody else has been able to so far. This is what can really help you become a trusted person inside the organization.
3. Advice by the CEO of Berkshire:
This is an advice for all those who are young and want to get into the business. You have the right to follow your dreams and do something you always love. The thing is you always must remember to keep standing out. You will definitely get noticed for being different.
4. Advice by the CEO of General Motors:
You should always pursue something you are very fond of. If you love something and are passionate about it, don't let anyone dictate or control your life. You have to stop being so natural and just pursue what you love anyway. There are a hundred opportunities that will come your way and you have to make the right choices. Therefore never forget to choose something you really like.
Final Tip:
Take one day at a time:
A final advice by most CEOs and experts is that you should take one day at a time. Don't mix and match everything all the time. That would just become a huge mess. You should always take one day at a time. Give yourself a break and set some goals. If you plan on finishing one thing today, then do it no matter what. Don't keep it for tomorrow.
With that, we would like to bring the post to an end. By using some of these advices from CEO's, not only will you be able to land the job of your dreams but finally be able to create that start up you have always wanted. And in any case, if you have some feedback regarding the post or have something to tell us, please feel free to comment in the box below. We would love to hear from you. They matter to us as well!