The latest technologies dramatically change the world and the way we live, work, and think. The field of human resources is no different. It constantly evolves as far as the new techniques, solutions, apps, and approaches appear. Today it's vital to keep the game-changing recruiting trends in view. Adoption of the techniques can move your hiring process along with your recruiting strategy to the next level and help your company stay current.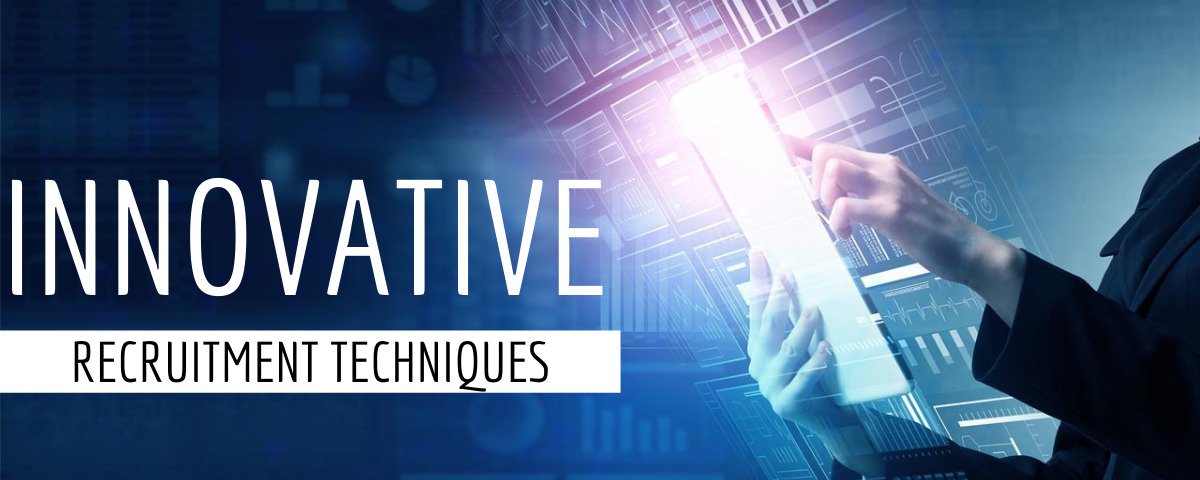 Top 14 Modern Recruitment Techniques for Every Recruiter:
Due to the innovative technologies integrated, your human resources (HR) department can be much more efficient and proactive. Yet, what exactly techniques suit your business objectives? Below you'll find 14 game-changing modern recruiting techniques that really work, making the process effective and accurate. Let's elaborate on each method separately.
1. Showcase the employer brand with AR:
According to LinkedIn research, over 75% of job applicants check the employer brand as well as the company reputation before applying. The organization has a wide choice of talents. So do the expectants. There are lots of organizations to work at with open positions. That's why it's crucial to demonstrate why they should choose you. Herewith, the employer branding is a way to reveal your company's goal, culture, position, and so on.
Formerly, it can be done with a video or brochure at a job fair. Today you can provide the expectants with immersive and engaging experience using Augmented Reality (AR). Thanks to the technology you can:
Showcase the employer brand;
Test the expectant skills;
Share the work environment;
Simulate the work experience.
Using the AR app, the potential hires can interact with the company to understand how it's to work there, what perks they can get, and just see with their own eyes why the organization is a great place.
2. Focus on AI to source and outreach more efficiently:
Artificial Intelligence (AI) in recruitment has great potential and provides a vast range of advantages. Implementing the solution, you'll reduce the workload of your HR department, make the managers more proactive, and hasten the hiring process, etc. So, using the AI, you can:
Automate tedious, repetitive, and time-consuming tasks;
Fill in a position much faster;
Create a positive applicant experience;
Increase the quality of hire;
Reduce human biases;
Reach out to applicants;
Set up an interview time and schedule interviews;
Personalize the process, and so on.
Yet, currently, the technology can only empower and help your HR managers, but not replace the human staff. Mind that this is not a one-size-fits-all solution. AI suits large enterprises with a big workload in the HR department.
3. Go beyond one-way video interviews with VR:
In the context of the coronavirus pandemic and quarantine, Virtual Reality (VR) is more than worthy of your attention. Certainly, remote teams were not new but quite a common practice. However, because of the COVID-19, a lot of employees work instantly and many candidates stay at home as well. This innovative recruitment method gives your potential and/or remote hire an opportunity to get a realistic virtual tour of the office, get clear insights of your company's culture, and so on for building a strong employer brand. Engage the applicant by showing that your organization is an innovative place to work.
4. Integrate chatbot into Applicant Tracking System:
Today Applicant Tracking System (ATS) is an essential tool for efficiency and productivity of your recruiting strategy. ATS gives your HR managers access to all the data related to the expectants in one place with the insights from previous campaigns to guide future ones. You can make the system even more accurate and user-friendly by integrating a chatbot into the system. The technology can reduce the workload and scale a workflow.
For example, interview scheduling is a crucial but highly time-consuming task that consists of several stages. Chatbots built in the ATS can help the employees with a task by informing available times and dates to set up an interview. After that, the manager can massage the potential hire to find out if he/she is interested in setting up an interview and suggest choosing the most convenient time and date. Herewith, the solution can make the process more individualized and increase the candidate experience.
5. Improve candidate experience:
Let's first define what it is and why it's so important. The candidate experience is the overall expectant perceptions of the recruiting process from the very beginning up to onboarding. As the statistics show, 88% of candidates who have a positive experience would increase their purchase with the company. Besides that, it's much easier to engage and retain such hires. In its turn, through the example of Virgin Media, a bad recruiting experience can cost about $5.4 million annually. That's why it's so important to adopt the technique in 2020.
6. Provide video interviews:
In addition to the previous technique, video reviewing is one of the effective ways to enhance the candidate experience, engage the potential hire, and eliminate geographic constraints. Currently, there are dozens of tools and platforms for video conferencing and interviewing like Zoom, Google Meets, Skype, and so on. That's why there is no need to drag every candidate into the office to get a feel for his/her personality. The technique allows you to interview applicants from anywhere in the world, reduce costs, save time, etc.
7. Use data and HR analytics:
In order to make the process of hire more efficient and accurate, it should be data-driven. Measuring and analyzing every stage of the recruitment process, you can increase the quality of hire, reduce the costs, decrease the time, and on and on. Use the ATS, AI, and other tools to gather and process the data to make the right decision with less effort. Adopting the recruiting techniques in the near future, you can optimize the recruitment strategy and reveal the most effective parts of it.
8. Reform interviewing:
Interviewing is the most obvious and widespread recruitment technique. Yet, today, it's probably the most poorly executed method. Though the implementation of the latest technologies to simplify and hasten the process of finding the candidates, interviewing remains the same for decades and includes dozens of ineffective questions like "Where do you see yourself in 5 years?". A new era requires new recruiting strategies and methods. That's why you need to reform your interviewing process entirely. Currently, the general list of questions doesn't give a full picture and just creates a bad experience. Think over the structure of the interview to challenge the way the potential hires think.
9. Go to mobile-first recruitment:
Nowadays the job seekers and applicants used to do everything on mobile gadgets and, first of all, on mobile phones. According to the statistics, there are 3.5 billion mobile users in the world in 2020 and the number is going to reach 3.8 billion in 2021. Thus, mobile recruitment is not optional anymore but a must-have method.
There is a wide range of tools and solutions on offer to integrate to make your recruitment strategy a mobile-friendly one. Feel free to use those that suit your goals and company most of all. So, make sure that each stage of the recruitment process from advertisement to interviewing, hiring, onboarding can be completed on the phone or tablet without any trouble. It's needed not to overlook the candidates of Gen Z and millennials.
10. Get most of the texting:
Do you know that texting messages' open rate is as high as 98% and the response rate is 45% when the email's rate is only 20% and 6% respectively? Though the texting technique is not an innovation, yet, 5 billion people in the world receive and send texting messages regularly, including business messaging. That makes the methods vital for your recruitment strategy in 2020. Actually, texting is a great way to:
Schedule, submit, and/or cancel interviews, assessments, etc.;
Keep in touch with applicants;
Engage with potential hires within the recruitment process last.
11. Practice collaborative hiring:
Hiring a person, HR managers focus on the skills, knowledge, work experience, and other crucial proficiencies needed for the position. However, any candidate is a potential team member. That's why collaborative hiring is a trend to try in 2020. It's a technique when not only HR teams but teams from other departments participate in interviews to find the perfect match.
This method reduces turnover rates and improves the quality of the new hires. The future teammates can ask questions related to everyday tasks, test some specific skills/experience, give feedback, and so on. In such a way, the recruiter can find the best candidate to meet the company's culture and build a strong proactive team.
12. Use social media:
According to the statistics, 86% of job seekers use at least one social media channel to find a company to work at. Herewith, you should add this technique to your recruiting efforts not to overlook the candidates of the younger generation. Thus, you can use all the channels including professional networks such as LinkedIn, but give a try to Facebook, Twitter, along with various blogs, forums, job boards, and other sites to find new talent for your company.
13. Realize the benefits of the gig economy:
It's a great mistake to hire a full-time employee when you need a worker for several hours, for specific and/or periodical tasks only, for example. It's where you should take a closer look at freelancers. You can find a motivated professional for a long-term perspective. Besides, knowing how skilled and good the freelancer is, the HR managers will know whom to hire next time for a full-time position if it's needed.
14. Build contacts with passive candidates:
The main idea of the method is to maintain relationships with qualified professionals who are totally employed but may be interested in the position or in switching companies in the future. Social media, ATS, and other sought-after tools/solutions/software are useful in tracking, reaching out, and communicating with passive applicants. Keep them engaging by telling about the organization, perks you offer, etc. to attract them to join your team. Giving them a positive experience, you build strong employer branding. All that can result in that the passive candidates can suggest the company to other presumptive candidates to apply.
Bottom line:
In 2020 and beyond, sourcing and attracting top qualified professionals and talents will continue to be an issue. Living in the era of digitalization, the human resources industry requires new technologies and data-driven approaches to stay current and effective. In this article, we provide 14 game-changing recruiting techniques that are vital for your company in the modern world.
Artificial Intelligence, virtual and augmented reality solutions, ATS, video conferencing tools, chatbots, and other sought-after facilities dramatically reshape the industry and hiring process. All the techs and approaches are bound to make your HR department accurate, efficient, and proactive, increasing the quality of hires and reducing turnover rate. Anyway, these techniques are just tools on your way to the settled objectives. That's why a strong recruiting strategy and plan are needed to succeed.
About Author: This is a Guest Post by Alexey Kutsenko is CMO at DDI Development company, that provides custom web & development services to worldwide clients. Alexey has vast experience in building marketing strategies for various clients, defining the client's needs, and leading digital marketing strategies in the company.