It is quite a popular talk amongst businesses whether to lease or buy office equipment. The real fact is that small businesses find it tough to raise their capital and hence businesses opt for leasing office equipment with an alternative financial preparation for obtaining the assets.
Leasing equipment from computers, motorcycles to office furniture have become simple and attractive these days. The guide leasing Vs buying, advantages of leasing and more aspects are discussed in this session. Here is a glimpse of the same.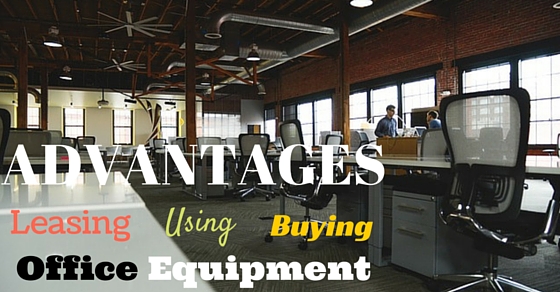 Advantages of Leasing Office Equipment:
In order to avail long term success, the initial phase of business should be planned intelligently in terms of decision making. One of the main decisions to be made is to lease or buy office equipment.
There are few businesses that lease office equipment whereas some buy office equipment. Let's glimpse through the advantages of leasing office equipment.
1. Lower initial expense:
When leasing is considered, there is no initial down payment required where a lot of money can be saved.
It can be a good idea to buy office equipment directly when there is enhanced need of high-tech and technical equipment, but it can be tough at the start of business as profit would be minimal hence leasing can be the best way.
The other advantage of leasing is that it helps you use more cash for other areas of business such as inventory and marketing.
2. Being updated:
By leasing office needs you are able to access leading and cutting edge equipment for use. The world is now a place where technology is constantly being updated, by this way, there are updated models of copiers, computers, and VoIP and phone systems.
A short contract can be signed and state of the art equipment can be leased when old ones are outdated. By this way, you are balanced with your competitors who possess a deep pocket in their business.
3. Have a predictable monthly expense:
By leasing office equipment, you will have a fixed monthly expense in your budget by which you can budget in a more efficient way. Leasing was considered to be the second highest benefit by 35% of respondents to the equipment leasing association.
4. More credit:
Leasing for new equipment is easier than applying for a loan. When applying for the capital equipment loan, banks usually demand for 3 years financial records. This is a tough task for new business starters. Banks do not offer loan for businesses that haven't been running for 2 years. Hence leasing for office equipment is considered the best choice.
5. Tax savings:
One of the main benefits of leasing, most business people consider is that they are perfect tax savers. Lease or finance payments can be deducted easily as business expenses.
6. Leads towards a bright future:
Professional looking office furniture and ergonomic chairs are not affordable by business owners. For such hindrances leasing companies are the best choice for upgrading the office environment and developing a professional image.
By maintaining an appropriate office environment, productivity and employee morale are enhanced. Hence, leasing can help you gain money in the long run.
7. Leads to balance sheet benefits:
Few leased assets and other obligation can be excluded from balance sheets when office equipment is leased. With such kind of moves, the  ability of business and the debt to equity ratio is improved. In order to report all assets which are leased under few agreements, there are few accounting rules to be followed in balance sheets.
Advantages of Using Office Equipment:
In order to run a modern office efficiently there is a need for more and more machines. Very few machines were used long back, but now the machine is required in an office environment forever operation.
Care should be taken as there are number of office equipments that is installed in office. Here are mentioned a few advantages of using office equipment.
1. Enhanced productivity:
A machine has the capability to produce enhanced output and is able to boost the productivity in the organization.
2. Better quality documents:
With the change in technology, there is also change in the output quality of the documents as they are reproduced. With the state of the art technologies, there is much equipment which makes document reproduction in a quality and professional way.
3. Easy usage:
The latest office equipment introduced comes with appropriate software. There is no need for users to hover around with complicated machines as new machines have popped up with users need in mind.
4. Speed and efficient:
With the introduction of new machines, mundane and time-consuming tasks have been made easy and simple. With the help of computers copiers, fax, and emails, tasks are managed and workflow is enhanced. There is enhanced speed and efficiency in whatever work that is done.
In order to process and calculate raw data for organizations, computer data is mainly used which provide all details such as expenses, profits, and employee payrolls.
5. Variety and availability:
With the advent of modern equipment and technology, business of all kinds can find their suitable needs with technology. The manufacturers of office equipment have developed a wide array of tools which are useful for all official needs.
From basic office needs to complex computers businesses are able to pick their choice from many numbers by which their operations are made simple manageable and easy.
Advantages of Buying Office Equipment:
In order to be productive and swap to cutting edge technology, obtaining new equipment is the right choice. This can be achieved either by buy or lease; here are a few advantages of buying office equipment.
1. Purchasing is Easier:
Purchasing office equipment is quite easy as one just has to purchase. There are no procedures such as submission of financial information and other aspects when purchasing an office document is done.
2. Maintenance:
When office equipment is purchased, there is no specification in maintaining. You can manage and maintain your own office equipment.
3. Deductible benefits:
The complete cost of newly purchased products such as computers can be deducted under section 179 of the IRS code for the first year. By this way, you are subject to tax benefits and gain profit.
4. Selling equipment:
When you are the owner of the office equipment, you don't have to follow any procedure or rules and can sell the equipment whenever required. Alterations and repair can be made as per the owners wish.
5. Avoiding agreements and contracts:
When leasing is considered the owner has to abide by all the conditions and rules mentioned in the agreement or contract. When you buy your own office equipment such contracts and agreements can be avoided and the owner does not have to follow any rules or procedures.
6. Have full control:
When office equipment is purchased, the owner can have complete control of the equipment and can do anything. There are no limitations or specifications in using the equipment.
Leasing Versus Buying Office Equipment:
There are a number of aspects for business owners to consider when they wanted to operate office equipment. Apart from conversing about differences about buying or leasing office equipment, the pros and cons in buying or leasing which include tax benefits, maintenance deduction, and other facilities must be considered. Here are a few hints about leasing Vs buying.
1. Equipped with the latest trend:
When you purchase office equipment, the business owner owns the equipment and finds it difficult to update the technology as time passes by. They are struck with the own machine as they cannot be updated.
When equipment is leased, then leasing can offer you with the latest office equipment in the market. There is no need to update on an annual basis and the business owner is not stuck with outdated equipment.
2. Expenses in leasing and purchasing:
There are easy and predictable payments with less up-front cost and also leasing is completely tax deductible as mentioned in 179 IRS tax code. Leasing is considered to be flexible and you have a number of choices to choose from.
In the same manner, the owner does not have to pay the complete amount in one shot. Whereas buying is simple and easy but payment is done at once, and when a new office is started purchasing your own property is mandatory. There is tax deduction also for the purchase of equipment.
3. Maintenance:
When you lease office equipment, you are required to follow the specifications as mentioned by the leasing company. Maintenance can be under your own control when you purchase your own office equipment. Business owners can make their own alterations and modifications when they purchase their own equipment.
4. Procedure and process:
When a business owner decides to lease any office equipment, he needs to sign contracts and follow few procedures. In that manner when you purchase an office equipment, there is no need for such formalities.
5. Choosing model:
Depending upon the needs of your business, you can select the required model and type of office equipment and sell them once they are not needed. When leasing is considered there are latest models and machines from which the business owner must choose.
6. No equity with leasing:
When leasing is discussed the actual fact is that the business owners do not own the product anytime. The equipment leased will be the product of the leasing company throughout even before and after the lease period. The office equipment can never be sold because; the ownership is not under your name.
7. Long lease terms:
The long lease terms are another aspect associated with leasing equipment. This is a downside of leasing as when committed for long terms, the owner has to make monthly payments though they do not use the equipment. The biggest issue is that at early times of termination the owners must pay a large penalty.
8. Leasing and its types:
In order to upgrade to new technology and be technologically advanced, leasing methodology can be the right choice. Leasing is similar to a loan where the lender buys and owns office equipment and in turn provides rents monthly.
When a lease is completed the equipment can be purchased at a fair market price, lease new equipment or continue to lease the previous one. There are two types of leasing called operational and financial leasing.
In an operational lease, the lessor allows the business owner to make use of the office equipment for a specific period of time where there is no transfer of ownership amongst the parties. The lease period would be less than the life of the equipment.
A financial lease is also known as a capital lease is another type of equipment lease. The procedure is similar to operational lease where the only difference is that it varies in ownership. When a financial lease is considered, the equipment is owned by the lessor. The lease is considered as an asset when the balance sheet is considered, where the liability and holding of the firm are increased.
These are a few aspects about leasing and buying office equipment. There are many advantages and disadvantages of leasing and purchasing which are discussed in detail.
In the same manner, the new business owners should make sure to research and find out the method that best suits their needs.
Leasing is one category which has its own benefits which can be beneficial to certain owners depending upon their needs.
Purchasing is another category which can be useful for large-scale entrepreneurs depending upon their requirements. In this manner, the needs must be analyzed and accordingly preceded. There are many other aspects such as expenses, tax benefits and maintenance as mentioned above. Business owners can run through sites and get through reviews in order to get to know others experience and make a decision whether to lease or purchase.
Save
Save