When applying for a job you must ensure that you are doing everything to try and bag the position. Companies love to hire those individuals who are always willing to go that extra mile in order to get things done in a perfect manner. If you prove your worth in while presenting your professional resume and motivation letter to the company, then the company will naturally be more interested in you. You must ensure that you give in your best when drafting these documents, lest they will fail to attract any kind of attention to you as a worker. Here we are going to discuss about writing motivation letter for job.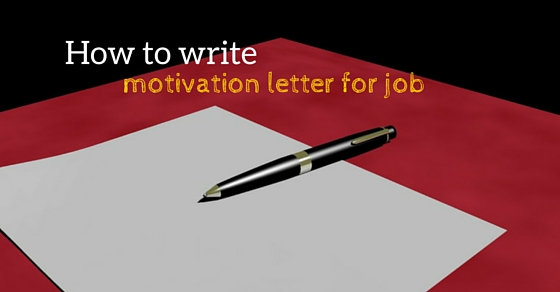 Simple Steps for Writing Motivation Letter for Job:
The following mentioned are few tips on how to write motivation letter for job and also about few motivation letter formats.
1. Make a rough draft before getting down to the task:
A motivation letter is something which should be written very well. It should be thought of as an advertising tool. If it fails to impress then chances are that the recruiter might not even read your resume. So before you think of sitting before your computer trying to come up with a impressive and good motivation letter, it is advisable that you prepare a rough draft beforehand. Think about all the points which you ought to focus on and then proceed from there. There is no point in focusing on too many things all at once, as your letter will just seem too confused.
2. Do it with a clear mind and with plenty of time on your hands:
It is very important that when you sit down to draft your letter, you are doing so with a clear mind and head. If some personal matter is playing on your mind, then you will not be able to give your best when writing your motivation letter. The way in which you write will determine whether or not you will get the job, so ensure that you treat the matter seriously and give yourself enough time for the task. If you wish to become successful in your professional life then you must put in a lot of effort into whatever you do.
3. It is not necessary to use big words and complex sentences:
Just because you are writing a professional motivation letter that does not imply that you have to make use of big high sounding words, just to prove that you are really smart and well read. You must ensure that your letter is rather easy to read so that the essence of what you are trying to say gets delivered to the recruiter rather easily. Do not waste your time trying to sound poetic as that will certainly not account to anything in the corporate world. If your motivation letter comes across as incomprehensive then that is surely going to spell disaster for you.
4. Ensure that you keep it short and to the point:
One of the biggest mistakes which you ought not to make when writing a motivation letter is making your letter extremely long and dull. If you write a motivation which is too much long it will communicate two things to the recruiter, first is that you obviously do not respect his time and secondly you do not know how to convey your ideas effectively in a few words. Try and get into the habit of developing speaking and writing in a short and to the point manner. You should learn to realize that quantity is not quality and that no one would like to know your life story via your motivation letter.
5. Ensure that you choose your words very wisely:
In the business world it is very important that you always think before you speak or even write down something. Speaking out of turn or even saying something which is inappropriate or unprofessional could really land you in a lot of trouble. So when drafting your letter and jotting down your ideas ensure that everything you are saying is in place. At the end of the day you must remember that it is a professional letter and if you sound unprofessional you will not be hired for the position. No one would like to hire an individual on board who does not know how to conduct himself or herself in a proper manner.
6. Do not repeat what is already written in your resume:
It is advisable that, you get down to write your motivation letter only after you have completed writing your resume. You must ensure that you know exactly what you have mentioned in your resume and ensure that you do not keep on repeating the same points and details once again. If a significant amount of time has elapsed since you wrote your resume, then it is advisable that you go through it at least once so that you know what to mention and what you ought to leave out in your motivation letter. Sit alone and in a quiet room for a while and ideas will automatically start coming to you.
7. Constantly check for spelling and grammatical errors:
When you are writing your motivation letter it is important that you check it once you are done in order to ensure that you have made no mistakes. If you make a mistake it will reflect very badly on you as a worker and even on you as a person. Give it your best shot, so that in your heart of hearts you know that you have left no stone unturned when it came to doing your part. Just to be sure, constantly read it while writing your motivation letter for a job as well, so that you can ensure that the tone is apt as well.
8. Do not keep blowing your own trumpet:
No matter what, you do shy away from blowing your own trumpet and trying to make yourself sound better than you really are. It is a well known fact that everyone likes to paint an impressive picture of themselves on their CV and their motivation letter but ensure that you are not taking things too far. It is vital to let your achievements speak louder than your words so that you give the impression that you are someone who is rather humble and unobtrusive. People who blow their own trumpet usually have too much pride because of the little they have managed to achieve.
9. Make your motivation letter sound very genuine:
You should ensure that at no point in time your motivation letter should sound fake or dull. It is vital that it sounds very genuine. It is through your motivation letter that the recruiter will be able to get an understanding of how well you are able to express yourself and even how well you are able to make your case. While maintaining a proper professional distance you should try and speak from the heart about exactly why you are interested in working for the company. Be honest no matter what and your honesty is bound to be rewarded.
10. Mention why you are absolutely perfect for the job:
The main of writing a motivation letter is so that you are able to state why you think that you would be ideal for the job. You must go all out in trying to prove your point. Be half hearted in your attempt and that is surely going to reflect in your documents. You must remember that if you do not have faith in yourself then no one else is going to have faith in you. So really go all out in trying to make a good impression as that will really help you along the way.
11. Ensure that your job motivation letter gives a strong sense of who you are:
Companies never like to hire those individuals who are just one of the many in the crowd. They like to hire those who are able to stand apart and carve a niche for themselves. It is such people who are able to dream big and take the company to new heights of success. Through your motivation letter for work you must give a strong sense of who you are as a person. Ensure that you come across as someone who has a powerful voice and a strong opinion. Never shy away from saying what is on your mind as people appreciate those who are able to give their honest opinion.
12. Be sure to state the function you wish to apply for:
Your motivation letter should be the medium by which you state in no uncertain terms what function you would be happy to carry out in the company. In addition to that be sure to mention why you would be interested in carrying out such a function. Substantiate whatever you are saying with proper exams so that no words or phrases sound ambiguous in any way. Show that you not merely have technical knowledge but you are someone who knows, well how to apply the knowledge which you have attained in your college or university days.
13. Let your motivation letter compliment perfectly:
As mentioned above your motivation letter should not be a repetition of what is mentioned in your resume, but that does not mean that you have to make it sound as an antidote to what is mentioned in your resume. Rather than having both seem, as if they were at odds with one another, make them seem complimentary to one another. Your motivation letter should be an introduction of sorts to your resume. Your cover letter should have what it takes to engage the attention of the recruiter so that he or she becomes eager to read your resume and immediately think about hiring you for the position.
14. Make it very specific to the job you are applying for:
A lot of people make the mistake of sending out the same motivation letter to all the companies that they are applying to. Doing something like this is very foolish indeed. No matter how lazy you are you must make it a point to write a motivation letter exclusively for each company you are applying to. You might think that why bother doing this? It is not like all the companies have the same recruiters? But this way of thinking is absolutely wrong. If you want the job, you must be willing to try your hardest to get it.
15. Run it by someone who is a professional in the field:
If you have never written a motivation letter before, it is advisable that you give it to someone to read and review once you have completed drafting it. Pay close attention to what this professional has to say and make the adjustments accordingly. In addition to this, keep working on your resume and motivation letter and try your best to constantly improve on it.
16. Do not give up an average motivation letter:
In this day and age there is a great deal of competition between the companies. Those companies which do not deliver excellent services are forced to shut down because no individual or client is going to pay their hard earned money for substandard work. It is for this reason that your motivation letter should not be average or run of the mill, it must be extraordinary so that you are not only able to create a good but also a lasting impression in the mind of the person who is reading it.
A wonderful and powerful motivation letter cannot be written in the matter of a few minutes hours. If your aim is to really knock the socks off the recruiter then you must ensure that you spend a significant amount of time thinking about what you will write. Your aim should be to show that you are someone who is perfect for the job and that no matter what hurdles come your way you will always try to do your best in whatever way you can. You must state beyond doubt that you are ideal for the job and will take the company to even greater heights.
Save
Save
Save
Save
Save