A single job opportunity in any level or domain attracts around 250 resumes.
Only 4-6 applicants from the total 250 resumes are shortlisted and then called for face to face interviews. Finally only one applicant is selected for the job and issued a job offer.
If you have recently received a job offer, after months of hard work, you should understand the significance attached to writing a reply to the job offer and also understanding certain elements which the letter should contain.
You do not need to feel tensed over this matter, as we have guided you below regarding the basic steps which you need to take when writing the letter of acceptance for a job offer and also highlighting the elements which should be in this letter.
Here we are discussing few tips to write acceptance letter for job offer.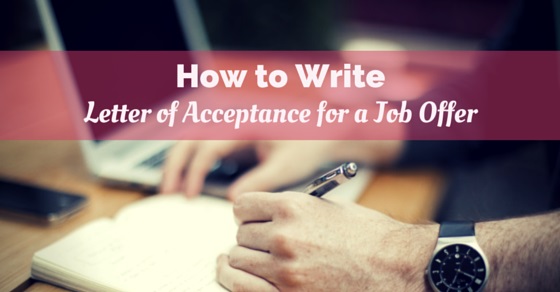 Basic Process for Writing Job Acceptance Letter:
1. Receive the call well:
Most companies notify the selected candidate regarding the job offer first over phone, before they send the mail. Thus when you receive the call, speak to the hiring manager and thank him for calling you and giving you the good news.
Here it is essential that you understand what is the designation and the compensation package you are receiving and then confirm over phone that you are accepting the job offer.
If you miss the call, then call back to the hiring manager and explain that you would like to speak to him as you were unable to take the call.
Never leave a confirmation that you are accepting the job offer in a voice message. It looks very unprofessional and creates a bad impression.
2. Notify other companies:
Once you have accepted a job offer it is essential that you inform other companies that you are not looking for any job opportunities any more. Thus you might write a few emails and ask them not to consider your resumes anymore.
Here it is essential to mention that many candidates accept a job offer by email but continue looking for better jobs.
3. Write a brief acceptance mail:
Even though you might have accepted the job offer over phone, it is necessary that when you receive a job offer by email, you should briefly reply and accept the job offer by email.
If you have any further clarifications you can request for clarification in the mail. The acceptance letter should have the following elements in it-
Write a note of thanks to the company and also thank them for the opportunity given to you.
Clearly accept the job offer and also the terms and conditions associated with the employment.
Confirm your date of joining. In case you have to speak to your current company regarding DOJ, state it clearly in the mail and also specify a date where you would confirm the DOJ from your end.
Do ask questions regarding who would be your reporting manager and also if you require any work permit immediately.
4. Check your letter well:
After writing the letter it is essential that you check the letter well and keep it free from grammatical errors.
The letter should be addressed to the person writing to you on behalf of the company. It should be crisp and professional.
Basic Elements be present in Acceptance letter for Job Offer:
When you are replying to a job offer acceptance letter, you have to understand that you are setting the standards of communication with the company.
Thus your new company would also judge your professional ethics and skills of communication when reading it. Thus the letter should contain certain elements like-
1. Have a professional approach:
When you are replying to the person who has written you the job offer letter, you have to be very professional.
Here instead of going over the top in excitement, be precise and professional in approach. This would give the impression that you are skilled in writing business letters efficiently.
It is also essential that in your haste, do not forget to share your important contact details which is mandatory here.
2. Be explicit in your appreciation:
When replying to the job offer letter, it is necessary that you thank the employer explicitly for the opportunity that has been given to you.
Here you can also mention that you are excited to meet the team and also understand how well you can contribute to the success and growth of the company in the next few years.
By writing these sentences you are indicating positivity and the fact that you are eager to take up new challenges when joining the company.
3. Be clear in your communication:
When replying to a job offer email, it is essential that you understand all aspects associated with the job.
Apart from the terms and conditions, you might also need to undertake a physical examination or an induction program when you join the organization.
Here you should understand regarding how many days are you liable to complete the procedure. In case you have any queries it is essential that you ask them and clear all your doubts.
When you are joining an organization you are also asked to deposit important work and academic documents. In case you have an important document missing, it is in your best interest that you should inform the concerned person and also maintain that you are trying to get the documents at the earliest.
Also if you are relocating to a new location, you can ask if your travel and lodging expenses would be borne by the company or not.
Steps to follow when you want to Negotiate Job offer with Company?
The job offer letter that you have received is good but you would want to negotiate on certain things, then the strategy to be adopted are –
Thank the company for the job opportunity given to you and request that you would like to speak to the company regarding certain things. Here do clearly mention what you would want to negotiate on. It is best to request the person for an appointment so that you can meet and discuss openly with him.
Do not mention the reasons for negotiation when replying the job offer acceptance mail. But request the person for a discussion over the phone or meeting in person.
Now that you have written your acceptance of job offer, just relax and enjoy the fact that your hard work has paid off. Remember to use this time well and polish up the skills needed for your new job. Thank your luck and get ready to start a new phase of your career again.
Save