It's not only you who wish for a formal look at work and a casual or party look at night. You are living in a fast paced world where everyone is running a rat race, and wishes to move ahead of others. You also want the exact, so for that you need transitions. It can be in any form and most prominently in the form of clothes you wear.
Here are some of the tips that you can go through to transition your day to night outfit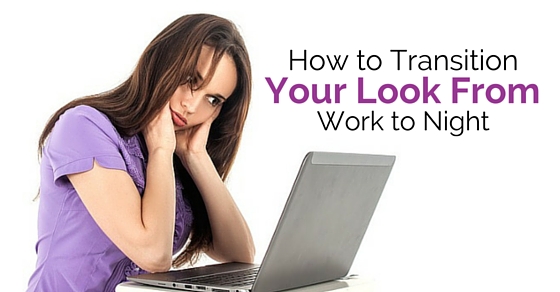 Day to Night Outfit for Work Ideas:
1. Start from the top, your hair:
Some are blessed with hair that can be tied for a formal look and then could be taken down for the party at night, but there are many who have to make little effort in managing work hairstyles from day to night.
Reach out to some hair accessories like hair pins, head bands and the flowers to accentuate your look. You can even make a side braid, it goes well in office as well will do good for the outings like dinners, parties at night.
2. The makeup:
Makeup can be something tricky for you if you are not expert at doing a good and balanced makeup. While transforming your day to night outfit, you have to take care of your skin too. Make use of the blotting papers to remove the extra oil from the face that gathers within the whole day.
It is advisable to do a light makeup for the day like use nude or the daytime peach shades for the day and before leaving the office, apply dark shades like red or even the pink one's.
Apply eyeliner which is long lasting and do not apply mascara over and over again as it will only dry up your eyelashes. Sometimes only the makeup is enough to add glamour to your look, thus transitioning yourself from day to the night look.
3. Accessorize yourself as if it's no one's business:
Accessorizing yourself will add a glamour to the already ensemble. Accessories will include statement jewellery like neckpieces, bold Swarovski rings, dangling earrings, etc. Other than this, you can keep your bold dark colored bags like in red shades, pink or orange ones. Adding accessories will add a splash of colour to already existing boring office formals.
4. Stylish scarfs:
Stylish and vibrant colour scarfs are as punchy as the statement neck pieces, but they are warm too. Putting on a scarf is easy and adds instant pizzazz to the look.
If your office uniform is something like a blazer and pants, then the loud colour scarfs will surely do much good to you. The contrast of light colour office attire with the stylish scarfs is indeed very attractive and luring.
5. The glitzy and sparkled bags or clutches:
The easiest thing ever is just changing your office handbag to something glitzy and shiny. That glitzy and shiny thing can be your hand clutch and bags.
Pick any of the clutches, be it with chain, studs on it, shimmer or even the sparky embezzlement to give yourself a glamorous look.
6. Give the footwear's a true and stylish promotion:
You might be wearing flat bellies, or ballerina for your regular office look, but this time you can add something exciting to already what you wear. For instance, you can go for the flat footwears but something stylish like with bows on the tops, anything glitzy on the bellies can do much good to your look.
You can go for black, silver or dull golden colours in footwear. If not this, reach out to smart stilettos as they can add glamour to the office formals like pants and blazers. Apart from this, low heel pumps can also do wonders.
7. Sassy, bold tights:
The leg accessories are utterly fabulous and especially the accessories with bold patterns on it help you look stylish, sleek and also adds a touch of mystery to your look. Also, it will keep your legs warm and will attract lots of attention to the captivating game.
Spend your day well in opaque black stockings, or polka dots, to change the look completely. These tights or the stockings you can team up with the knee length dress like black outfits, a red plain dress that you can carry to the office the same day you wish to wear it for outings.
8. Replace your jackets:
If you are wearing any formal blazer onto the pants, then change it with some classy jacket in order to give yourself an evening-perfect look. The outwear will also depend on the place where you are heading towards.
A cute top with dark color pants like black, navy blue will go perfectly with the leather jackets, cardigan or any of the pullovers. If you are going out to DJ night, then match your lower with some pretty dress along with a beautiful shrug or a fashionable warp.
9. Layer it up:
Choose night time friendly dresses as work attire so that, those go well in accordance with the event. You need to just put up with something as during winters it will assist you in keeping you warm throughout the occasion.
For the bottom layer, go for a dark black jeans outfit and sleeveless top. It depends on you and also on the weather that you want to add scarfs, coats or something else like long neck pieces in silver and gold colour.
By layering, you get many options for adding on the vibrant combinations, thus making yourself look fantabulous and equally fresh like others, despite of working the whole day.
10. Printed pants are in vogue:
Coloured printed pants are now in vogue, you can keep it in your wardrobe. Although you cannot wear it in the office premises, yet you can adorn it whenever going out for showing your presence at some auspicious occasion like weddings, or fun nights like DJ's or birthday parties and something similar to that.
11. Pencil skirts:
If you have pants with shirts in the office hours to wear, then it is advisable to keep with you a smart, straight pencil skirt. The pencil skirt is decent wear and gives a stylish glamourous look.
You just need to replace your pants with the pencil skirts, the shirt will remain the same. So, not a big issue, replacing the pants with the knee length pencil skirts.
12. Do not go for waterproof makeup:
This is a kind advise regarding night makeup to be used while transforming your look from day to night. You might use waterproof mascara, foundation, eyeliners, thinking that will stay for long that is till night, indeed, true, but harmful for the health of your skin and also will have side effects.
Make sure you never go for something which you have to put in the whole day, especially when it comes to makeup. Advisable is to redo the makeup whenever going out of the office, especially during night to attend the party.
The morning's make up will not provide you a fresh look, but will make your face look faded and tired. So never put hands on the waterproof makeup.
13. Nothing vulgar should be there:
Make sure what you wear is in the interest of the office and is nothing vulgar in the name of attending night parties. Although you have to attend parties at night yet you need to be smart, elegant but not vulgar. It will be your own loss only if you will go with something not acceptable inside the office premises or during office hours.
Conclusion :
So, above are some of the tips that you can follow like a shadow whenever you wish to transform from day to night outfit. Come up with the clothing that is meant to be girl's best friends, then reach out to the exciting jewellery that will act as a cherry on the cake and you can also spend a little money on the makeup and the smart footwear.
These all things will help you out in being quick and bringing a revolution in your look. Just you need to build a great aesthetic sense to glamour up yourself at the end of the day.
Save