In day to day life things go in a very normal way. Sometimes it seems a little weird to spend ourselves most of the time in a day in a very normal way. So what if a person decides to be different from others.
For instance, if a person starts reclaiming their lunch in a very useful or productive way.
Doing the same things every day and following others for what they did for so long time is slavery. Instead of that, one can step forward and take a charge on changing something in their life.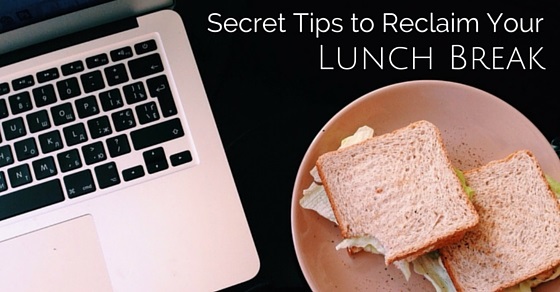 How to Reclaim Your Lunch Break:
Generally a person spends his / her lunch breaks only on lunch as the name suggests. These wastage of lunch time can be used in a very productive way. And what if that person decides to reclaim his / her lunch break in a very productive way and they are as follows.
1. By turning themselves to be useful:
Lunch break time in office, colleges or schools is usually spent having lunch for 1 hour and in that one hour of lunch break we spend for lunch is just 10-15 minutes.
Therefore, the rest of the time we spend on useless things. Instead of wasting those 20-50 minutes without doing anything, at least try to turn them useful. By following some kind of hobbies during this time can help one be more productive during lunch break.
2. Start playing sports:
Lunch break time is most probably for only 1 hour and from it, the time apart from lunch is considered free. So instead of being free and useless, one can try joining a sports club or something.
Through these kind of change in lunch break time a person will understand how he/she is wasting their time in chatting, gossiping and sitting. There are several things which can be explored in this 20-50 minutes of break.
3. By spending time for educative lectures:
Mostly lunch breaks are being spent with friends or colleagues, but instead of spending such valuable time in a very unwanted manner. One can try to explore new things in this world.
By attending educational lectures and seminars, one can improve their knowledge. Search for nearby seminars and lectures and be a part of it after a lunch hour break. Through all this way, one will make use of such little time in a useful way without wasting it.
4. Helps us to be healthier:
Lunch hour break is meant for lunch time. But what if someone starts reclaiming it in a different way. By using the lunch hour break in a better way one can be healthier. It doesn't mean that the person is skipping a lunch meal to be healthier.
It means that after one's healthy lunch hour break, one will take more interest in their hobbies, and this will inversely affect one's health to be better.
Therefore, reclaiming lunch break in a productive way can turn one to be healthier.
5. Start learning new languages:
Instead of wasting lunch hour break in chatting or surfing, one can take a decision to join a language learning class. This will help a person in a way that he/she will end up learning a new language every day during this 20-50 minutes of lunch hour break.
Learning a new language can be a long process,s but if a person takes a class daily for 20-50 minutes, then there will be a drastic difference in their language learning skills. This will ultimately make use of that particular lunch hour break, which used to be kept only for lunch.
6. After Lunch, take a walk:
Normally lunch hour breaks are only kept for lunches and, most commonly people are used to it. To break that particular routine which used to be followed during so long, now is the right time to give it a certain change.
Therefore, for starting after having a lunch, rest of the 20-50 minutes one can think of taking a walk which will make one be more healthier. By taking a long walk for 20-50 minutes will let one's digestive system to be better.
7. Go to music shows or concerts:
Lunch hour break is normally of one hour, in that one hour a person needs hardly 10-15 minutes to have lunch, then rest of the time will be considered as a waste. Therefore, instead of wasting that time without doing anything, one can start checking for some musical shows or concerts to be part of. Even one can join music classes also and this helps a person to make use of such a valuable time.
8. Visit a library:
After one's lunch break, that particular person may start feeling bored of wasting their time like that. Therefore, to make use of one's time, a person can always go to a library and read some interesting books.
By reading books during this lunch break time, one can understand the value of time. By visiting library one may end up understanding many things which used to be tough to understand.
Like all this one day he/she may start making it as a habit to visit a library every day for a few minutes.
9. Communicating better with friends or colleagues:
People who are very poor with their communication skills They can start communicating or taking some classes regarding that to be more effective in their class. This is a best way to reclaim one lunch break and this will ultimately help that person to be more interactive at the end of every session of his / her class.
These kind of usage of lunch time can make one be more confident about oneself and also will help themselves to grow as a better person.
10. Sharing knowledge:
There are some people who are not more into extra curricular but still they can use those extra time considered as a waste in a productive way and that can be by sharing their knowledge. Some people who are into studies more loves to share their knowledge with others. This can help them to improve their knowledge as well.
Therefore, people who want to reclaim their lunch time can work out that time in that way.
11. Go for Shopping:
Some people may not be so interested to join such classes or educative clubs, but there may be something which they are interested in and that is shopping. Some people are considered as shopping freaks, this is kind of being crazy about shopping and sales. Therefore, those people who are more interested in shopping can make of their spare time in shopping or roaming kind of things. It will help one to be free and relaxed after doing certain kinds of refreshing shopping and some purchases.
12. Join a fitness class:
As mentioned earlier, a person can spend his / her time in a very practical and healthy way. This will make one person understand the value of such few minutes in one's daily life. Instead of chatting and sharing things, one can at least try to be a part of something healthy and refreshing.
And these fitness classes can explain one to be more focused and healthy. It will also help a person to learn things about responsibility for oneself and responsibility over other happiness. Ultimately, this will turn things in a very positive way.
13. Listen to Music:
Listening music can make a person to be more calm and refreshed. Music heals everything. Sometimes after lunch during their lunch break hour they tend to spend their time alone or sad. But instead of being alone and sad he / she can at least try to be part music class or also by being a part in the music by listening to it.
Music speaks through its sound and lyrics, some people understand it and some don't, it's up to them how to take it. Those who understand music or loves listening to music will understand the value of those 20-50 minutes every day in their life.
14. Join a Dance Class:
It is also a another way to be healthy and happy in life. Some people find their happiness in the form of dance, they feel more passionate about dancing. A person who is really into music and dance can never let his / her life a part of time to be trashed out like that. And also will try to make use of that particular trashed out time in a very productive way by joining dance classes or by attending dance shows.
This will at the end, show that how well one can manage time in a better manner.
15. Meet friends or loved one's:
By sitting at one place after lunch break, can sound boring, but to make it interesting join those for lunches who values your time. It can be stated as spending breaks or lunch time with loved ones or friends.
Through these things a person will definitely understand that every day one wastes his / her half time in doing nothing. And one can take responsibility find out such time to make work in a very productive way or manner.
16. Spending time in exhibition:
Spending time in the library or exhibition can sound same because both take intellectual term. Those people who are so into the library or exhibition can make their spare time turn in their favor by doing which love and find interesting too. A person will feel relaxed if he / she finally understands the value of time.
The smallest amount of knowledge for a small period of time can make one more attentive and effective. These effective nature shows the productive use of those times, which used to be considered as a waste.
17. Take a short cum long drive:
Some people find their peace in by going for a long drive, but here long drive is not min option. Instead of that one can prefer to go to long cum short drive which specifies a certain period of time in which that particular person need to be in. By driving for small time can make one feel better about themselves.
This can be turned in as a chance of a lifetime. Daily 20-50 minutes of short drive fascinates and encourages to do something crazy.
18. By Surfing:
This can be end option for those who are so into gadgets and internet. Recently people spend most of their time surfing internet or something. The internet is a form of sourcing information through several websites. People who are curious to know about something happening around will get in touch with the internet and understand all the elements of their interest. A few minutes of knowledge can educate one about certain things which one has never discovered.
Finally :
To end this discussion we would suggest that a person has followed things for a very long period of time and if it is a time for some change then it can be beautiful. Instead of doing the same old thing in one's day to day life can be boring. So give some creative touch and make it more interesting. Such as lunch hour breaks these breaks have always kept it as for having lunch, but if on giving thought a person eats only for 15 minutes or less than that and the rest of the time will be considered as a waste. Therefore, to understand the value of time and one's interest, a person can start doing something he / she loves to do. Therefore, if a person wants to reclaim their lunch time, then mentioned above are certain secret tips to consider just to reclaim lunch time.