The increase in competition for different job profiles have also altered the traditional interview techniques. These days, many different job profiles have group interviews. One reason for such interview is surely the rise in number of candidates that has caused recruiters to alter methods to save time. Recruiters usually opt for several rounds of group interviews. After each round, candidates are shortlisted based on their performance during the interview. This way the cream or the best candidates are the only ones left for the final round of the group interview.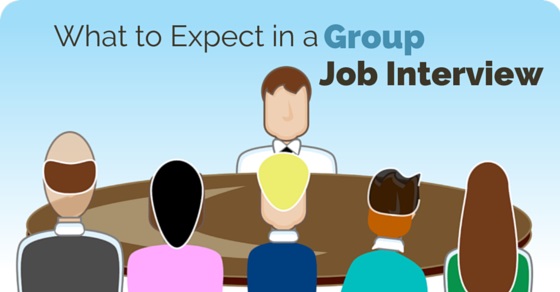 There are some jobs where group interviews are very common. These are usually jobs that require more smartness and confidence. Recruiters usually opt for job interviews for sales and marketing jobs. These are jobs that require such candidates. Similar interviews are also common when the firms are looking out for store models. If you are well prepared for a group interview and know exactly how these interviews are conducted, you can be more confident during the interview process.
General Questions Asked During Group Job Interview:
There are several questions asked in most job interviews that are also asked in group interviews. It is best to head for the interview after you prepare well for these questions.
1. Say something about yourself:
Try to cash on questions like these because these relate to you. Try to reveal your great persona, positive attitude and your great achievements in your answer to this question. You may tell them if you possess leadership skills or if you are good at managing certain special situations that are usually difficult to handle. You must not speak about things you lack or your negative traits while you speak about yourself.
2. Why do you wish to apply for this position?
It is a group interview and everyone in the group will be asked the same question. The individual who manages to give the most catchy or impressive answer will be shortlisted. You need to do a thorough research on the firm, its policies, its establishment, its achievement and its current projects.
If you are not the first one to be asked the question, you surely have a benefit. You get to hear what other candidates answer. You can improvise on your answer so that it is better than the answers of previous candidates. If you are the first one in the group, make sure it does not appear that you have parroted the answer even if you have prepared for it. The answer should speak of the company's success and how you can contribute to ensure continued success.
3. How will our company benefit by hiring you?
When you answer this question, you may quote a few facts too. If you know of any recent crisis the company has faced, you may say how you could have avoided it if you were a part of the firm. You also need to highlight on qualities you possess that make you better than other candidates.
If you state exact figures while telling them how you plan to increase the profits of the firm, it is sure to impress them further. Knowledge of figures and facts reveal that you have prepared well for the interview. It also reveals your greater interest in getting hired for the particular position.
4. What are your core competencies?
Core competencies are the things you are good at like your special skills and abilities. When they ask regarding your core competencies, answer confidently. Tell them your strengths or special abilities. Tell them how these abilities have helped you achieve your goals in the past.
Be Prepared for the Unexpected – Group  Job Interview Tips:
The group interviews can be pretty different from individual interviews. There may be rounds of interviews that are not common in individual interview rounds. So you need to go prepared for the unexpected. Mental preparation for these unique rounds will help you face these rounds confidently. Here we have listed a few of the possible rounds for group interviews.
1. Group Discussions:
Group interviews are common in jobs where you need to have smartness, presence of mind, confidence and good communication skills. One easy way to evaluate these distinct factors is by conducting a group discussion. You may be given a topic and asked to speak on it for five minutes. After every candidate gets a chance to speak, there could be a question and answer round where questions related to the same discussion topic are asked.
During group discussion, few things you need to keep in mind are:
Do not interrupt someone when he is talking.
Take time to think before you answer your question.
Be confident when you speak about the topic. Do not stammer, fumble or hesitate as it can work against you.
Listen to all others keenly and ask questions to other candidates when you are given a chance.
2. Speeches:
While speeches are not very common in most interview sessions, they may ask you to make a speech on any topic and it is better to be mentally prepared for the same. Here we have mentioned what factors the interviewers evaluate while they ask a candidate to give a speech:
First thing the interviewers check is your ability to communicate. They are sure to check your posture, gesture and attitude while you give a speech.
The next thing they are going to look for is language proficiency. They need to know whether you have a good fluency in English. They will also evaluate your grammar skills while you say your speech.
Subject knowledge could be another thing in their list. If they give you a topic that is related to your industry, it could mean they are testing your knowledge. If you include more facts, figures, history and statistics, they will surely be greatly impressed. The more you focus on these different facts, the greater would be their willingness to hire you.
3. Debates:
Recruiters may even create teams and conduct a debate. This could be a significant round in the group interview. Debates are exciting and intelligent way to check each individual's participation and knowledge. Here are some things they are going to evaluate in their candidates while conducting a debate:
One thing that can be evaluated in a debate but not in a group discussion is whether you are a good team player. They are sure to see how you deal with other team members.
Discipline is required if a debate competition should happen in an orderly manner. They are sure to evaluate whether you are disciplined.
The recruiters also see how good you are at presenting your point. Your convincing and negotiating skills are usually evaluated during debates.
Winning Traits in Group Interviews:
Here we have listed a few of the winning traits apart from subject knowledge that help to win the hearts of the recruiters. If you possess these qualities, you are sure to make it through different rounds of group interviews without much difficulty.
1. Language Prowess:
A good grasp on your language is always an asset in group interviews. You must be able to speak fluently and effectively if you have to impress your interviewers in a group interview. If you think you lack in language prowess, it is a great idea to get separately trained.
2. Confidence:
You will not be able to survive a single round of the group interview if you lack confidence. Each one in the room is trying to create a lasting impression. If you fumble or hesitate, someone else will get the benefit and qualify to the next round. Confidence is inevitable if you wish to clear through the rounds of group interviews.
3. Aggressiveness:
Aggressiveness and passion are required in some job profiles. These are usually jobs related to the marketing and sales fields. They may evaluate these traits based on the way you handle different rounds of the interview.
4. Team Spirit:
Not all candidates possess the ability to work in a team. Working in a team may mean that you need to listen to others and sometimes adjust to their ways. You also need to acknowledge each one's contribution. Team spirit is a vital trait and without it you cannot qualify in a group interview.
5. Vocabulary:
Good vocabulary is always an asset and it can help you through rounds of a group interview. If you have knowledge of different languages, it can also add to your profile.
6. Oratory:
Your speaking skills create a lasting impression on the minds of the interviewers. Good oratory means the ability to be heard when you are speaking. This ability can help you when you are dealing with clients or with your seniors. If you possess this ability, it will surely add to your profile.
7. Discipline:
Discipline is a prerequisite for most jobs. If you are disciplined, it means you are fit to work in big organizations. Discipline shows that you know how to work in hierarchies and follow the rules.
8. Personality:
Your persona has a great impact on the interviewers. Make sure you go well dressed when you head for the interview. You also need to make sure that your hair is properly combed and your shoes are properly polished. Carry a hand sanitiser and a mouth freshener as these may prove handy.
Save