There are many different types of job interviews and the approach to each type varies greatly. A video interview is one of the most challenging forms of job interviews and you can clear this interview only if you are well prepared for this style of interview. The advancement of technology has increased occasions of video interviews. The companies are willing to hire candidates from far off places with the help of video interview on Skype, Facebook and Apple devices.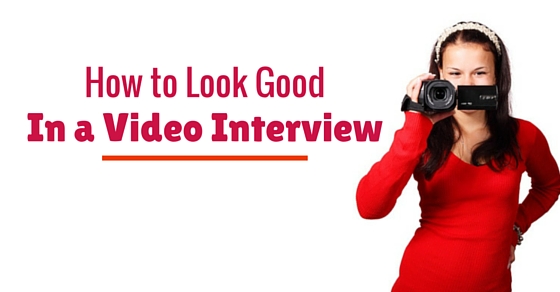 There are many things you need to keep in mind while preparing for a video job interview. Here we have listed these vital points that will help you look good in a video job interview. Follow these guidelines and no one can stop you from bagging your dream job.
Video Interview Tips:
The following mentioned are a few job interview tips you need to follow when preparing for a job interview.
1. Your Job Interview Attire:
Remember that what you wear defines you completely. If you pick the right attire or outfit for a formal occasion or event, you are bound to attract the right kind of attention. This makes it simpler for you to get the right job. You should be good with your choices regarding formal attires. You must know what is the best outfit you can pick for a job interview. The attire is also greatly defined by the type of job you select.
If you are applying for a marketing or sales job interview, you need to make sure that what appears on the screen is perfect. On the screen during a video interview, from the head upwards is the portion that is visible to the interviewer. So make sure you pick a good formal shirt that is perfectly well ironed. You may have a cufflink to hold your cuffs in place. You may pick a formal tie to go with your formal attire. If you are wearing a light-colored shirt, it is best to go with a dark-colored contrasting tie.
2. Your Hairstyle or Hairdo:
In the case of men, the hairstyle greatly defines the persona of the individual. The way you style your hair for a video job interview can also decide whether you get selected or rejected for a certain job profile. You need to assess the job type for which you are applying. If you are applying for a serious position like that of a manager or a sales head, make sure you have the seriousness reflecting in your hairstyle too. You may opt for one of the simple hairstyles that men commonly wear during job interviews. Make sure you avoid spikes or ponies as they are not ideal for serious roles.
Another thing you need to strictly avoid is a gaudy hair color choice. Even if you opt to color your hair, go for simple shades like brown or red and strictly avoid blonde, blue or green. Unconventional colors are usually not acceptable in professional circles. If you have hair that springs out or does not stay set, you may opt for hair gels to keep them in place. It is best to opt for herbal gels as these do not hamper hair health.
3. Your Preparedness:
Job interview preparation is vital as you might have to face several challenges that you may come across during a video interview. Being well prepared in advance helps you have a perfect interview and get the job. Since the video interviews work at the mercy of the internet, you need to make sure your connection is proper well in advance. You need to check the expiry of data pack and recharge it in advance so that there is no interruption during the interview.
You also need to select a room where you will be seated during the entire video interview process. Go for a room that is silent without any external disturbance. Warn the people in the house that you would not like to be interrupted during the interview. If you are foresighted then take into account any problem that may arise during the interview process, it will help you plan your interview better.
4. Your Confidence:
Your confidence is something that matters most in all the different types of job interviews. If you lack confidence, the interviewers may not shortlist you for any significant position. Confidence is thus one of the most important factors even in a video interview. You must appear confident onscreen so that the interviewers are convinced of your abilities and consider you an ideal candidate to take up the responsibility.
You must remember that very few things are visible on screen and the interviewers gauge you based on these factors. One of the major factors visible on screen is surely the body language. You need to have proper control over your body language. Make sure you do not dig for gold, scratch your grey cells or do anything annoying on-screen as it can directly mean losing a good job opportunity. If you have a very poor body language, you may appear for a body language training program where you are trained to use the right body language. If your onscreen presence is impressive,no one can stop you from getting shortlisted for the job.
5. Answer Right and Be Bright:
Yes, you need to be completely prepared for the interview online. This means you should be ready with answers for any question posed to you. As it is a video online interview, you have no time to waste. You need to have all the answers ready at your tongue tips. There should be no delay or hesitation in answering the interview questions.
Refer websites and job portal blogs and read through the most expected common interview questions. Try to find the best answers for all these questions. You also need to get in touch with your seniors in the same field and try to understand what questions they were asked during the job interview process. When you are well prepared for all the common job interview questions asked in video interviews, you create a confident appeal that makes the interviewers feel you are the right candidate for their firm. Here is a list of some of the most frequently asked video interview questions:
What is your strength?
What is your weakness?
What is your motivation?
Are you a team player?
Are you a great leader?
Are you a creative person?
Are you a social person?
Are you health conscious?
What are your core competencies?
Why do you wish to join our firm?
Where do you see yourself in the next five years?
What is your goal in life?
Make sure you know how to answer to interview questions mentioned above. Do not get panicked during the video interview process.
6. Your Manners:
While most of totally neglect manners when we are heading for an interview, that is not the case with our interviewers. They are trained to identify well-mannered candidates. Good manners can help you get shortlisted and hence you need to take special care to be well mannered.
In video job interviews, there are very few occasions when you can actually display your manners so make the best use of it. As soon as you get online with your interviewer, make it it a point to politely greet your interviewer. Make sure you get online at or before the stipulated time. This will help you create a lasting impression in the minds of the interviewer.
7. Clarify all Your Doubts Beforehand:
You must remember that a video interview is a golden opportunity where you get to clarify all your doubts while being face to face with the interviewer. So make it a point not to miss such an opportunity. It is the best occasion to get all your doubts cleared.
You may ask the interviewers regarding the leave policy and the payment schedule. You may also ask about the notice period and any similar queries you have regarding the firm or organization. The interviewers always seek candidates who are open and who possess the courage to speak up openly. If you clarify everything in the beginning, it is sure to leave a good impression that will help you in the job-seeking process.
8. Be Frank About Connection and Interruption:
Most people dread to be honest with their interviewers, especially during a video interview. Even when the connection fails or there is a network error, the candidates hesitate to tell the truth. This is really the wrong approach. When there is any genuine trouble, the best approach is sure to inform the interviewers about it and schedule the interview for some other day.
For this purpose, it is vital that you have their contact number and other details. Telling them the truth can save you the effort in trying to cover up. Connection problems are common in video job interviews and if it is a genuine problem, there is really no need to conceal or cover-up.
The video job interview may last a couple of hours and it would be a good idea to have a bottle of water nearby. It will help you stay fresh and rejuvenated.