When an individual get started in his or her career they need to understand that business has two ways to shape them and make their life successful. Whether its design, technology or marketing, the individuals should know that there are two sides to work where one is the agency side and the other is the client side.
Individuals should make sure to pick one of them and stick to it in order to shine in their career. Choosing the right option depends upon their interest and strength and also here are mentioned a few pros and cons of working client-side Vs agency-side. By reading through it, individuals can choose the right option.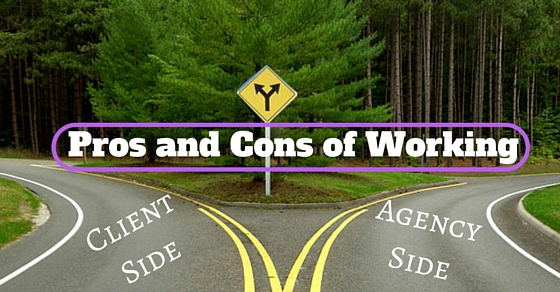 Difference Between Client-Side and Agency-Side:
1. Hours of work:
Client side-
When client side is considered, the working hours would be 9 to 5 and may be extended if it is digital category of work. Since the internet is live round the clock, employees need to be alert and flexible at times when your brand's website goes offline, and when crisis pop up in social media channels.
Agency side-
It is important for employees to concentrate on work-life balance and also the agency sides are working towards the same. When there are important deadlines to be completed at work, then employees need to stay back for long hours in order to complete them before time.
2. Company culture:
Client side-
It would be quiet corporate in certain consultancies, where these days the company culture is turning out to be more casual and relaxed. There is no need for a perfect office environment when decided to opt for client side.
Agency side-
It is always a work hard and play hard way when agency side office environment is considered. The status of work would be pressured and fast and also fun involved in the series.
When agency side is considered, employees would work for a open plan office and would be able to access gaming consoles, ping pong tables and many other entertainment aspects in order to lunch or break hours.
3. Progression in career:
Client side-
There is more structure and clear objectives when client side is considered, and more chances for promotion in-house. The capability of the employees to work at varied site locations and specific period of progression is the annual review. The opportunities are many when client side is considered.
Agency side-
The system and environment is meritocratic in nature when agency side is considered. When an employee is good at what they do and the same is recognized in agency life, there would be progression in a rapid manner and the employee would add worth to business.
4. Responsibilities:
Client side-
In order to develop a brand, employees on client side needs to pop up with new and innovative ideas. The employees would be responsible to manage internal relationship and also external relationship where outsourcing is in progress. Since large projects would be outsourced, maintaining and keeping track of the same is important. Moreover patience and communication skills are important parameters which are required to work on client side.
Agency side-
Agency side is never less with responsibilities, it would be frenetic, high pressured and fast as there are numerous projects that would be active simultaneously. The main objective of the agency which needs to be fulfilled is that the employees should be able to maintain a good client relationship. They should also make sure that they bring in new clients for new business development and also make sure that the present clients are happy. To work on agency side, the employees should have the capability to stay calm and should also possess strong multitasking skills.
5. Projects:
Client side-
When employees work for just one company, then they can get to know a lot about a particular brand or product and master the same. When employees plan and dive into one particular industry then they would be experts and specialist in the same field.
Agency side-
From an agency point of view they need to look out for multiple clients. They also have to present brands and work across various industries. But by working on agency side, the employee can enhance his skills and also learn a number of insights and develop numerous portfolios which are interesting.
6. Money:
Client side-
It is believed that by working for a client side, the employee gains more salary than on agency side. When employees work for big firms for client side, they gain more benefits for them and their dependents too.
Agency side-
Agency sides are also struggling in order to pay them the best along with benefits so that they maintain a work-life balance in their life.
7. Creativity:
Client side-
Most marketers are driven by creativity side; there is difference when creativity is considered for client and agency side. Here you help the organization and its public persona as well as image.
Agency side-
Employees wait for limitless chances and are ready to work for the agency side according to the client's needs.
8. Pace of work load:
Client side-
Similar to work load, the pace also differs for clients and agencies. For client side there would be a steady work pace and they also possess a fixed schedule for enjoying their work. They may occasionally have to work extra at times of strict deadlines.
Agency side-
They need to handle multiple tasks at the same time and hence may face a pressurized pace of work.
9. Travel:
Client side-
When traveling is considered, it is limited on client side. Travelling can be rare at time of events, training and other important meetings.
Agency side-
Travelling on agency side depends on number of clients available across various locations. The agency needs to visit the clients at times of client visits.
10. Skills requirement:
Client side-
It is important to possess strong commercial skills in order to sustain in client side of business. It is also mandatory to possess the capability to sell ideas to senior stake holders and the employee should also possess the capability to develop strong business case. Time management is yet another skill that needs to be added to the employee who desires to get to client side of business. This is mandatory as they have to deal with multiple projects at the same time. There are employees who specialize in SEO, social media, design, development, UX and more. Long-term planning is another aspect which must be planned well in advance for client side business.
Agency side-
For agency side it is mandatory to possess narrow side skills. The individual's core skills are required to be augmented, so that rounded set of recommendations can be offered to the client and can also pave way for development as a marketer.
11. Working for a single brand:
When employees opt for agency environment they are required to work for multiple brands for various industries. The situation makes it tough to give your client all they need when other clients demands are to be met. There would be more of conflicting priorities and less time dedicated for clients. There can be a defined scope of work in order to break down work for specific timing, but does not work practically. Agencies are working for just one client which has become the common practice these days. As investments are coming across traditional and digital, agencies have made teams which are designated across one specific client. The employees are allowed to work across one recognized brand and able to gain agency environment.
12. Marketing approach is integrated:
When employees get onboard as a traditional or digital specialist in an in-house marketing team, then employees are brought into a big and integrated marketing team. In order to achieve one main goal or purpose, campaigns are run in a holistic manner. Since the building is the same, employees can have rapport with other employees in the organization such as sales, finance and are able to see the direct effect of sales. For example when working on the client side the team works on the same floor as other teams such as sales by which direct link between digital campaign and new acquisitions can be viewed.
13. Skills are broadened:
Agency side-
When you take part in the agency side of an organization the role played in the organization is said to be specialized which leads to difficulty to adopt skills that are outside your role or specialty. In the same way when you take part in the in house marketing department, you gain more opportunity to enhance your skill set. A simple example can be that you may be a person who works for some agency as a search specialist; the disadvantage is that you can develop search skills alone as there are limitations in your role.
Client side-
When the employee is on the client side, there are many opportunities as they can enhance from specialist to digital manager by taking into account all aspects of digital marketing. In order to counter act this strategy, agencies have many roles that are multi channeled.
14. Life of agency and client:
Client side-
When client side is considered, things happen in a slow manner. It always takes longer time for employees to champion the cause, look for resources, and look forward for projects to get completed. With the client side it is a known fact to come up with an idea. Another aspect of client side is that there is good understanding of business, job role and the culture. Though there isn't variety there is longevity and stability. There are also few conflicting objectives that take place in teams and departments. The employee should also be an expert in political maneuvering which can be annoying for many people.
Agency side-
When agency side life is considered, it is actually continuous learning, fast-paced, collaboration and more. There are always quick tasks as well as decision when agency side is considered. The real fact is that in agency life the movement of every aspect is in a fast manner. Continuous learning can be mentioned as fun but not easy, the employees here get a chance to work with various clients and sectors. The employer needs to know a lot about every aspect of business. It is important to study ahead, where the employee must be top in technology, trends, and current news. The agency life is that they offer you with chances to try varied specializations. Apart from that agency side has wiser and expert professionals.
These are a few pros and cons when client side and agency side aspects are considered. The above mentioned points are beneficial and presents both the pros and cons of client side as well as agency side. Employees who are muddled to choose from either to join up in client side or agency side, must make sure to read through all the points and decide from that.
All aspects from their life, salary, work, responsibilities, future progress and more are discussed in the session. Also the aspects which employee gain and lose are also mentioned. There are a number of opportunities offered at times on both client and agency side which is mandatory for individuals to know so that they utilize those opportunities. With all these hints in mind, individuals can easily make a decision regarding their future career and excel in the same in order to reach success.
It would be better if they can make further research and pick the side that is ever green and blooms without hassles. There are also many other sources which offer a complete picture about the ins and outs of client side and agency side of an organization. These hints are useful in many ways for people who are trying to switch over from client to agency or viceversa in their career. Both are beneficial in many ways hence sustaining and winning is required.