Job sharing Definition:
Job sharing can be defined as a work arrangement where two employees have been given two duties in a proper full time position that makes it a very effective way for proper business and to accommodate the unconventional employee schedules.
An example can be used to explain this. A mom who works will need to spend a little more time with her kids at home than at work. If the views of the company still too valuable to lose, it will be quite an attractive strategy of retention.
But sharing jobs doesn't have any disadvantages for the employers. Let us now look at some of the job share benefits or advantages and disadvantages.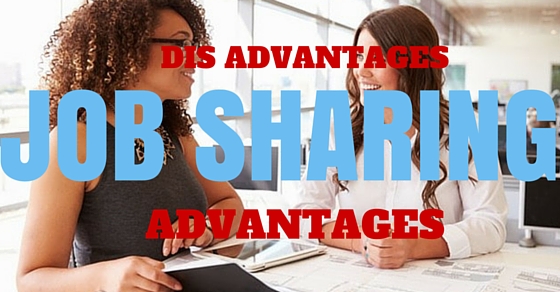 Advantages of Job Sharing:
The following mentioned are some of the few pros or benefits of job sharing.
1. Provides a time of relaxation to all employees:
The best advantage that comes with job sharing is that all workers have the exclusive opportunity to spend some time in relaxation.
After all, the work is being divided among the people and because of that, there is no need for them to break their heads over it.
Work will be much better balanced that way, and it will also allow all employees to enjoy themselves at work. It will improve the environment as well if you look at it.
2. Best for people who get along well:
If a job is being shared between two people that get along very well, then there will hardly be any chances of collapsing or having any troubles shortly.
If you want people with whom you work to share their assignments, then you've to place them with people they like.
In that way job, sharing can work wonderfully and will not lead to problems and conflicts in the future. This is one of the best benefits that could come with job sharing.
3. Know more about each other's skills and knowledge:
Sharing jobs could help you learn a lot about people's skills and knowledge. If you don't know much about the other person, it could be a great chance to do so.
Plus sharing knowledge and skills could help you become a much smarter person. It would prepare you for the future. You will be able to grasp enough knowledge and improve your skills over time as well.
Sharing jobs is one of the best ways in which you can discover the knowledge of others.
4. Better channels of communication:
The channels of communication are also improved quite a bit when sharing jobs is used at work.
People can understand each other better, connect with others in a much better way, and are also meet all deadlines.
Communication skills are something so essential in all workplaces that we just can't do without them and if you want to improve that today, then consider job sharing. You will go a long way.
5. Can work better:
The results are always much better when you share jobs with someone. After all, two people will be working on the same thing so the results are going to be great.
6. Loyalty and hard work:
Crucially, to make such arrangements at work, job sharers have to work hard and have very strong work ethics along with the ability to communicate the right way.
Also, there has to be some kind of accountability that is attached to sharing jobs and the successful job sharers will feel accountable towards their partners as well as employers so that they can demonstrate how job sharing works. They happen to be quite loyal to one another too.
7. Super productive:
Job sharers are also quite hyper productive and they make sure that the time they spend at work has been utilized completely and that they shift from a time when they found themselves constantly saying sorry for work that they didn't complete for family problems.
8. Having a long term career:
The thing is that most job sharers must progress together. Development of community executives such as Sarah Kitterman and Nora Baloch happens to be a good example.
After around eight years of sharing a job at the Eastern Bank, the sharing of the job has moved like a team to the lending group at Boston.
Disadvantages of Job Sharing:
Just like the advantages, the disadvantages of job sharing are plenty. Keep reading to find out what they are and how one can learn to avoid such situations in the future.
1. Having bad partners:
One of the usual common disadvantages of sharing any job is that you might end up with a bad partner.
If two people are responsible for completing one project with a certain deadline and one person fails to do so, both of you will be held responsible for the same mistake. Secondly, always remember that it's not always about some kind of digging.
Even if the blame has died clearly with just one of the workers, the situation is quite a hassle for the employer himself who might end up taking up a lot of time to sort out what exactly happened.
The only way to reduce such problems is to make sure that such responsibilities have been divided clearly. Meetings need to be held regularly to see progress.
2. Changes in a partner:
If there is one partner who decides to leave suddenly, the entire arrangement will end up falling apart.
The employer may end up finding people who are willing to show some sense of participation in the arrangement of job sharing or maybe just that one person who wants to fit both the schedule as the duties at the same time.
At the very least, the period of transition quite rocky as well as disruptive when the job of sharing suppose to help one another.
3. Troubles in recruitment:
The employees who happen to be in a job sharing situation might not always be eligible for the same kind of benefits that a full time worker would like to receive and that would depend on the policy of the company.
On the other hand, that could have become an advantage because the employer would be able to save some of the cost benefits.
For several employers, losing out on some health insurance or maybe job benefits happens to become a deal breaker. This makes it even harder for employees to find candidates for job sharing positions.
4. Poor administrative costs:
The arrangement of sharing jobs could also result in a much higher administrative. For example, the manager will have to spend some more time on training and communicating some of these efforts with two other employees, compared to dealing with a worker who works full time.
There will be a few administrative arrangements that have to be made in some human resources.
5. Division of labor:
There are some tasks which could be difficult for employers to divide among other people.
For example, one client would prefer to deal with one representative instead of two employees and that could negatively impact the satisfaction of the customers.
Having communication regularly and sharing jobs while having partners could lead to a few problems but there are a few problems that will become insurmountable.
6. Puts friendship on a test:
One of the worst disadvantages that come with job sharing is that it could put even the most strong friendships on a test!
In case the partners can maintain much effective communication and share all important information regarding current projects, it is still quite possible to maintain a cooperative environment.
But just in case there is one partner who doesn't get all the kudos or even any kind of attention from the boss and the other one gets a lot of it, it could put the friendship at a stake.
7. Leads to the heavy competition:
Another thing that is quite common with job sharing is that it leads to too much competition.
After all, two people will give the same kind of job and expect to make the best out of it.
Having too much competition is never a healthy or a safe idea but that is a common side effect that comes with job sharing and for this, there is no other solution apart from getting rid of the system altogether.
8. Costs double the amount:
With job sharing, the amount will be doubled. After all, two people will be doing the same job and will be paid equally.
You could have given one person and paid them one amount but that is not going to happen because jobs will be shared from now on.
Companies who have tried this method in the past have suffered quite a lot and ended up spending a whole lot of cash that is not even necessary.
To avoid such situations, either get someone who can handle one job or just have a team of people who will do a little bit of the tasks.
Conclusion:
This brings the post to an end. Always remember the pros and cons of job sharing are plenty. It is ultimately up to you to see whether you can handle something like that or not.
You have to read the post thoroughly to understand the concept of job sharing and several job sharing opportunities.
Only that can help you get far. However, if you have enjoyed reading the post and have some feedback for us, do let us know in the comment box below. We are waiting to hear from you. On that note, good luck and don't forget to share with us more.
Save
Save