An interview is a session where series of questions are shot and tackling and answering them in the right manner is necessary in order to gain entry for a job. With the set of usual questions, " why are you interested in this position ?" is another usual question that is asked and answering the same requires good research and preparation.
In order to test the self-confidence of the candidate, a number of questions are asked and so answering it in the appropriate way is mandatory. This is a tricky question and hence proper concentration and more of research is required to answer it. Let's sail through the topic and go through few tips for answering the question.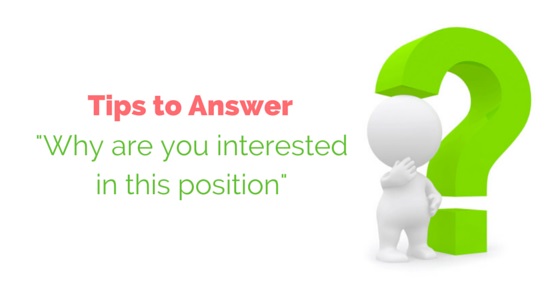 How to answer "Why are you interested in this position?" in an Interview:
The following mentioned are few tips to answer "why you are interested in this position" and "why do you want this job".
1. Job description:
When "why do you want to work at our company" question is probed, the candidate should remember to say that he is more interested in the job responsibilities.
You can conclude by saying that you hear from someone that main part of the job is to take up a particular responsibility and you are more interested in that. This can be one way to get through the question.
2. Do not conclude that work is fun:
When you are probed with such an interview question "why are you interested in this position", never mention that you like the position as it has no work and it's all fun.
Once you explain your excitement for the job also make sure to mention that you wanted to work for a regular part of the job. In this way, the question is answered to a certain extent.
3. Other appropriate reasons:
Instead of focusing more on the job role and its qualities, it would be good if the candidate mentions other reasons such as an opportunity to work with smart individuals, working in a perfect and secured environment and many more answers like these can also be smart ways to handle the interview question "why do you want to work here".
4. Mention only the right reasons:
When you're fighting the interview battle for a job, the reasons can be money, benefits, vacation and lot more. But when you are asked for why you need this position, do refrain from the true reasons and say something that is perfect and professionally appropriate.
5. Looking into goals:
It is always important to look into career goals, achievements and objectives and if the same fit into your plan for career enhancement, point out these as the main reasons for your working interest in the job, in a personal as well as professional manner.
You should be able to mention the specific thing that lures you in the job and the way you would flourish yourself.
6. Mentioning some aspects of the company:
You can also mention that the growth and success of the company, as well as its reputation, can be one main reason for your job interest.
You can also add up that once you're a part of the company's team, you could also grow and help the company reach good heights.
7. Skills and experiences:
When you're trying to formulate your answer for the above-said question you can align your skills and experiences. You can mention that the main part of the job role mentions the skills and experiences you possess and hence you like the role.
You can also mention that this role would be a ladder to take you to great heights and hence you are excited and motivated for this position. Make it short and speak only about a few aspects of skills and experiences as there are more questions to be shot.
8. Link with your career:
You must answer in a way that the position you selected accompanies your career. Do not focus and mention that the position is just an initiator for your success rather mention that you would stay back long so that the interviewer would also be pleased and move in further.
Knowledge, appropriate skills and enthusiasm for the company are few aspects that would help you frame answers for that particular question.
9. Enthusiasm for the company:
When such a question "what interests you about this job" is probed, it stands to be an excellent opportunity to show the knowledge you know about the company. Polish a few facts about the company and state the reason why you are a perfect fit for the role.
When it is smaller companies, it is actually an added advantage to know about what's happening in the company. This can be well accomplished by running through the company's website and having converse with the present or past employee.
10. Avert too much praise about the company:
When you start speaking about the company, too much of a statement can leave you being raised with a red flag and hence it is always good to speak about the skills and talents and how these skills and talents can add to the benefit of the employee and the company.
This is what the recruiter would look for. The play would be how your talents and tricks are used for a particular company.
11. Relevant points:
Make sure that the answers you offer to the recruiter should be relevant ones based on skills, experience, and other aspects in a professional manner. Do not ever give answers that the role is suitable for you because your home is nearby; your kid's school is next to it and so on.
All these irrelevant answers would land you up with a bad impression. This is an opportunity to share relevant aspects rather than irrelevant ones.
12. Answer in a way contributing to the company:
It is common and usual that every candidate answers from their individual point of view. The candidate can mention that he can learn marketing skills, quantitative analysis, and lot more, but the interviewer is looking forward for answers what you have for the company as they are going to invest on the candidate. Prepare answers in a way that your skills and experience add to the company's goals.
13. Show you are contributing:
Your answer for the question should be in a manner that is designed with a contributing sense. Show that you have strong skills and experience and you have also read through the website about the company's latest plans for achieving.
Mention that you wanted to be a part and help in achieving these plans. Express yourself that you're ready to contribute.
14. Show you're interested in the position:
There are many candidates who really work hard up to accuracy in their field. In that aspect, the candidate can show his or her complete interest in the position.
They can show their previous successes and other innovations and experiments that they have tried to make a new beginning. They can add up that they would like to obtain a chance to show their talent and add to the company's success.
15. Show confidence:
It would be smart and better if the candidate is confident in all the answers he presents. The consistent interest in the position and responsibility to add to the company's success is something that should be present in the reply, along with confidence.
The professional reply should be shaped in a manner that impresses the interview panel and the answer stands to be unique.
16. Offered a chance as an achiever:
The reply can also be made that the candidate is an achiever and likes to make more achievements in a career. As the company has many long-term as well as short-term activities, it would be appropriate for the candidate to participate and offer from his end.
In this way, achieving the company benefits would be enhanced if the candidate is recruited. This can also be a tip to answer the tricky question why one is appropriate for this position?
Conclusion:
This tricky question has a number of sides to look from and review it before being highlighted live. The above-mentioned hints are the various ways to think from before answering the question. Job questers can make sure to run through these aspects and get to know ways to design the answer.
Apart from these tips there are a number of sites which provide sample answers for this particular question. These sites are beneficial and can assist job searchers in gaining a good answer. But getting to know the job description, appropriate reply as per it should be developed. It would also be an added advantage if the required answer is supported with real-time experiences.
The more professional and informational with organization perspective the answer is the more chances to get recruited for the candidate. Hence run through the hints for answering why you are suitable for the position? And get benefitted with the desired job.
Save
Save
Save