A model always aspires to get a good start so that he or she can enhance career prospects. There are multiple options in the modelling career once you gain experience and develop a reputation as a model.
If you simply want a tag that you are a model, an experience in popular brands like the Macy's surely helps to further enhance your career possibilities.
There are many young models who wish to be a part of the Macy's group but do not know how to apply at the Macy's for different positions as store and brand models.
This article can be of assistance to such young models and help them learn the many ways in which they may apply at the store and gain the essential experience.
It is not easy to be a model and unless you get the right experience at the start, succeeding in the career would be really difficult.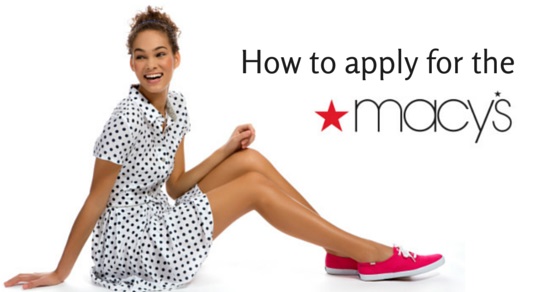 1. Note If You Are a New Applicant:
The information here will help you if you are a new applicant. You must start off by searching available opportunities at Macy's.
When you find a position that sparks your interest, you need to take a few moments to create an account. This will help the store owners to get back to you quickly.
The store owners respond quickly to individuals who they can respond to. You can even apply using your mobile device and this makes things really simple for you.
The account creation helps to follow-up on career vacancies and increases your chances in getting the job.
2. You can even search on websites:
You may check out the few websites that give jobs for Macy's. You may explore the wide range of modelling assignments as well as other job options at Macy's Inc simply by using the right internet channels.
The best part about Macy's is that you can look for jobs as well as apply for them online. Here is a small list of useful websites that help you find your dream job.
Careers in Beauty by Macy's:
If you just want to be a part of Macy's, the store has several other job opportunities too. If you are interested in a beauty profession, Macy's has several unique opportunities in the beauty segment of the business too.
You may visit their website and get to know more about the job of Macy's Beauty Advisor. The career path opportunities also include jobs in Macy's website for beauty careers.
Careers at Macys.com:
Young lads and babes usually aspire to be the part of Macy's because they have numerous interesting profiles and the reputation of the firm is remarkable.
You get to join a vibrant team of employees in Macy's explosively growing business. There are countless opportunities in technology, merchandising, creative and marketing in two prominent cities of the US.
The store is one good option if you really wish to build your career. It is also good for understanding the way the stores like Macy's work.
3. Conduct a Thorough Research:
The prominent brands like Macy's and Bloomingdale's usually have a detailed application process and you must be mentally prepared to go through the process.
You may visit the website and also go through the FAQs mentioned in the website. If you refer these thoroughly, you may come across links that help you to apply for the positions.
4. Read and Understand the Interview Process:
There are many websites and relevant blogs that list out the significant interview tips to freshers and college students. These tips help candidate understand how the interview process will go at Macy's and other prominent brands.
You get to know of the requirements of the big brands and can train yourself accordingly. A prior preparation may help you bag a higher position in the store.
These days, there are several job related websites like Naukri, Shine, Monster, Careesma and wisestep. These frequently come up with interesting posts that guide fresh candidates to prepare for interviews in different fields.
The points mentioned by them are truly useful as they have a team of experts who do consistent research on the job market.
5. The Impact of a Resume:
It is always best to have a strong resume with reference page as it improves your scope of being called for an interview. You must clearly indicate your knowledge regarding the brand as well as the ever dynamic fashion world.
You must not forget to mention in your resume if you are doing a part time or freelance job. There are some organisations that do not regard the experience significant but that may not be the case with huge brands like the Macy's. You may have your resume designed professionally too.
Professional designing of the resume enables you to incorporate all the essential facts and details into the resume. You may even opt for infographic resumes as they are in vogue these days.
6. Character Counts:
The big brands like the Macy's usually look for well behaved and nice candidates who maintain the reputation of the brand when they work.
Honesty during the interview process will definitely count as an added plus. You will be given an option to choose the right time for the interview and once the interview is scheduled, make sure you reach the venue a little before the scheduled time.
You must go dressed in the attire in which you will be expected to work in the firm. If you are planning to be a store model, you may pick Macy's latest jeans and tops for the interview.
7. Body Language Matters:
The body language is something people cannot control easily. Yet, the body language speaks a lot more than words.
During the interview process, many candidates fumble and tend to get upset. This is a clear example of a candidate who lacks confidence. Big brands usually do not select such candidates.
Body language of the interviewer or the HR can help you understand your status in the interview. If you observe your interviewer keenly, you will get to know whether you are in or out.
8. Don't Forget Courtesy:
Many candidates have the habit of doing all the possible things before the interview but forgetting to send a thank you once the interview is over.
Do not forget to send a thank you email after the interview process. It will help you gain respect as this act of courtesy is what the brands expect from their employees.
Once you join, make sure you reveal your willingness to work in any scenario. You must be able to show that you really wish to work in the organization and create a reputation.
You cannot be a part of big brands and organizations if you are not willing to prepare your self for interviews, selection processes as well as the main job.
Individuals who are not confident, courageous and lack vigour usually never manage to go beyond the first round. If you really wish to get selected, watch videos on YouTube that reveal to you how the interview will go.
You also need to learn regarding the brand and its plus points. You can expect a question on why you wish to be a part of the Macy's and you must have proper answers for the same.
You must be able to proudly respond with the various aspects of Macy's that makes it a renowned international brand.
9. Pass On the Torch:
These tips will help you get selected and you will become a part of the big brand. You may excel and get promoted to higher positions.
Don't you have any duty towards the fresh young candidates who are trying to get through the process and join the firm?
Of course you do and so once you be a part of the firm, you must make it a point to share your experience and views with young candidates.
You may have come across some new facets during the interview process. Young must make it a point to share the information you have shared.
It will help them gain confidence as its important during interviews. You can share the information as a post on the websites or even share comments on job portals.