Wanting to know how to crack a job interview? Always had the passion to do something you wanted but don't know how to impress your client? If you found yourself nodding to that question, well this post is really all you need! In this article today we are going to tell you how to prepare for an job interview, some quick interview tips and points that will help you excel and also make a good impression in front of the clients. So without any further delay, start reading this post.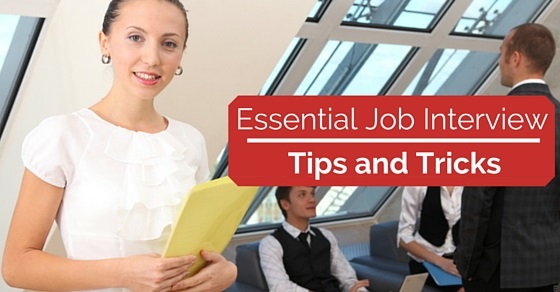 Essential Job Interview Tips to Nail Your Next Interview:
The following mentioned are few interview skills that you need to crack your next interview.
1. Do some research before you go:
Most people would usually recommend you to do some research on the company you are going to apply in, but if you go by our suggestion, then we would tell you to do a bit more. It is very important on behalf of the job seeker to gather as much information as possible. You should have a good idea on the needs of the employer, what they are looking for in the job along with the background of those who are about to interview. The better research you do, the better you will be able to understand what your employer is saying and in that way you will be able to answer all the important interview questions. The information also includes previous published materials of the website, journals and networks of course.
2. Go through a few interview preparation sample question papers:
Another brilliant key is to prepare some really cool responses that can help you answer all these important interview questions. First of all, you will have to check as to what kind of interview are they expecting. Your goal here is to make sure your responses are sure, confident and that you are focusing on your previous accomplishments. Plus if you go by our suggestion, we would ask you to put them in a story form. That will make reading much easy. Of course there is no need to even memorize such responses. Our point is that you should be able to develop the talking points.
3. Dress in an appropriate manner:
A third thing you could always do is dress in a manner that is appropriate. Always remember they are going to see what you are wearing, so if your dressing skills are not on point, you might not be able to get the job. Also try to keep away from smoking or any alcoholic drink before the interview. Brush your teeth well, use some nice mouth spray, take a nice long bath and use some fresh cologne. Your clothes should be spick and span. If possible, buy some new ones. But also remember not to over dress yourself. That could also go wrong!
4. Ask questions that have meaning:
Most studies have said that employers who tend to judge the applicant's job skills during the interview is by seeing if they are asking the managers a question or not. Therefore, even though the manager is done asking you questions and is through with their discussions with you, you should go ahead and ask them a few more questions. This will show that you are a smart person and an intelligent one and that you do like to ask a few questions during interviews.
5. Always be upbeat and authentic:
Once your interview has begun, always remember that the key to your success is the way you deliver to the responses and the quality of work that you are willing to produce. It should always be your goal to be authentic and answer all questions in a truthful and polite manner. Also it should be your goal to reach the next step so that you can get on with your long term goals. All of this will have to depend on experience, fitness and professional skills of course. Always provide examples that are solid and have some sense of accomplishments. Also remember to not ramble during the interviews. You have to attempt to keep the responses short and simple.
6. Your body language is important:
Proper body language is an important tip of interview. Always remember that during an interview, your body language always matters. When you are presenting yourself, there is no way you should display any body language that is poor. There are several ways in which you can improve the way you present yourself in public and that will be said to you in brief in the following paragraphs:
7. What are the things you should refrain from doing when you are in an interview?:
There are some other things that you should always refrain from doing when you are attending an interview. Some of them include brushing your hair while speaking to your boss, chewing gum in the middle, playing with the chair or with your face. Some people tend to mumble and that is not appreciated either.
8. Smiling!:
Smiling is something that will always work in your favour. Now that doesn't mean you have to smile all the time or grin very hard. You have to be kind, warm and your smile should be pleasant and endearing. It is okay to smile when you are greeting them or when the interview comes to an end. The rest of the time you are expected to have a normal expression.
9. Maintain eye contact:
Always remember to have good eye contact when you are speaking to your manager. It will show that you are a confident person and that you are fearless. Maintaining eye contact is one of the best forms of positive language and if you're able to do it, the job could actually become yours.
10. Listening patiently:
When your interviewer is talking to you, do not ever make the mistake of interrupting them. Always let them speak their mind and when they are done speaking, then you should say what's on your mind. Listening patiently is obviously a great quality and most interviewers are often looking for this among their future employers.
11. Sitting straight:
A final trick that will help you land the interview is sitting straight during an interview. Your body posture should be good because they will be noticing that as well. Make sure you are not slouching or looking like you are going to fall asleep any minute. Your eyes should be open and you would be a spontaneous person during the interview. These are some of the qualities every interviewer will want to see among their employees and if you want the job, you should be able to give it to them.
12. Remember that your first impression always matters:
Now this is a cardinal rule before you go for an interview. You should be warm, polite and very calm. Whether it comes to meeting an attendant or even if it's the hiring manager. Employers will always be curious of how the job applicants are and how they treat the members of the staff and that the job offer that you have could be very easily derailed in case you are rude or even arrogant to anyone. From the beginning of the interview to the end, we expect you to be nice and friendly. Plus you should always maintain a positive attitude and be positive throughout the interview. That always does wonders.
13. Be in time for the interview:
When you have been called for an interview, make sure that you are on time. You should never be late, no matter what! If it is possible you should go earlier. Also remember to shut your phone before the interview begins. There is no need to get distracted. Just remember to be authentic, upbeat and show that you are a confident person. All of that can only happen if you have reached there ahead of time. Be there before the calling time and take at least 20 minutes to prepare yourself. In fact, you will be feeling a lot better if you go early.
14. Don't forget to update your resume:
An important thing all of you should always remember is updating your resume. Make sure your CV is looking good and that it has all the essential skills, experiences and previous achievements that it should. Having a good resume is always important. Your interviewer is always going to check these things before saying yes to you. So updating your resume is very much important. Also if you have been awarded with something recently or volunteered for something, mention that in your CV. Don't leave anything out. You should be shining out during the interview. So keep yourself ready for it.
15. Thank the interviewer in person and send them an email:
It is important to show some kind of courtesy when you are attending an interview. You should always thank the person opposite you so that they know that this interview matters to you. You can also write some really nice emails, notes right after the interview. But do remember that doing this might not permanently give you the chance, but it will surely give you that edge over any of those other finalists who really did not ever bother to send any thank you notes. Plus it makes a great impression so don't ever miss out on these points. They will definitely help you in the long run.
16. Stay calm during the interview:
You should also remain to stay calm during the interview. Stay composed throughout. Always let your manager speak and wait for your turn to speak. You should always remember that this is your first impression and there is no way you should be spoiling it. Plus staying calm is something that always works so we are hoping it will work in your favour as well. If you are too anxious or tensed before the interview, then we think you should meditate for a couple of minutes. That will help you greatly.
17. Don't speak too fast:
This is also a very important tip and we would like all of you to remember it. Never speak too fast during an interview. That is actually a sign of zero confidence. If you want to make a long lasting and good impression and land the job of your dreams, speak slowly and be audible. They should be able to understand what you are saying. Speaking too fast is never a good thing. In fact, people aren't able to understand one another when they speak too fast. The key is to finding the right balance. Practise at home if you like.
18. Practise before going:
Before going for an interview, I think it is very important for you to do some practise. You should at least practise five to six times in front of the mirror before the day of the interview. Spend some time alone and see the sort of expressions you make. Correct yourself in situations where you think there is a change needed and apart from all of that, ask someone who knows you well to interview. See how you speak and interact with them. That will also help you greatly.
With this, we would like to bring the post to an end. If you have found this post interesting and useful, then do let us know your feedback in the comment box below. We would love to hear from you. Also if you have any questions, drop them down and we will get back to you shortly. All you need to remember from this post is that your qualifications do matter but much bigger than that are your career skills and how you present yourself in front of others.
Save