Each day career seekers appear for countless interviews. They prepare for the interviews, make sure their subject knowledge is perfect and walk in confidently but very few get selected. Most of the individuals fail to make an impression even inspite of thorough subject knowledge. Looks are something that most candidates do not realise make a lasting impression on the interviewer.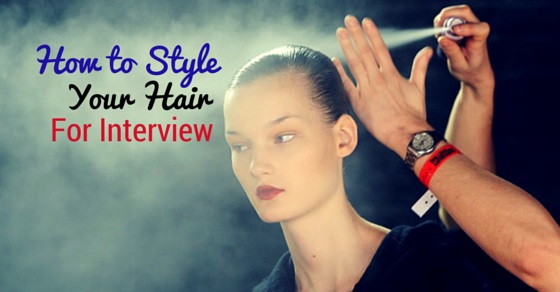 Looks affect not just in job interviews but in all the interviews that you may have to attend in your life. The requirements in different places and the expectations in different circles are quite different. Understanding how to style your hair during different types of interviews can actually simplify your life a lot. Here we have listed out the different hairstyles that help you make an impression on people of different circles.
Hairstyles for Interviews:
A job interview is one of the most critical forms of interviews you attend in your lifetime. The challenge in deciding a hairstyle for a job interview is that the mood of the workplace changes completely with the type of job you are expected to handle. Here we have listed out the different hairstyles you may try based on the type of job.
For Creative jobs like Writing, Designing, Advertising:
In creative jobs, the employee has a lot of freedom in selecting hair style and attires. The restrictions on dress code are relatively less as you do not often have to interact with the client. A woman working in the industry may try out the following hairstyles for interviews.
1. Stylish Step Cut:
If you have long wavy hair, a stylish step cut would look great on you. You may try colouring your hair to some shade of burgundy or brown. It will add grace to your look.
2. Pixie Haircut:
Pixie haircut is stylish and comfortable. Women who prefer to keep their hair short should opt for this. Make sure you pick the right attire and accessories so that you look creative and smart.
3. Bob Haircut:
Bob cut was in vogue decades back but even today it is one of the most comfortable hairstyles for working ladies. It will look very nice on women who have silky straight hair.
4. Boy Cut:
If you are a creative geek, a funky interior designer or an artistic writer, you may pick the boy cut. It will reflect your persona perfectly.
5. Mushroom Cut:
The modern and creative young women may also opt for the stylish mushroom cut if it suits your face shape.
Women in creative careers may also try out funky hair colours like blue, green, pink and purple if they suit your looks and add to your grace.
If you are a man working in the creative field, you also have multiple options to choose from.
6. Pony Tail:
If you have nice bushy long hair, you may choose to wear a ponytail. The ponytail looks classy on men with a stylish beard. You may even choose to have your hair coloured.
7. Spikes:
Spikes look great on creative men. You may select to have short or long spikes. Select the right accessories to go with your spikes so that the look remains classy.
For Sales, Hospitality and Marketing Jobs where you have to continually interact with the client:
The nature of sales and marketing jobs are pretty different from the creative jobs. Here you need to be on your toes and always active. A woman working in these fields should select hairstyles that are comfortable and easy to handle. Women with long hair may prefer to choose tied hairstyles as these usually remain intact the entire day. Even if you have a short hair cut, avoid looking funky and geeky. You have to handle clients all day long and clients are not usually open to weird and geeky hairstyles. You may have your hair pleated or tied in a bun. These are very comfortable for women as they do not have to continually comb or set their hair.
Men in sales and marketing jobs should preferably opt for short and well-groomed hair. Clean-shaven faces are preferred over beards in marketing and hospitality segments. Make sure your hairstyle blends with the formal attire you wear during work hours. You may use hair gels to keep your hair well set.
For executive jobs and jobs of higher designations:
Men and women who work at executive levels need to maintain their reputation. They need to pay special attention to their looks. There are many medium length hairstyles for women that are stylish and yet comfortable. These hairstyles go well with skirts and formal trousers. Always pick hairstyles that stay set for hours.
Men may opt for well-trimmed hairstyles that are most convenient and comfortable. If you are the head or the manager in a creative field, you may also opt for long hair and ponytail.
Hairstyle for interviews for getting admitted into an educational institute:
The challenges of an interview to an educational course are often forgotten by people. If you wish to pursue higher studies in some other country or state, you may have an interview process for the same. You must prepare yourself to face these as well. If you are planning to appear for an interview to an international course, make sure you understand the code of conduct and workplace ethics of that place. It will help you understand the best way to style your hair and the best formal attire to choose. Women should avoid traditional hairstyles like pleats and buns if they are heading for an interview for an international course. Men may opt for well trimmed short hair as this makes one looks decent and serious.
Hairstyle for Freelance or Small Business Interviews:
If you are running your own small business or if you are working as a freelancer then there are variations in hairstyles that you may try out. If you are in a travelling job, opt for well-timed hair. There are no strict codes of conduct when you have your personal business but it is good to have your own hair style that is comfortable and yet stylish.
Tips to Maintain Healthy Hair:
There are many options in hairstyles for people working in various sectors. Yet, one must have good hair health if he must experiment with hair styles. Maintaining hair health is thus the greatest challenge faced by most people today. Here are some tips that you need to follow to keep your hair healthy, clean and shiny.
1. Oil Your Hair Regularly:
Oiling your hair regularly helps your hair stay moisturised and strong. Regular oiling also prevents dandruff and other hair related problems. You may use coconut oil, almond oil or sesame oil to massage your hair. Opt for hair oils that suit you. If you are allergic to a particular type of oil, avoid it.
2. Wash Your Hair with Herbal Shampoos:
Regular shampooing is essential if you want your hair to stay clean and healthy. Chemical shampoos usually have toxic effects that harm your hair in the long run. It is better to opt for herbal alternatives and shampoos developed from plant extracts. These do not hamper your hair health and help you maintain them clean and beautiful.
3. Use Herbal Conditioners and Homemade Remedies to Smoothen Your Hair:
Conditioners make your hair smooth, silky and soft. Chemical conditioners also tend to harm hair health over a period of time. You may instead use egg white or other natural conditioners that are equally effective but have no side effects.
4. Use Serum to Maintain Your Hair Silky:
Many hair stylists advise people to use serums developed by hair stylists. These are known to help your hair stay soft and beautiful.
5. Do Regular Hair Spa:
Hair spa treatment is an overall treatment for the hair. The treatment is available in most of the salons and parlours. It helps to cleanse the hair, remove all dirt and style your hair beautifully. Usually, hair spa also includes a rejuvenating head massage. A regular hair spa is thus useful in all ways. Make sure you have a hair spa done every month.
6. Get Treated for Common Hair Health Problems:
People often suffer from common hair health problems. Tackling these at an early stage prevents them from ruining your hair. Here we have listed a few of the common hair health problems.
7. Hair Loss:
Every individual loses around 100 to 200 hair strands in a day. This count is normal and there is nothing to worry about it. If you observe that you are suffering from excessive hair loss, make sure you get in touch with a hair specialist for the same.
8. Split Ends:
Split ends occur at the end of a hair strand. It usually leads to hair fall as well as hair thinning and should be taken seriously.
9. Greying:
If your hair starts greying in the early twenties, it is a matter of worry. You need to get in touch with a specialist. He may prescribe some alternative. The greying could be due to pollution or due to lack of nutrition.
If you maintain good hair health, you can try out myriad new hairstyles for interviews and make impressions that last a lifetime.