2015 has come with a vast array of opportunities on the job front.
With various means of media and other forms of unconventional opportunities opening their doors the number of people willing to take chances and emerge out of the stereotypical working environment has increased considerably.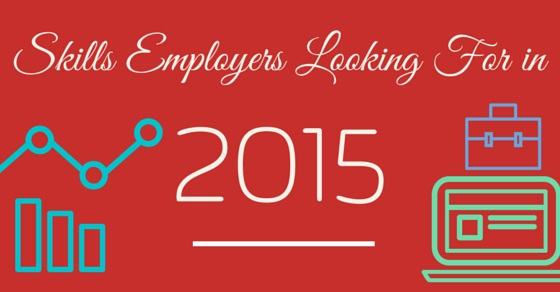 Moreover, the number of students graduating has always been on the increase. This leads to a constant battle of standing out amongst the crowd for bagging jobs in companies which are not well known in the market, but a place where the individual will be able to grow and expand his horizons considerably.
What Skills Employers are looking for in College Graduates?
The Employers on the other hand, have always been on the lookout for the best among the best. They want people who are willing to take chances as well adapt to the policies of the company.
To create a good impression on these employers can be a task and maybe a few degrees will help you bag the interview, but if you don't have the required job skills, consider the job to be gone.
Here is a list of skills employers are looking for in their potential employees.
1. The ability to adapt:
The ability to adapt to the working hours, the work atmosphere and most importantly the ability to adapt and make the most of the time is one of the key factors that the employers are looking for in an employee.
With the pressure on delivering the best is increasing considerably, the employers do not want faint-hearted individuals who are unable to adapt to the circumstances and make the most of what is available to them.
2. To work alongside others:
To work alongside others or teamwork is one of the most important skills for a job that an employer looks for while hiring candidates.
People who have huge ego problems or simply a bad attitude create problems when they have to work together with other employees as a team.
This kind of attitude causes problems internally among the employees along with creating problems in completing the work on time.
A person who has a good attitude and is able to gel in well with people is immediately considered as attractive by employers.
3. Solve problems efficiently:
One of the most important skills for jobs that an employer looks for while hiring is the ability to think quickly and solve problems efficiently.
Of course, during the beginning of the job the firm shall give the employee various workshops to improve their performance but there is always the lookout for people who are able to grasp the problem and solve it quickly.
People with problem-solving abilities are always the first ones to be relied upon for major transactions and situations.
4. Good communication skills:
Communication is one of the key aspects that employers look for in employee. If a person has good communication skills and can explain his needs and his desires easily he is considered to be a good asset to the firm.
People who can communicate well are considered to have a clear head and are confident to put points across.
Good Internal, as well as external communication, is instrumental in not only the improvement of the company but also the employee as an individual.
5. Good planning and organizing skills:
People who are good at planning and organizing are easily considered to have a better chance at bagging jobs than people who are laid back and unorganized.
Planning and organizing of various tasks at work and working smart instead of working hard is one thing which most of the firms are looking towards in their potential candidates.
Good planning as well as organizing relevant skills helps the organization to have better results which are well planned and organized.
6. Who knows how and when to prioritize their work:
With increasing competition amongst the firms and the constant pressure of meeting deadlines, the employers are looking for employees who are willing to give their 100% to their job as and when required.
People who take their jobs seriously not only gain bonus points in the office but also are considered as hard-working and devoted to their firm.
The ability to prioritize work is one of the greatest assets for employers.
7. Ability to analyze data:
It is important for the employees to have the best skills needed to analyze data of the company.
The data collected by the firm can be in various forms and the interpretation of the data and its analysis is considered as an effective tool by the employers who are looking for employees.
The ability to analyze data instantly makes the person a strong candidate for the selection procedure.
8 Technical information about the job:
A person is expected to know the basic technical information about the job for which he has applied.
Employers automatically favor individuals who have considerable information about the technicalities of the job for which they have applied.
It is difficult to organize seminars and workshops to teach the employees the basic technical information after hiring them.
It is time as well as money consuming for the firms to organize them and hence they prefer employees who have firsthand knowledge about the job.
9. Ability to influence others:
To influence others is a task only very few people can specialize in. But if you can manage to influence others with wit, there are a lot of job opportunities waiting for you.
The world with its increasing competitiveness is in need of more and more people who will make their brand huge and famous.
In order to achieve this, it is necessary to have people who are influential in the team. The ability to influence others is considered as a very positive one by the employers
10 Work ethics:
Work ethics is considered to be one of the most important qualities and skills that employers are looking for in their employees.
Work ethics refer to the ethics which one is expected to follow while working. People who are honest, responsible, open-minded, punctual and flexible are attractive for employers.
The people with strong work ethics are considered to be the best fish in the pond by employers who are more than willing to take them in the team.
11. Business sense:
Business sense is considered to be one of the major aspects of making the most out of the situation and the job.
A person who has a business sense and knows how to make deals and knows the market well is immediately considered attractive by employers.
People with a keen business sense are always willing to take risks and know where they need to stop. It is considered as one of the most important qualities that the employers are looking for in their employees.
12. Passion for the work:
Very few people nowadays enjoy and have a passion for what they do. However, people who thoroughly enjoy their jobs are easily able to give out the best results without having that frown on their face while working.
This, in turn, creates a very happy work environment for the employees as well as employers. Employers look for people who are passionate about their work and effective in their jobs.
13. Extra-curricular activities:
The number of activities that a person indulges during his free time says a lot about the type of person he is.
Extracurricular activities of the employees basically help the organization to understand how the individual procrastinates and his lifestyle and also about his hobbies and his habits.
The people who indulge in a healthy number of extracurricular activities along with other career skills are immediately considered as potential employees.
14. Initiative:
Candidates who have stories to show how did they make an initiative to get over a certain problem or have done something worthwhile immediately score bonus points with the employers.
Initiative as a desirable skill helps in understanding how well stated the employee is and how he can contribute to the firm in ways which will benefit himself as well as his employers.
15. Creativity:
One of the most sought after things that an employer looks for is creativity. It is one aspect which can immediately impress employers.
Creativity is the ability to create something extraordinary out of the ordinary or think out of the box.
Creativity is not just about creating things. It also refers to the various ways in which one looks and comprehends a situation and finds ways to improve it.
Top Qualities Employers Are Looking for:
Getting employed in this competitive market is a tough job for job seekers as the employer expectation is rising day after day. Employers only want the best employees for their organization.
A candidate having employable skills in an interview not only is eligible to get selected but also turns out to be as a boon for the employer hiring them. Though there are many good candidates, employers pick only the best candidates out of them.
They are not only selected based on their subject knowledge but also on a few other qualities. To get a better idea, we have enlisted below few skills and qualities that most employers would be looking for in the candidate.
List of Skills and Abilities:
Top Qualities in Demand:
Eagerness to Learn
Adapting changes
Personal Work Ethic
Determination
Loyalty
Honesty
Soft Skills Employers Want to See:
Collaborative Skills
Organizational Skills
Time Management
Problem-Solving
Good Communication skills
Top Hard Skills Employers want to see:
Network Security
Mobile Development
Search Engine Optimization
Data Presentation
Cloud Computing
Few other skills are
Public Speaking
Team Work
Bookkeeping
Machine operation
Typing speed
Math Skills
Foreign Languages
Computer Skills
Programming
Conclusion:
The good skills mentioned above will surely help you stand out among the crowd. Though there are a lot of people seeking the same job, these employment skills will help you in hitting the right notes with the potential employers and maybe bag you the dream job.
However, in order for these key skills for jobs to work, you need to make sure that you have a thorough idea about where do you want to apply and which field is academically and emotionally right for you. If you enjoy doing what you do, you will surely succeed!
Save