A successful resume should be consistent with all the important points related to an applicant profile. This will nail impression on the employers at the first sight of resume, which will lead to get short listed for the desired criteria of a company.
One should have the skills to present a curriculum vitae cv in a well organized way to wind up all skills, experience and education background. As the employers find many candidates applying for the same position, it is a tough job for them to pick the right candidate eligible for the position.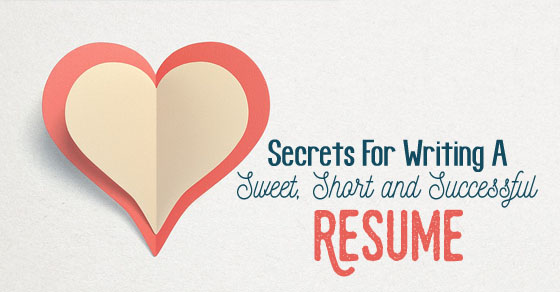 How to Write a Successful Resume?

So a candidate with a unique resume will get selected for the job. Here are a few secrets for writing a sweet, short and successful resume.
1. Standard format:
A resume should be simple enough, with no font colors, no lengthy pages, with proper alignment. This is the basic rule to create a resume. Employers will not have time to concentrate on what type of resume format is used to prepare the candidate resume. So it is not worth enough to make a stylish resume, content is the main part which will be observed by recruiters.
It should not have more subheadings which are not much relevant. Job givers will not spend much time to sort out the candidates. So a resume should be simple enough to attract employers. Prepare a resume template that will fit all the content in that column appropriately i.e easy to identify.
2. Consistent content:
Content should be short enough with all the information that is required to meet the job requirements of an organization. Do not include additional information which is optional and not much necessary to provide the recruiter. One should understand the objectives of a job role and analyze the skill sets that should be provided in the resume.
A page resume is just right enough for a fresher to get shortlisted for the interview, an experienced candidate can add details about previous employment and make it to two pages. To identify among a huge number of applicants, a candidate must be aware of how to present himself/herself with their skills.
3. Mention highlights of the resume:
While writing a good resume a candidate should make sure that all subheadings or bullet points are mentioned in it. Against each bullet point, one should mention about it briefly with details. This is an outline stating about each and every highlight in a candidate's career about their educational qualifications, percentage, soft skills, experience, contact information and about applicant summary.
Do not mess up the resume with a long passage or paragraph, the hiring manager will just go through the skills required for his/her job quickly by just checking out the bullet point or subheadings. This will save their time and they will get impressed.
4. Optimized content:
It may be a bit confusing about what to mention and what not to mention in the resume. Make sure the resume is filled with only relevant points that are required to grab the job. Exclude details like passport number, additional personal information.
Just describe with two or three lines, against each subheading or bullet or keyword not more than that. Avoid writing about salary expectations, remember not to mention anything that will give a chance to question about it or ask questions for which there is no answer. Mention about the rewards and achievements only if they are an advantage to win this job.
5. Avoid mistakes:
To be successful, avoid mistakes in resume. Construct sentences with proper grammar and appropriate words. Do not give a hint that may trouble a candidate to disqualify themselves by mentioning unsupportive points like about previous employment where you got demoted or left the company due to personal issues, do not mention all that stuff.
One should remember that there should not be any typo errors which may lead to disqualify a candidate, for example, he/she typed wrong email id or mobile number they might miss that opportunity, so one should take care of silly mistakes.
6. Avoid exaggerating resume:
Concise the content. Do not drag about the experience or about the roles and responsibilities performed in previous organization. Just provide an outline and main duties that are performed, the employers will expect the basic description of job and skills. Try to write a resume by relating to the current job opportunity and mention the keywords under previous experience column.
There is no use of writing long sentences about career objective since the job title will be already mentioned, just a single sentence is more than enough. Try to use the job title keywords and job summary keywords in the resume which will help the recruiter to match with their desired skills.
7. Arrange Educational qualifications in organized order:
Do not jumble the qualifications upside down. Mention the recent qualification on top and percentage than previous education at the end, mention the high school education and its percentage. Arranging them in order is one of the standard basic requirements of a resume. All these key points should not be skipped, to get success in career.
Avoid every year percentage, mention only a gross percentage. Make it as simple as possible. One should make sure that they do not mention marks instead of GPA. Go through the samples available in online websites to avoid mistakes.
8. Simple and readable language:
Few people mention particular language that is used in their previsions work environment in resume to describe about their experience, this is not the standard way of writing a resume, one should remember to use simple words so that the recruiter do not get confused and hold that candidate to screen them later.
Write only full forms, do not write abbreviations about which the employer may not be aware of. To get recognized as a professional candidate avoid such mistakes and spend time to make sure that everything is perfect.
9. Additional skills:
Applicants with multiple skills can mention about their additional skills of which they are capable and which might be very much useful for the current vacancy. Giving a short description about it, creates an impressive opinion about the candidate. There are high chances to get qualified by writing a column about it.
The employer does not need to search much in the resume for his required skills, adding up this bullet will help a candidate to get shortlisted for the interview. If a candidate additional skills are not relevant to job title, it is better to avoid it, since this may allow an interviewer to ask questions like what is the reason behind to acquire those skills and may lead to disqualify.
10. Projects/Internship:
For fresher this will help to get qualify, active participation in projects/internship might be required for some companies. Do not leave any point that is valuable for grabbing the job. Mention the key points of that experience.
A candidate should mention anything that would sell them among all the applicants. Also, they should be confident enough since they will be questioned in the interview about it, if they are not an active part of it de-list them from the resume and no one is going to disqualify because there are not many numbers of projects in candidate resume.
11. Creativity:
The basic content is the same for all candidates, but one should be smart enough to do it in a creative way so that it will be an added advantage. Creating an impression at first level is much necessary in a competitive world. Adhering to basic rules and not deviating the purpose of resume one should be able to design their own resume.
One should identify themselves at what they are best and should be able to highlight it. It does not mean the whole resume is mentioned about, but at that column provide numbers or description that proves efficiency and proficiency.
12. Value-added columns:
Just give a brief word about strengths and weakness. The employers should take it in an optimistic way so a candidate should be aware of it while writing about these type of points. It should reflect their attitude in one sentence.
Employers will also focus on a person's attitude to settle into the workforce environment. They even check whether they can work in that corporate culture's ability to handle the team and stretch their help in times when they need of the employee. So giving a short note about it is one of the creative ideas.
Resume Mistakes to Avoid: 
Being a job seeker if you are not contacted by any hiring manager or organization for an interview call or a job offer, then it is highly disappointing and depressing. This can lead them to think that they are not good enough or are unqualified for the job applied.
Assessing why you did not get the job is good, as it helps you to work on it and improve. But one mistake which most of the job seekers or candidates make is giving less importance to resume. It is a well-known truth that resume acts as a vital factor in an interview process. It gives a clear idea about you to the interviewer even before meeting them directly.
So if you are unemployed and are preparing for interviews then start working on your resume first. An important point to note is that never copy-paste your resume content from resume templates, samples or from others resumes. You can surely check resume samples found online to get ideas on how to write an effective resume but copying the content is not wise.
Applying a generalized resume for a different type of jobs would not work these days. So, make sure that you craft your resume according to the job role you are applying for. This increases the chances of your resume being picked by the employer.
Also, make sure to avoid all the common resume mistakes listed below.
Grammatical and typo errors
Incorrect contact information
Not specifying enough details
Should be visually attractive
Developing a generic resume for all job types
Leaving out important details
Featuring duties instead of accomplishments
Use of no action verbs
Getting it too detailed or cutting it too short
Having a bad career summary
Conclusion:
Effective and excellent resume writing will help a job seeker to get heaps of opportunities. To stand out best among all, one can follow the above tips. All they need to do is to make short, simple, good resume to get successful with a little innovative template.
Resume title can be changed depending upon the applied job. This is the first point that gets noticed. The key points can be elevated in every column. Take care of the verbs. This way they can make a great resume and nail the job with a perfect resume.
Save
Save
Save
Save