Wanting to land the job of your dreams but still don't know how to write the resume skills and experience section?
If the answer is a yes, then this post is a must for you! In this article, we will teach you how to write resume skills and experience section so that you can not only impress your clients but also get the job you have always wanted.
So go ahead and give this post a good read and we promise you will benefit from this greatly!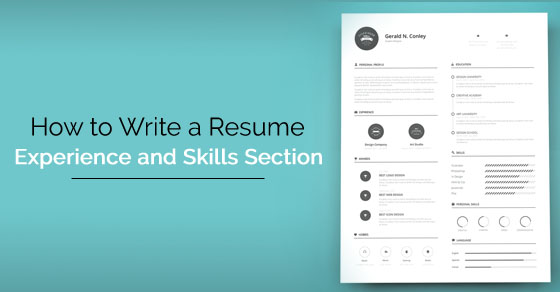 Here are some ideas that you should always mention in the skills section of your resume!
What Kind of Skills to Put on a Resume?
The following mentioned are few best types of skills to put on a resume or add some skills in the resume.
1. Skills that are job-related:
All of the jobs are always relevant to a certain kind of job skills that is specific. An example can be used to explain this. An accountant who is writing down his resume will always need to mention the financial planning of his job, the budgeting as well as the financial reporting of the job.
2. Skills that are transferable:
Special skills that could be learnt in a certain field or some kind of job that is applicable to ones, are different and are always transferable.
This kind of job skills list will always reflect on how you tend to deal with these kinds of things, the data which helps in researching and synthesizing the information, the instruction as well as managing and negotiating the whole issue.
3. Skills that are adaptive in nature:
Some of these lists of skills are always very hard to substantiate as they will always include the traits of your personality, some of the characteristics which determine the style of your work and other things.
These adaptive skills will also include some sense of reliability, some ability with which you can get along better with all of your colleagues and of course some honesty as well as productivity.
4. How you should add your skills to your resume:
Skills that are job related or even transferable happen to be the most desirable ones on the entire list of your resume.
For the good skills to put on a resume, you will have to mention the level of your skills along with the years of your experience. It is also very important that you become one when it comes to describing the level of your skill.
So even though it is highly tempting to show yourself as an expert, but once you have landed the job, you might have to prove. You may call yourself someone who is an expert if you think you really are of that level.
Tips for Writing Good Resume Skills and Experience:
The following mentioned are few tips on how to list skills on a resume and work experience in resume.
1. For the beginner:
A novice will always want you to understand their skill really well. They will not only have the exposure to the skill you have but will also want to understand the concept which lacks some experience.
2. Intermediate level:
You should always be between a beginner as well as an expert. You should have experienced so that you can carry out an important skill but you will not understand any of its concepts that are advanced.
3. Expert level:
This happens to very developed skill. You must always have experience that is solid and you will be able to train yourself with concepts that are very advanced and easily understandable. You should also demonstrate some of your proficiency to a level that is superior and of high quality.
4. How Many Skills to List?
Employers will quickly be able to scan the resumes. So, you should always select around 10 to 15 skills that are your strongest and your most desirable. You should have a list of targets that are short, effective and overwhelming ones.
What To Put in Experience Section of Resume?
The following points will help you write the experience section. All of these tips have been tried by experts and promise great results!
1. The companies you have worked for in the past:
You should always mention the companies you have worked for in the past. There is no need to write their proper or official names unless the names are well known and can help you in a certain way.
In case you mention that you have worked for BMW, there are hiring people who belong to the automotive industry who will know where you have worked earlier. In case if some of your previous employees include popular people, make sure to write their names down including the name of the company.
In case the business which your company does is not very obvious, then you could briefly mention it in a few words.
2. Where your employers have worked or lived earlier:
This is the second thing you should mention in your experience section. Not only is it important to write down the state and the city but also the company that they have worked for in the past.
You don't have to go down into further details as you will be spending some really valuable time on it. The extra details are not needed such as the zip code and the address. Plus data like this can be found very easily.
You should mention something that is not present on the resume already.
3. The promotions done so far:
A third thing you should always note down in the experience section is the promotions you acquired.
If you have been promoted in some places, make sure to write them down in the work section. This will obviously show your current boss that you are hard working and have earned a good reputation in the previous companies you have worked for.
If you don't mention stuff like this, you will have lesser chances of getting promoted. So never make mistake of listing all the good stuff, especially if it is a promotion!
4. The awards and the recognition:
Everyone during some period of their life at work gets some amount of recognition and rewards. So the next time you are updating your resume, these are the things you should never forget to mention.
It is always better to mention things like these in the experience section because in that way you will be able to show that you have some great connection of the previous results and that you are definitely worth the spot you are applying for. Plus awards will always help you make a good impression. So make sure to mention all of them!
5. The dates of employment:
Now this is something you should never forget to mention in the experience section. In case the work experience that you have does not come with huge gaps, you should be using the standard method or year of format for writing those dates of employment.
You should mention all the details, including the month, the name as well as the year especially since this kind of formatting could be seen as the most reachable.
On the other hand if you like, there could be even much longer times of unemployment and would help you probably mask a bit especially in some of the specific cases.
6. Your current titles and positions:
Once a job applicant questioned me and asked for some fruitful advice on changing the titles that he had used for these older companies. He wanted me to help him make it look a lot more fancier.
If you have been experiencing stuff like this, they should be very aware. Do not make the mistake of changing the names of the positions especially because people can get to know everything by just making a simple call.
If people think you are lying, all they will have to do is simply call and speak to them and before you know it, they will know and you won't be getting the job. So have the current titles and positions written but always be honest about it.
7. Writing down the responsibilities:
When you are writing the responsibilities, always mention them in bullet points. In that way it will become more obvious to the readers of your resume. Plus make sure the experience does not exceed more than a single page. Always remember that once you are seated in front of the manager, you should be able to explain to them how you went from ordinary to extraordinary.
Other Important Tips for Resume Writing:
Here are few best resume writing skills or tips for writing your resume, that will help you in long run.
1. Remove the description:
A huge mistake people make while writing down the experience section is that they make it look like its some job description. There are several job seekers who go so far that they copy the descriptions of the job from some word. The result could be a boring recap of all the job duties which come with no indication of the real performance of the job.
2. Always prove how valuable you are:
Your manager will always be seeing your resume with precision. They will always be searching for clues which is related to the kind or worker they are. If you happen to show that you always want to show results that are positive for the employers, then you will always be seen as one candidate who is more desirable. The key here is make sure and to emphasize on the accomplishments along with proof which is provided alongside that will display your value and how capable you are.
3. Always be honest:
Studies have shown that job seekers do often tend to lie about their old work experiences when it comes to the resume. But the employment histories which are honest and well written always tend to land the job. The most ideal strategy which should be used for your resume should be very honest and truthful when it comes to the background.
4. Use words that are powerful and that make a difference:
You should be careful about the kind of words that you are using. There should be no wrong phrases or even dull ones. Writing that is bad, tends to break or even make your chances when it comes to an interview so you should always select your words very carefully.
5. Let your experience match with your goal:
Resume could be a great tool of marketing if you didn't know. The history of your employment could be a great strategy for marketing and it could really help the objective of your job. You should always focus on your accomplishments which will help you relate to the goal and remove all the duties of your job along with the accomplishments which do not support any of the objectives that you have.
Conclusion:
Whether they are small or big, resumes have to include both your experience and skills and if you have been reading the post, we are sure you have some idea on how to get it done. All of our ideas have been given by experts so they will definitely help you in the long run. On that note, good luck and in case if you have any questions regarding the post, please leave a comment in the box below. We would love to hear from you.
Save
Save