In an interview, it is always advisable to get little pumped up, this is because, it gives a little energy to person and you will feel good before going for an interview.
Everyone gets nervous before the interview, which at some extent is good, but most of the times, land us in troubles.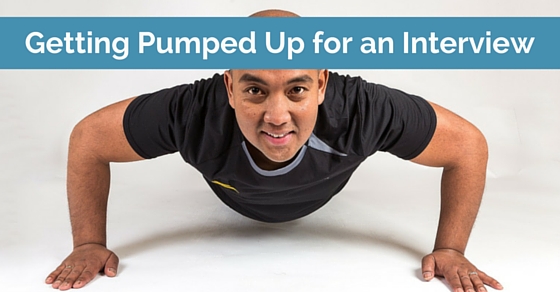 So, getting little energized before the interview is always a good option. In order to get pumped up for an interview, one can go for the following tips like:
How to Pump Yourself Up for a Job Interview:
1. Call a friend:
Calling a friend soothes your anxiety and you feel good and also confident. Call a friend who already has some experience in giving interviews as he or she will be able to understand the feelings better than any other person.
You may share what you feel before the interview or even ask for tips to perform well during an interview. So, calling a friend and getting advices is never a bad idea.
2. Listen to the songs that inspire or make you feel relax:
Listening songs are another good option to pump you and get confident. It just makes you feel relaxed as the songs are something which take you away from the real world and you feel the ecstatic moment.
But also remember not to get so lost in the songs that you forget about the preparation required for an interview. The first priority ofcourse is the interview preparations and not the enjoyment.
So, listen to the songs which make you feel better and releases tension from your mind.
3. Try and visualize your success:
This means that one should think of all the good that may happen during an interview. It can be anything, seeing happy boss, agreeing to offer you a job, or anything good and positive of your interest.
Do not think about the negative that may happen like kicking off the coffee, taking the wrong name, wishing ahead of the time, losing your train, fumbling while you speak and so on.
Thinking of these things will make you feel more nervous and you may lose the job in nervousness, lack of insurability and so on.
4. Be positive and talk to maximum people to shed away the fear:
Being positive is above all the advises. It is within ourselves only that we can think positive and good all the time.
Many people tend to think negative, especially in today's era where tension is the supreme power, but whatever it is, just try and be positive towards the task you are heading forward.
Also, talk to maximum people at a time. This will help you vomit out the fear residing in you. When we talk to a number of people, we tend to forget the tensions for a while and relax.
5. Rehearse a lot:
Practicing all what you are about to say in the interview will assist you a lot.If you have all the vital details, then you should feel more confident about having the information.
For rehearsing you may take help of your friend in organizing the mock interview so as to rehearse every aspect of the interview. This mock interview helps a lot in knowing all what you may have missed otherwise.
It helps in shaking hands, introducing yourself and also knowing how to reply the frequent questions if asked. Practice in such a manner that it looks professional as well as natural.
6. Use good language:
Using god language is vital and the foremost thing. Speaking good puts up a good impression and gives a sign of great communication also.
One will able to communicate well, if one has good command over English or any other language.
Whatever language you are comfortable with, speak that and make sure you are good at it and will not fumble while you speak in front of many people especially the expert panel setting for taking an interview.
7. Think about the good qualities and points of you:
If you will ponder over the good points you possess, it will help you in getting pumped and also will get confidence which is the need of the hour especially during an interview.
If you think about the abilities that you possess, only then you will be able to put forth what you think. This is also one of the saying that what we think is what we do, so if we think all good, universe makes the most of the effort to complete it.
So, before going to some important and specific purpose, make sure to put forth the positive points of you before the third person, so as to create a good impression.
8. Have a sound sleep one night before the interview:
Having a sound and healthy sleep can also do wonders. Having a tensed brain can be a spoil spot for you, do not ever let this happen and just give yourself a healthy nap.
It will not only help you in relieving the tension, but will also make you feel afresh as well which is the top most priority for an individual before going for an interview.
So, do not overthink of what may happen the very next day, instead focus on the practice you have done to make the interview a success for you.
9. Go through the resume again and again:
Knowing exactly what is written in your resume is also the important part for you to do. This is necessary because your resume says everything of your past as well as present.
You should know very well what is written in your resume and while explaining at an interview, just be confident in answering the right.
Make sure your resume is presented in a proper cover letter with all vital credentials required.
10. Have a good and hearty laugh:
Laughing is a good medicine. It is said because when we laugh some hormones which make us feel good are released by our body and it lowers the level of anxiety as well as stress hormones in us.
So, if you really want to replace the negativity from you and want to have positive jitters, just move to one of your funniest friend, or you may even watch a comedy movie or anything that actually makes you laugh from within the heart it.
This will make you feel more relaxed and you will be able to crack the interview with a great deal.
Yeah! Even if you are not able to watch a movie, you can move to the bathroom, make funny faces and can laugh, afterall at the end of the day the utter need is to make yourself feel relaxed and calm, especially before the interview session.
So, don't wait for someone to make you laugh, self service is needed here.
11. Read any book:
If you love reading, then go for an exciting and engrossing book before the interview. The book will take you to the fantasy world and will make you feel far better, also will make you forget for sometime that you have an interview the next day.
Do not go for the history books, to be very frank , go for the comedy book or anything fictional, that will soothe your mind and will also divert it from the so called tension and worries of being selected in an interview.
12. Do something creative:
You may even pump yourself by doing something creative that relaxes your mind. Doing creative may include cooking something different or making any creative project of art and craft, doing photography, roaming leisurely in a park or do anything which interest you a lot.
Conclusion:
So, above are some of the tips that one should follow before going for an interview. Remember, you are going for an interview not any discussion, so prepare yourself according to that.
Make sure your attire suits according to the occasion and also goes in interest of the company as well as the expert panel. Read the details and important note if given to you properly and then move for an interview.
Make yourself cool and calm and do not over think on any matter. Just focus on what you are going to do and feel happy and relaxed as it will help you get ready for any interview.
On that note, good luck.
Save