A video interview is no easy thing these days! A lot of people like to think it's a challenge because you are not just dependent on yourself but also circumstances. The internet connection, the quality of your camera including the sort of makeup you use matters. Plus there are also several pitfalls of attending a video interview.
So yes! You have to be very careful out there! And in case you are about to have a one very soon, then don't worry because here are some tips and ideas that should help you preparing for a video interview.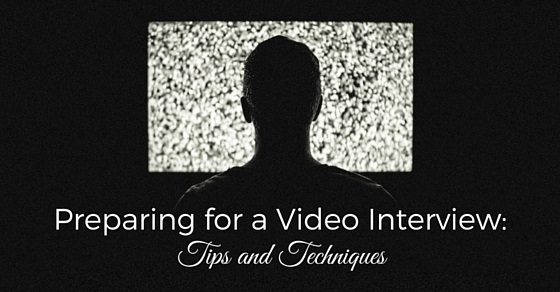 Video Interview Guide:
Interviews are mainly done in various forms and the video interview is one among them. Video interviews are helpful in many ways both to the recruiter as well as the candidate. They are quick, easy and moreover can avoid long-distance traveling for the candidate especially if the on-site location is in some other state.
Also, many employers are opting for video interviews considering the less complexibility and simple process. Leading the interview with technological advancement gives the whole hiring process a professional outlook.
The video interview is similar to face to face interview where the only difference is that both the interviewer and interviewee will be in different locations.
You can also be asked common interview questions like
What are your strengths and weakness etc
Here we will be providing you a list of video interview tips that help you crack the interview easily. But before moving to that, you also need to get familiarize with the video interview types
Types of video interviews:
Basically there are two types of video interviews
1. Live Video/Skype Interviews:
This is a normal type of video interview where the live conversation will be taking place between the interviewer and interviewee.
2. Pre-recorded/Asynchronous Video interview:
In this type of interview, the pre-recorded script will be there and the candidate needs to follow the instructions provided. The questions here will be pre-recorded and when the candidate answers to the question, it will be recorded. The follow up will be done after all the answers will be reviewed by the interview team.
Video Interview Tips:
The following are a few things that you need to be considered for the completion of a successful video interview
Peaceful and well-lit place
Proper internet connection
Recheck your computers audio and video functionality
Check your webcam
clear up unnecessary windows and tabs
Dress professionally
Place a few things like pen, book, and resume copy nearby
Smile in between to show engagement
You can also make use of hand gestures while answering
Put your phone on silent mode
The above mentioned are a few basic tips that you need to follow while preparing for a video interview,
Keys to Preparing for a Video Interview:
Non-verbal / Body Language Considerations:
Maintain an ideal posture
Position yourself well
Do not get nervous
Control your body language
Maintain proper eye contact
Never forget to smile during the interview
Technical Set-up for the Video Interview:
Choosing a good webcam
Right placement of your webcam
Use good light` setup
Check software functionality
Use good quality headsets
Use a simple background
Dress professionally
Avoid heavy makeup
Check your internet connection
Do a complete run-through
Practice makes perfect
Avoid all types of distractions
Guide to Preparing for a Video Interview Success:
The following mentioned are few video interview tips on how to prepare for a video interview.
1. Look straight at the camera and not at the screen:
When you are attending the interview on Skype, make sure to look at the camera first. In that way you will be making direct contact with the person who is interviewing you. It makes you look good as well. Making eye contact with the camera is very important.
There are people who don't have enough eye contact. There are people who lose out on landing a good job because of the way they look.
2. Be careful of what you are saying:
You should be careful of what you are saying when you are in front of the camera. Use the right words and acronyms. Don't use any slang words and if you can, improve your language before the interview. That will also help you in several ways.
3. Be calm and composed while speaking:
Don't ever look too hyper and over excited during an interview. You should be calm and composed for as long as you can. In fact, we would suggest you to stay calm throughout the video. People who can show off their personality while handling a level of professionalism will definitely help you land the interview of your dreams.
4. User better makeup:
It doesn't matter if you are a guy or a girl. If you are doing some makeup, kindly avoid anti shine makeup. There are people who read shiny faces as sweaty faces. They will also read a sweaty face as a face that is nervous.
Videos always amplify the degree of shine that you could have on your face. It will also distract you. You just don't want people to glare at you as if you are nervous and sweating. Plus make sure there is a good balance as it is very important.
5. Take a close look at your strengths and weaknesses:
Since this is a high tech interview you will be asked more than just traditional questions. The common interview question asked here is… "what are your strengths and weaknesses?". And it is your job to answer like a pro. So make sure you have prepared answers like this. A whole variety of video interview questions will be asked, so practice enough at home. Analyze yourself too.
6. Do enough research before attending the interview:
Before you attend a video interview, make sure you have done enough research and a proper job interview preparation. It is important to learn and gain enough knowledge on matters like this. There are several clients who give the candidate a chance to ask them questions. So don't get all caught up while thinking what you should be asking your recruiting manager. Instead go ahead and prepare a couple of questions from beforehand on something that you will not be able to research on your own.
7. Glasses and contacts are also important:
How you present yourself is also important. Glasses and contacts are something that should be taken care of. If you wear glasses, then make sure to get a frame that suits you and looks good on you. And the best thing you can do in situations like this is wear better contact lenses instead of wearing contacts. You will automatically look more attractive in that way.
8. Wear better clothes:
Wearing better clothes is also highly important if you didn't know. If you want your recruiting manager to have a good impression, then make sure you have dressed yourself accordingly. What you wear and how your present yourself is extremely important.
So dress yourself right. If you can, do purchase new clothes or clean and iron clothes thoroughly.
9. See how you are sitting:
The way you are seated in front of your future boss also matters. Before the interview begins, turn on the camera and see how you are looking. You should look presentable while sitting. Sit straight as it always says good things about you.
Slouching and looking away is never a good idea. So never make the mistake of trying something like that. Plus always remember that when you are attending an interview, you have to look like you are in a professional room and not in your personal space. So choose wisely.
10. Get good internet connection also:
Now this is also something that you should remember. Having a good internet connection is highly important. It should not look hazy when you are on Skype.
Having 4G or 3G is always a good idea. If you have WiFi, then nothing like it. Just make sure you have everything taken care of before attending an interview on camera.
11. Don't use hand gestures while speaking:
A final tip would be to avoid gesticulations of any kind. Hand gestures are appropriate when you are making conversation among your friends but during an interview, it will not make you look professional and smart. So avoid that!
12. Clear the area and make it look neat:
Before you sit for an interview on Skype, make sure you have cleaned your room. Having a neat, clean and tidy room is very important. You should always make sure your room is looking good in front of the camera.
Your interviewer is going to notice every single thing that they see on camera so don't have the expectation that an unkempt room shall go unnoticed. They are going to check and see every single thing. So make sure to clear the area and keep things neat. It will help you make a good impression for sure.
13. Be confident on camera!
Being confident on camera is very important so if you want to make a good impression, just make sure you are following the two golden rules. First of all, you have to sit and smile. Make sure there are very few and limited hand gestures.
And when you are answering a question, do not say more than three important things. After you have stated your three points, then stop speaking. We tend to babble too much during interviews and that is something that we should never do.
14. Don't keep any overhead lighting at all!
An overhead lighting is something that you should avoid. You may also do a dry run before any interview or check what kind of lighting flatters you the most. You can do better with some kind of side lighting or lighting that is down below. If you think moving around the lamps would be a good idea, then there is nothing like it.
15. Sit in a place where you are comfortable enough!
You should also be seated in such a location where you are comfortable enough to speak. You should be relaxed while speaking. Fidgeting too much while talking is never a good idea. So make sure you are feeling relaxed and comfortable while speaking.
16. Take a trial run too:
A trial run is also a very good idea before you sit for an interview. You should definitely do that before going online. In that way you will also be able to avoid embarrassing mistakes as you will be more aware of yourself. Practice always makes you perfect so a trial run is really what you need in order to get there.
Conclusion:
Video interviews are a great chance for you to show your talents and interview skills from the comfort of your place. So smile and be confident and make sure you are well prepared to ace your video job interview using the technology that you have. Plus having the right connection will make things easier and comfortable.
With that, we would like to bring this post to an end. And if you have liked this post, then please comment below. We would love to hear your feedback and know what's on your mind. If there are a few questions that you have in mind, don't think twice before posting them as well. We will try our level best to answer all of them. Till then, good luck and prepare yourself better for the interview.
Save