Meeting with a recruiter may be taxing for most of us. It is a great relief that the meeting is fixed but then follows the question with no answers to be found- what to wear, how to approach certain topics, what to avoid, what all to take? etc.. This may create stress and may even lead to sleepless nights. Even the brightest and the most confident people fear such meeting due to the ambiguous nature of them.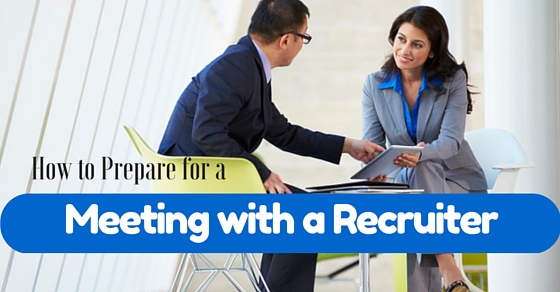 The recruiter may have different things in mind than what you expect, which makes it difficult to prepare for.
It is however; highly important that the recruiters are convinced that you are the right person for the job as getting the interview call largely depends on the recruiter. Here are a few tips that would help you prepare for an interview with the recruiter.
Things You Should Know About Job Recruiters:
1. Recruiters are there to search for the right candidate:
Recruiter's job is to search for the right candidate for the Job. They are not offering the job themselves and thus when you meet they make sure that you help them do their job right. This does not mean that you should be casual about this meeting, but being candid might help.
Allow the recruiter to make the way for you so that you will be comfortable in the seat. Let them tell you what they are looking for before you try and impress them.
2. Clarify what the recruiter wants:
Most of us, to make an impression tend to say things that might be detrimental. It is always best to find the expectation and then answer the questions.
You have to remember that there could be more profiles the recruiter may be mapping you for, so just clarify things before jumping in and do not refrain yourself from asking questions.
3. Don't get Disheartened:
The Recruiter is not a decision maker and there is mostly a set of qualifications and skills that they map you with. Also, there are limited vacancies and positions, if a recruiter does not call back, it should not affect your confidence.
Mostly recruiters' works on pre-defined formats that may mean that the job you are looking for may not be available as opposed to you are not fit for the job. Thus, keep yourself positive and not let the situation affect you.
4. Ask Questions:
This situation may not work in your favor. There are many organizations that offer various types of jobs- permanent jobs, contract basis, temporary jobs etc. There is nothing wrong in taking any job type; the catch here is to know what you are being offered.
Sometimes, just because we are getting the profile and brand we want, we miss out on these details. It is a very tricky situation when you will find out that you are being offered just a temporary job when you felt that you will be working permanent for your dream organization.
To avoid such situation, ask your recruiter about the job type, share with them if you are not looking for temporary arrangement. Also if you are in need of a job right away its best to be honest with the recruiter.
If there is something available they will definitely inform you. This also helps you get a permanent job as you will be in touch with the recruiter and they know your demands.
5. Communicate Effectively:
You might feel you are being pushy, but a clear communication is in no way wrong. If you feel that asking certain things could get some load off you, do that. If the recruiter hasn't called, call them and ask. However, do not keep calling them and irritate them.
Wait for a week or the timeline that has been discussed and then make the call. If you cannot get through them leave a message telling them your query or asking them to get back, simple!
Meeting with a Recruiter? Tips and Advice for You:
1. Dress appropriately for the meeting:
You are going for a meeting and not for a final interview alright!! But, who is making your resume reach the right hand? That's right – the recruiter. Leave an impression, do not just move out of bed and sit for the meeting. Remember everything counts.
Dress as you would for the final interview, along with making an impression it also shows – you are what you show in the resume, the dedicated professional who is fit for the job. This even helps the recruiter be sure that they are sending a suitable candidate.
Remember the recruiters job is to send the right man for the right job thus, they will be looking at all aspects and your attire counts.
2. Know what you want:
Most of the time by being clueless you might miss out on an important opportunity. Find out what you like best and what you are good at. This should be a thoroughly researched activity which will help you figure out what you want. The recruiter will definitely be skeptical about someone who is clueless.
Remember there will be questions on these. So know beforehand, what timings you are comfortable at, what profile you are looking for, what skills you would want to develop during the job and growth opportunities.
The questions are limitless, but when you start to think in the direction you are sure to be prepared to at least brainstorm. Even if you do not have answers to them all, you can think-partner with the recruiter in the meeting to unveil the opportunities as opposed to just listening.
3. Rehearsal for the meeting:
It might sound unwanted as it is just a meeting but believe us, it helps. Rehearse the scenario with friends who know a bit about these meeting which will help to find out deadlocks in the conversation.
Many a times we think of question that we should have asked, that would help us make informed decision. Why regret, talk to people who know your skills, qualifications and areas of interest. Ask them to probe you so that you will be clear as to what to seek in the meeting.
4. Write things down that you need to remember for the day:
It is best that you document everything, all the questions that you have in mind, and anything that you plan to share with the recruiter should be noted down. It is a great practice, this helps you not miss out on anything that was important and which should be on the recruiters list as well.
5. Know yourself better:
You are more than what is stated on the resume. The whole idea of the meeting with the recruiter is to tell them 'who you are'- work on your introduction, lay out your qualities, display your strengths, share your skills.
The idea is to let the recruiter know more about you. Be honest about yourself in the meeting. It is likely that you will be asked similar question in the interview as that will be based on this discussion; the best policy is to be genuine about things. This will also lead to getting you the most suited job compared to a mistake which could even be suffocating.
6. Keep Clear expectation:
It is best to ask questions and share what you expect at the first go. When you are preparing for the meeting, know what you expect from it. It is not a one way meeting, but a conversation which should benefit everyone in the process.
If there are any clarifications needed, resolve them first thing in the meeting. Also, be a little careful here and not over burden the recruiter. It is likely that conversation itself will unfold a lot of information, be discreet.
7. Create a positive approach:
Things might feel tensed or not going your way. Create a positive environment around you when preparing and even in the meeting. It has a lot of impact on how things will progress.
It affects a person's thinking capacity and also a recruiter would definitely be willing to move forward with a positive person compared to someone who is negative.
8. Keep your documents ready:
The recruiter might want to verify a few things or may even require moving forward a few documents along with your resume. Imagine what impression you would create if you are not carrying them along with you? You definitely don't want that.
Keep all your credentials ready, and well arranged. It will create a good impression and will also make the process move fast. Delay in submission may even lead to loss of an opportunity.
What To Do on the Day of the Meeting?
It is likely that most of the things you have been preparing for will wash out of head when the day arrives. Keep these tips handy for the day of the meeting.
1. Reach before time:
Reach the meeting venue half an hour before time. This would allow you to calm yourself, get acquainted with the office space, and make any last minute arrangements if required by the recruiter. Do not get into any unnecessary conversation which might affect your confidence or influence you.
Be polite to everyone around and refrain from loud group conversations here. Ask for the person you are meeting at the help desk and request them to send out a note stating that you have reached. Being punctual will create a good impression on the recruiter.
2. Dress comfortably:
Make sure that you are dressed professionally, yet comfortably. Lay out a few options a night before and choose one from them that makes you feel confident about yourself.
It could really work otherwise if in order to look professional you move out of your comfort; this will affect the flow of the day for you.
Take advice if you are not confident on picking out the best for yourself. Choose decent colors and soft fabric and do not try to be fashionable here.
3. Body language:
Recruiters has a knack for body language. A dull and sloppy look will not help things. Make sure that you rest well a day before the interview and eat light yet healthy food that will reflect in your energy levels.
Keep your postures straight yet friendly. Do not come out as aggressive or disinterested in your body postures. Sit comfortably and make hand movements only when needed. Speak in a soft yet confident tone.
4. Check Documents:
Check your documents once again. You must have all the required documents and it is best that you have an extra copy of them. Do not over fill the file though. Keep what you think is necessary. Don't worry if there is anything not there in the file, recruiters do give time to submit the documents.
5. Wear your smile:
There is nothing more promising than a smile. Do not forget to smile while you leave your place or when you greet anyone on the day. Even when things are going a little unplanned it will not harm to keep that smile intact. A goodbye with a smile will definitely make the recruiter remember you.
6. Share your information:
Recruiters for sure keep your contact information handy, it is still a good practice to share the information on the day of the meeting as well. This will help them contact you immediately when they are going through your profile.
Also ask the recruiter when can you expect to hear from them? Ask them the means they prefer for communication (Phone calls, emails etc..) and keep this information safe.
7. Express your Gratitude:
Remember it is a process and everyone should gain something out of it. Your recruiter has made all efforts to ensure that you are comfortable and share confidently. You also, through the process have learned a lot, it is indeed required that you show your gratitude. It leaves the conversation on a positive note and creates a good platform for future communications.
Hope this information will help you in your meeting with the recruiter. Remember, it is your day and the well you will prepare for it, the better results it will yield for you.