Recession is known to affect the lives of people in the worst way possible. It indeed is a hard time to pull on. It is the exact time when people need to make the money to keep the basic supplies going.
Debts start piling up and there seems no way to clear the way; especially for people with less or minimal qualifications. That is the period when people start searching for various possible job vacancies.
As funny or shocking as it sounds, various industries are taboo. Regardless of work nature, these companies are legal. One such occupation is that of a Phone sex operator also known as the PSO.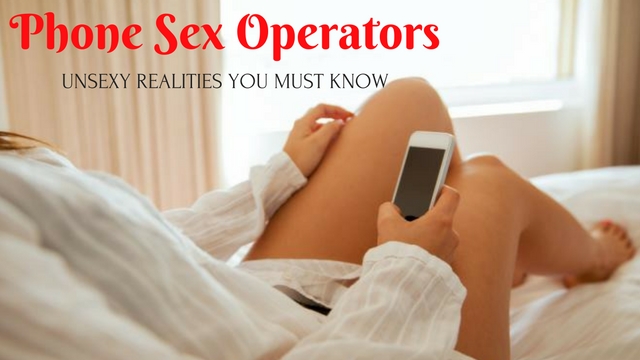 Phone Sex Operator Means?

PSO or the phone actress/actor is the term used for a person who enacts sexual fantasies over a phone. In spite of the wide access provided by the World Wide Web to the porn sites, many companies run about multimillion dollar business. When you look into this occupation closely, you would realize that like every other occupation even phone sex has equal pros and cons.
Phone sex operators not only get to experience their fantasies and have fun but also get enough money for a while (based on the minutes and hours of their task). At the same time, these workers are prone to encounter unrealistic fantasies and even illegal stuff (taboo).
What It's Like to Be a Phone Sex Operator?

Everything is not black and white. Sometimes you would have to deal with the gray as well. Let us have a closer look at the reality of a being a phone sex operator:
1. Do they wear what they always say?
People who do not work as a part of this industry and our customers are the ones who always want to know a few things about these phone sex operators. To be very honest, many times the question arises regarding the dressing.
There are questions like 'what they wear?' I would simply have one answer i.e. there is no such future telling machine that might foretell these operators about your fantasies. This job involves customer requests, which may vary according to the people online. Therefore, they cannot always be dressed in a bikini outfit or the thigh-high stockings as they describe.
However, there is always a chance that they actually might be wearing something very sexy to get the feel of it. Then again there can be a great number of possibilities depending upon the PSO. If the person works from home then there are more chances of your attendant to be in the outfit of your choice.
2. Rules and regulation are a part of everyone's life* (*no exceptions):
Rules are a part of our life. And also rules are the driving restriction that makes everything more organized and less of a hassle for anyone. As a fact, 99.98% of people hate rules passionately (talk about being passionate). Remaining 0.02% of people are the ones who create the rules. However, you have simply no idea as to how vital it is to have rules in the job of phone sex operator. These rules revolve around the safety guidelines of the worker.
Many people take up to phone sex gig to get their release. Moreover, these people have innumerable fantasies in the back of their mind. Some fantasies may go beyond and to the next level.
Some fantasies may give you creeps while some will make you chill. Fantasies may vary from a normal high school gig to BDSM and incest. This is the time when the rules help you out. Rules give a worker their right to say no to a request that they do not approve of.
3. You can never work without research:
Research is the main key factor behind any work. Any profession you choose requires you to know its detail and every single aspect. Even this occupation demands for you to research. There is not a single job that is the easiest.
Similarly, even though it seems quite easy and less of trouble, this works requires you to sit down with various available materials on the topic and do thorough research. Seemingly, it is the most boring task. Well, for those who are not much passionate about books? Nonetheless, research is the utmost necessity.
4. No guaranteed big start:
Well, you are never guaranteed that you will get a big start as soon as you join. Some co-workers may even have regular customers/men. At the same time, you might barely have anyone to start with. You might even get bored out of your mind whilst waiting for the phone to ring. Usually, it may sound irritating, but for a phone actress/actor it is the sound of joy and earnings (yes, male actors also work in this industry as PSO).
5. Bathroom halts and cordless phones:
There is absolutely no restriction on bathroom halts. Do you not think that it's fun to have bathroom breaks when you want? Well, do you know phone sex is generally on cordless phones that enable you to roam about any place you want? Of course, there is a reason for this fine service. Some customer/callers may have varied fantasies that might need for you to move onto some other place.
If you are not a work from home candidate, then you must know that when you enter the workplace, you will meet with innumerable moans. Blocking those moans while talking to some other customer can be a little too much of hassle. Therefore, having cordless phones can help you work in any area around your workplace (even bathrooms).
6. Variety of kinks:
When I spoke about research, I meant for you to check through all the possible sexual fantasies that exist on the face of the earth. Men can come up with various requests. When I say various weird requests, I mean it. Things can be pretty normal with some guys whereas some can go up to tickling, paddling, BDSM, rape, vampirism, incest, necrophilia, etc.
Of course, as per the choice of the PSO, he or she can decide on whether they will like to proceed onto the requestor would pass it on to some other colleague. Moreover, if it is someone who keeps annoying or stalking then you can always block them or add them to the restricted numbers.
7. Various fetishes and you:
Have you heard of masochists? Masochist is the people who have pleasure from the suffering and physical pain of the partner.
Have you heard of diaper fetish, diapirism, nappy fetishism, and etcetera? This is a particular fantasy where the person gets the pleasure of seeing an adult in a diaper. Does that feel weird? Well, that is a weird fetish and if you decide to do what they have asked then you need to make sure that you do your work well.
You should have equal seriousness regarding any fantasies. Your customer/callers take their fetish seriously and so the least you can do is stick to their fetish.
8. Treachery is in the veins of some people:
Treachery is another topic altogether. Do you know about hacking? Of course, we all are aware what hacking means. Nowadays, technology has provided some people with extra benefits. These benefits include hacking the phone line. This saves them the money that they would have to pay if they were calling. As soon as you hack the line, you get to live a fantasy that too free. Moreover, even tween boys try to experiment with their new knowledge of "call collect" to us the service for free.
9. They are caught but you are blamed:
Do you know some innumerable marital men call PSOs to live their fantasies? Of course, not everyone can comply with the weird fetishes. However, married guys are bound to have a wife who would start feeling weird when their husbands start spending more time on the phone. This is when the doubts start evolving into their mind. Of course, they do not take plenty of time to find out who their husbands keep ringing. As soon as they do find out, they call the PSO.
Phone sex operator is merely a person doing his or her job. It is particularly the fault of their husbands and not PSOs. However, PSOs are generally blamed for the separation, divorce and failed marriages. Do you not think that the marriage would have failed even if the PSOs did not exist? If their husbands cheated through phone they can cheat in any other way. You never know because there are endless possibilities.
10. The busiest season is the vacation:
Holidays and vacation are the working seasons for a phone actress. If you work as a phone sex operator then you are bound to know that it is during Christmas and Valentine's Day (and other holidays) when all the singles seem to need a release.
It is the busiest time. You can take it as an opportunity to earn more. By the way, holidays are not an issue. Most workers are contracted workers who can take a day or so of when needed. Of course, you get mini vacations too but at the right time.
11. The evil taunt of society:
Society is filled with a bunch of hypocrite people. Why am I attacking society? Wait a second and I would give you the answer. Have you ever pranked your friends and/or family saying that you have decided to take robbery as your occupation? Well, if you have not then I'll tell you how they would react. They would look down upon you at first, then they would start taunting you, make you realize the crime you are committing, etc.
Robbery and theft is a crime and if you are one then you deserve the taunts in your way. However, if the society starts attacking you by making you feel guilty of choosing phone sex operator's profession then it is not done. Even those phone calls from a stranger would not feel that demeaning and degrading as the eyes of the hypocrite people.
12. Some requirements exceed reality:
Can I ask you something personal? We are already discussing a finely close topic; so, let me just simply ask. Can you speak while performing fellatio? Of course, one cannot even utter a word. So speaking is a far different concept.
However, phone sex solely depends on communication. Once you stop talking it feels like being alone all over again. Therefore, even though the fantasy is about fellatio, keep talking. Let there be a communication while you follow the script.
13. Hanging up after the deal:
This is mostly faced by phone sex operators. Most of the clients hang up the second they experience their release. Yes, it is rude. It feels similar to the feeling of being a door slammed on the face.
However, most men take post climax talk as clingy behavior. Of course, phone sex operators are equal to one night stands for them and thus, they dislike continuing their talk once their need is completed. They would not even look at their time deal and/or payment.
14. Plenty of fantasizing gigs:
Phone sex indirectly fulfills the wishes of the operator too. Yes, not everyone wishes for various fetishes and fantasies; however, we all do have some. Phone sex operator gets to experiment most of these fantasies without any care in the world. For the identity of a phone, the sex worker is always sealed, it is easier to deal with everything. Of course, it depends on the PSO herself/himself to choose whether they want to disclose their identity or not (and mostly the answer is no).
The life a phone sex operator is not all happening and good. It has its pros and cons. According to previous phone sex operator, an average PSO can barely have around 5-7% of the profit on each call.
Therefore, this profession also needs time to make the ends meet. Moreover, the chances of being stalked by a serial psychotic person are also high. People have been using technology for a different purpose (which is disastrous). Life of a phone sex operator is no less of a work. Also, it is NOT a disgracing job.