Modeling is one of the most sought after careers for girls who wish to be famous and those who seek stardom. It is a fact that bikini models have a slightly different work protocol when it comes to normal runway models. So bikini models must stay fit and lead a healthy and fruitful lifestyle.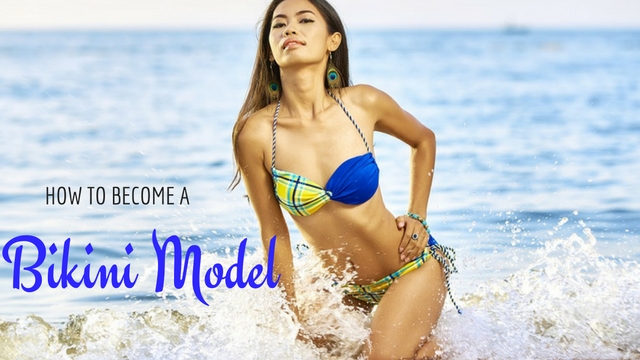 Enter into the World of Modeling:
There are many ways in which you could decide whether or not modeling is the right choice for you or how you could successfully enter into the world of modeling. Here are the following ways that can help you to train and condition to be a good bikini model.
1. Take modeling classes or courses:
If you are a person who is new to the modeling industry or you do not have any prior modeling experience and you wish to learn about modeling, then it is safe to bet to invest some money in enrolling in a good modeling class.
Participating in modeling classes not only gives you an insight about the nature of the industry, but it will also help you to understand what are the pros and cons of selecting this industry as a full time career. It will also help you understand how competitive and hard it is for a person to survive in this industry.
Taking modeling classes is not at all mandatory for a person who aspires to be a model. Most people from the fashion industry scout people from the general public who they think are model material. Most of these selected do not even have prior knowledge about modeling nor do they have any modeling experience.
As mentioned before, it is always a safe bet to get to know about the industry that you wish to work in.
2. Take natural pictures:
Aspiring models must show their bare, natural face without any makeup for the modeling agencies and companies to assess the beauty of the model and to decide whether or not they are a good choice for the company.
While taking photographs for the portfolio ensure that you are showing a variety of styles. This can be achieved by wearing a variety of clothes such as bikinis, jeans, fitting t-shirts, traditional clothes and so on. This is to ensure that the modeling agency or the company can see your full potential and to show that your body structure can fit into any type of clothing presented.
Even though the thought may seem tempting, but while taking photos the model must have as minimum makeup as possible. Try to take photos from a good camera or you can even use the help of a professional photographer to create a clean, precise and a basic portfolio.
Also, keep in mind that before attending an interview, you must have your portfolio ready to show your agencies about your work and to show that you have the potential to become a good model.
3. Always have good contacts:
If you are entering into a field like the fashion industry, it is always beneficial that you have someone that you could look up to as a mentor or if you have some good contacts, then it is an added advantage for you.
Try to be connected with as many people as you can. This also includes making contacts with various modeling agencies and companies.
Even if you do not have any contacts with people who are directly working in the fashion industry, having contacts of people who work as photographers, designers or even store owners is also a great idea.
Try to use a lot of social media and try to expand your work out there through your family members, friends, or even your followers from Facebook or Instagram. Try to be recognized as much as possible. Also, maintain close contact with people who can provide you with gigs, like designers. That should be your ultimate goal while making a large network of contacts.
4. Prevent swindling:
There are many companies out there, who try to swindle and trick aspiring models into paying them to allow joining their company. Keep in mind that such companies trick helpless models into paying a hefty sum. While searching for modeling gigs try to take precaution so that you won't get into any dangerous or unwanted situation that can harm your future.
Real modeling agencies do not ask to pay for them in advance. This is because modeling agencies thrive by taking a creation percentage of your paycheck from the amount of work that you get. That is if you get more work as a model. The agency will also get more money.
Ensure that you try to get references from modeling agencies to ensure that they are the real deal. Most modeling agencies will have a good client list, so it will be easy for them to provide you with a good reference.
Also, try to ensure that the company website and their company profiles are legitimate and they look real. If you find any doubts regarding the website, try to know more about them, until you are sure.
If a certain person comes up to you and introduces themselves as a scouting agent for a modeling agency, then try to call the modeling agency and ensure that he or she is an employee of the agency. You can also search the company website since many agencies put out a list of names of scouting agents working under them.
Try not to accept modeling gigs from craigslist or such posting boards, unless they are from a well known company.
Make Yourself Noticeable:
1. Find as many jobs as possible:
Try as many fashion and modeling gigs as possible. The more the better for your portfolio. Try to accept jobs from trusted sources even if they are small jobs. Also, try to maintain close contact with your peers or colleagues in the industry. Also, doing small gigs will help you pave way for bigger jobs.
Take time and research about agencies that you will find is the most comfortable for you. Keep in mind that if you are starting new as a model, you won't be able to be accepted by a top agency right away. It takes time, patience and a lot of experience to be recognized by a good modeling agency.
Many modeling agencies search for a particular type of model for the various projects that they receive. So, if you want to make a good impression then ask relevant doubts and queries about the ideal model that they are looking for. This will help you to be more prepared and groomed for your dream modeling agency.
If you are trying to find a good modeling agency, try googling the best modeling agency to find a list of reputed modeling agencies in your area. From there you could find a link where you could apply your portfolio. This is a great way to come in contact with a good modeling agency.
2. Apply for a variety of agencies:
If you are interested in getting an agent, then the best method is to apply your portfolio to a large number of agencies as possible.
Try to include the most important and basic information such as your age, body size, body measurements, eye color and your natural hair color along with your ethnicity and skin color. And try not to add irrelevant information such as your passions and hobbies as this can risk your portfolio being rejected. Try to be as professional as possible.
Try to express yourself more in your portfolio rather than expressing it through your cover letter. This is because most modeling agencies look at your portfolio. They do not have the time to read cover letters, they want visual proof. Try to add your interests unless specified or asked.
Also, include valid personal information such as your contact number and your business email address. Also, make sure that you always talk to the agency directly and not through a middle person.
3. Have the perfect portfolio:
While including photos for the portfolio, try to be as professional as possible. Try not to include photos from your vacations or when hanging out with friends. Try to include professionally taken photos just for modeling purposes.
Also, try not to spend too much money on taking photos. Try to find a close friend or an acquaintance who is good at taking photos and knows how to use a good camera. Always keep in mind that spending a lot of capital on photos won't help you to get a call from agencies.
Always try to include photos from your previous clients as part of your portfolio, unless they are confidential. It will show the agency that you have worked in a professional environment before.
4. Have an attractive behavior:
Always keep in mind that modeling is not just about the outside beauty, it is also about one's behavior and how bright their personalities are. This is because modeling calls for a lot of professionalism and determination to get the job done. Also, while creating a large following through social media, it is necessary to post your moments so that people can see the real you. Also, try to be as polite as possible to others whenever you can.
Prepare your body:
Models in bikinis should have a flat tummy, and they should have thin waists and thighs. There are many ways that a model could use to have a slim and toned body.
To get a flat stomach, one could always do exercises such as the plank, side plank, boat pose, and the scaling mirror. All these poses provide good excursive to your stomach muscles making it tighter.
Similarly, doing squats, Pilates, kicks, lunges, yoga and leg exercises will help you to get slim legs and good buttock muscles. These are necessary for a bikini model, to fit into various bikini styles easily.
Bikini Model Diet:
Try to lose weight by following a strict bikini diet plan, instead of starving yourself and making your body suffer and struggle. To lose weight effectively, try to ingest good proteins and calories that are beneficial for you and help you to lose the unnecessary fat from the body.
Try eating proteins such as beans, nuts and also eating lots of vegetables, fruits, soups and also animal protein such as eggs and red meat for effective body weight and a healthy muscle gain.
Make sure that you are keeping a bikini food diary to keep track of the number of calories that you have consumed in one day. Try to limit yourself to a certain amount of calorie level and make sure that you do not cross the set level. Having a food diary will also help you to understand what kind of foods are good for your body and what is not. This is a great help if you are following a strict bikini body diet plan.
To avoid binge eating, make sure that you are eating your meals in small portions number of times. This will help you to digest your foods more properly and also prevents you from gaining weight.
Drink lots of water and lead a healthy lifestyle. Try drinking lots of water as it helps you to lose weight by making you fuller. Also, cut on drinking alcohol and having habits such as smoking. These can trigger weight gain in some individuals.
Modeling requires a lot of discipline and self control in life. It also requires a ton of confidence and self belief to become a model since it is a tough industry to survive. To achieve a fruitful modeling career, believe that you have the perfect body in the business and move forward with your career and try to take as many projects as you can for a better portfolio.
Save