There are many aspects of telephonic interviews that tend to scare the candidates and instill fear in their minds. A face to face interview may appear less scary to some candidates but the uncertainty associated with telephonic interviews scare the best of us. If you understand the entire process of telephonic interviews properly and prepare well in advance for such interviews, you may increase your chances of getting selected drastically. If you really wish to pass the telephonic interview in style or ace a phone interview, here are some telephonic interview tips you need to keep in mind: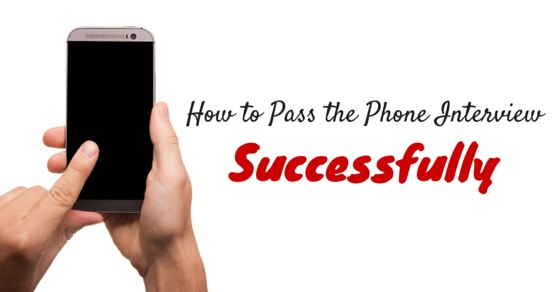 Keys to a Successful Phone Interview:
Yes, the style of interview does not change the requirement of the recruiters. There are some qualities that each recruiter seeks in his candidate. These qualities do not change with the style of interview.
Here we have listed some of the traits that every candidate must possess if he wishes to be hired in a good firm or organization. Evaluate and see whether you possess these qualities. If you do not possess these qualities, try and inculcate them in you.
Confidence:
This is the first quality that every candidate needs to possess. Confidence is easily observable when there is a face to face interview. In telephonic interviews, recruiters find it difficult to gauge how confident you are. In face to face interviews, your body language reveals your true state of mind.
In telephonic interviews, some interviewers pick questions that can take you out of your comfort zone and make you feel less confident. So be prepared to face such phone interview questions with bold and accurate answers. Do not let such questions hamper your confidence.
Punctuality:
Very few individuals truly value time. Punctuality is a trait that every recruiter seeks in his employee. You need to be on time for every interview. If you were told to call them at a particular time for the telephonic interview, make sure you call them at the scheduled time.
If you happen to get late due to some genuine reason, have the courtesy to apologize before they begin the interview. This conduct will reveal to them that you value time and are punctual.
Communication Skills:
In telephonic interviews, communication skills play an even greater role. You make an impression by the way you speak to your interviewers. You need to ensure that you have a good hold over the English Grammar. If you lack language prowess, you must join a class to refine these skills. You must also try to work on your vocabulary and accent.
Try to hear yourself speak by recording your voice. This will help you understand the alterations you need to bring about in the way you speak. You may sometimes have to alter your tone to appear soft-spoken and polite.
Maturity and Reliability:
One thing that most young college pass outs lack is maturity. In college, they have been leading a completely happy and carefree life where they needn't worry about anything. The carefree attitude does not prove useful in the true professional world. You need to be practical and responsible while handling top positions in firms and organizations.
The interviewers will try to gauge your level of maturity and reliability by posing questions about your college life. They may ask you about tasks you have handled in college or events you have organized. Don't shy away if you have really organized events. Tell them how you have managed teams and organized events.
Phone Interview Tips to Help You Nail the Call:
Phone interviews have now been a common part of the hiring process. Actually the hiring process starts off with the phone interview once your application is selected by the hiring team.
Phone interviews are similar to any kind of face to face interview, the only difference is the locations of both the interviewer and interviewee.
Being nervous before the interview is very common especially if you are facing this type of interview for the first time. There will also be several questions regarding it. The best advice to overcome it would be to practice and prepare well.
Here we have listed few best phone interview tips that could help you breakthrough for the next round
Phone Interview Tips:
For better understanding, we have categorized the tips into 3 parts.
Before Your Phone Interview:
Have a clear information
Perform proper research
Prepare answers in advance
Practice how you would convey your salary expectation
Make a note of everything and set aside
Have a copy of all important documents handy
Get a pen, notebook, water bottle, charger etc and put in nearby
Dress professionally
Set a peaceful and quiet place
Avoid all type of distractions
Cover up all the unwanted factors (if happen any)
Create a friendly voicemail message
Charge your phone fully and check for signals
During Your Phone Interview:
Begin strong and on time
Greet them politely
Ask to repeat the questions if not clear
Maintain a clear tone and voice
Use pauses while speaking
Listen first and then answer
After Your Phone Interview:
Make a note of all important points
Prepare and send a "Thank you" note
Have a proper follow-up procedure
Thorough Preparation Counts in Phone Interview:
Apart from knowing what the recruiters seek, preparing for a phone interview to pass the interviews is also very important. The preparation for the phone interview is different from preparation for a face to face interview. Here we have mentioned the different ways and tips for a phone interview in which you can make sure your phone interview happens smoothly.
Make Sure You Have all the Documents:
Yes, the documents matter a lot in all the job interviews. You need to have a copy of all the important documents scanned and emailed to the recruiter well in advance. These may include your graduation and post graduation certificates as well as copies of your resume. If you have participated in any other activities or events or taken any additional course, carry your certificates for these.
You also need to send them copies of your passport size photographs. You must send them copies of your latest resume. If you think your resume lacks the professional appeal, you may seek professional resume writing services that help you get the perfect resume made. If you wish to prepare the resume yourself, you may refer job websites that provide guidelines regarding information to be included in the resume.
Prepare for the Most Expected Questions:
The benefit you have in telephonic interviews is that the recruiter cannot see your face. If you present the answer convincingly on phone, you will appear confident to the recruiter. It is best to prepare the list of most expected telephone interviews questions. It will help you gather sufficient confidence to score well in telephonic interviews. Here we have listed out a few of the most expected questions to ask in a phone interview for fresh candidates:
What is your strength?
What is your weakness?
Are you a good leader?
Who is your mentor?
What are your hobbies and interests?
What are your core competencies?
Would you be comfortable working in shifts?
What is your salary expectation?
Why do you wish to join this firm?
If you are an experienced candidate, the questions asked to you would vary greatly. Here we have prepared a list of questions that experienced candidates could expect to be asked during their telephonic interviews:
What is your total work experience?
Why do you wish to leave your previous organisation?
Why should we hire you?
Why should we pay you the salary you have quoted?
What is the one thing you wish to change in your previous organisation?
If you answer these questions well, the interviewer is sure to be impressed. A basic preparation is required to clear telephonic interviews.
Plan Well In Advance For Telephonic Interviews:
Preparing for phone interview is surely way different from planning for the actual interviews. Here the interview depends completely on the gadget and the surroundings. If it is a pre-scheduled interview, there are many steps of preparation that will help you have a smooth interview. Here we have listed them out for you:
Make sure your device is functioning properly. You may provide a spare number so that the interview happens even if there are range problems in one of the networks.
Pick an appropriate location where you would like to be seated during the telephonic interview. Choose a spot where there would be no external interference. You also need to ensure that there is no noise to disturb your audibility during the interview.
Prepare a nice introduction with which you can start the telephonic interview session. Rehearse this introduction and it will help you be more confident during the actual interview.
If it is not a prescheduled interview, you need to make sure that you pick the call in a comfortable location. You may postpone the interview explaining the situation if the place is not comfortable and there is lot of external noise.
Things To Keep In Mind During The Phone Interview:
The following mentioned are few tips for a telephonic interview that help you answering questions during a phone interview.
Do not panic and stay completely calm during the interview. You may take a deep breath before starting off with the interview. This will help you relax and stay cool. Start by greeting your interviewer.
Be careful during the interview that your sighs or other panic-related gasps are not heard on the telephone. If at any point you can't conceal these then cover your receiver so that the interviewer does not realise you are gasping or sighing.
If you do not know an answer to a question or you require time to think, request your interviewer for some time. In a face to face interview, the recruiter knows you are thinking by looking at your facial expression. Since this is not possible in a telephonic interview, you need to inform your interviewer that you need some time to think.
If you do not know the answer at all to a certain question, you need to honestly accept this fact on the phone. There is no use keeping them waiting.
What You Need To Do After The Phonic Interview Is Over?
Once the entire interview session is over, you need to ask the interviewers all your queries regarding the job. If you have doubts regarding the nature of the new job, you must feel free to clear these doubts before it is too late.
You must also ask them when you can follow up on the interview. If they tell you a date, wait till that date and if you still don't receive any response, call back.
Many expert consultants suggest that it is better to avoid a conversation regarding salary, increment or other monetary things on the telephone. You may clear these queries once you are sure you have been selected.
These are simple phone interview tips and tricks to help candidates clear telephonic interviews with courage and confidence.