You will be surprised to know how many companies are already out there on LinkedIn looking for the right candidate like you. But, did you optimize your LinkedIn profile yet?
Most job seekers are still looking for jobs in a conventional manner. They are not using the new found platforms to the best of its ability.
LinkedIn is one such platform, which has immense potential, but the job seekers are still not exploring it to the fullest.
LinkedIn is one such place where your potential recruiter or company will evaluate you on the basis of LinkedIn information provided by you.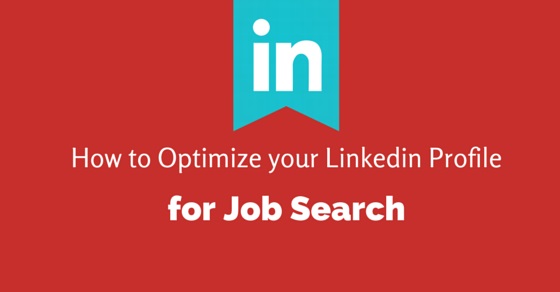 Do you think you have done your job by completing the profile?
No, your job starts once you have completed your profile. You need to improve LinkedIn profile and will have to make it visible and attractive for the employers. There are several things that you can do to enhance your chances of being figured out.
LinkedIn is the platform through which you can showcase your interest as well as success through visual and textual content.
In order to increase its effectiveness you need to optimize LinkedIn profile of yours, so that it improves your LinkedIn advanced search rankings too.
14 LinkedIn Tips to Optimize your LinkedIn Profile:
If you have a killer resume, but it is sitting idle and nobody is taking a look, then it is of no use. In the same way, if you have a LinkedIn account, which nobody is aware of, then it doesn't serve you any purpose.
Therefore, here are some LinkedIn profile tips that you can use to create LinkedIn profile and optimize your LinkedIn profile for the job search.
1. Start with clear objectives:
It is very important that before you start working on your account, you have a clear objective about how you want to use the platform.
Decide on the role that you want and then start weaving your account accordingly.
2. Beware of the silly typo error:
We all are aware of the fact that the first impression is generally the last impression. When you are online, your profile is your first impression.
Therefore, you must type in each word carefully, so that you don't get any typo error. You must take great care in making your account articulate and succinct. Take your time in completing the LinkedIn profile.
You must consider your LinkedIn profile as your online resume, so you must update it with great care.
3. Profile settings:
Now when you have updated all the information in your account, it is time to make your account public. Go to Privacy and settings and change your LinkedIn profile to visible to public.
4. Keyword relevant:
LinkedIn profile also gets ranked as per relevancy. Therefore, in order to top it on the search engine, you will have to make use of the keywords.
When the hiring managers search LinkedIn for candidates they type in certain terms, if you are using keywords that are closer to those terms, then your chances of getting noticed will increase.
5. Relevant certifications and associations:
You must always add the certifications that you have completed. If the recruiters are looking for special skills or certifications, then they will be typing in that only. It also helps in increasing your visibility.
If you are associated with some associations relevant to the industry you are working, then updating this piece of information will also work in your favor.
6. Customize the URL:
You can customize your LinkedIn URL with your name. This will help you to stand out in the crowd and not get confused amongst the hundreds of LinkedIn members.
7. Optimized LinkedIn headline:
You can grab the people's attention through a catchy headline. 120 characters are what you have to describe yourself, so make the most out of it.
Your choice of words is very important and you must make an impact with each of them. Don't forget to include the right LinkedIn keywords and the industry where you are working.
8. Use work samples:
Now you can upload videos along with images and other documents to show your talent. Therefore, use this feature to update and show recruiters what you can do, instead of just writing it down.
You can also update the presentations that you have made, so that the recruiters have an idea about how good you are at your work.
9. Professional photo is imperative:
A profile with a photo will fetch you more views than a profile without it.
A linkedIn photo helps in identifying you immediately, even when they might not remember you by name.
10. Be active:
If you find some articles interesting, then add some comments that will add value to the discussion.
You can also share your opinion in the group discussions or share information in general. The more active you will be, the more the chances are, of getting noticed by the potential recruiters.
11. Relevant connections:
Try to expand your connections by including professionals from the same industry and professions.
Opportunities might come knocking from any possible way, so it is better that you keep all the avenues open for consideration.
12. Summary box:
The professional LinkedIn profile summary that you will be writing must be targeted towards the recruiter.
You must write about your qualities and what value you can add to the organization, if you get hired. Remember the keywords and in the second paragraph, update your specialties.
13. Right Recommendations:
You can collect job recommendations from relevant top LinkedIn profiles and you can display it prominently as well.
Therefore, you must not shy away from asking for recommendations. Instead, you can ask your colleagues, managers or your friends to write you a recommendation and you can return the favor as well.
It will help both of you and enhance the chance of getting noticed too.
For example, you can find some top LinkedIn Profiles for job seekers
14. Consistency is the key:
When you are online, consistency is the key to keep your hope alive. It is at par with reliability and integrity.
Therefore, when you are updating any information, make sure that it is the same across all other social networking sites as well. If there is a slight variance in the data that you have updated on different platforms, then it will have a negative impact on you.
Save