Gender bias is the most common and bad practice done in many of the companies. Celebrating women's day and talking on women empowerment will not help you or result in anything. Change is what today's women require.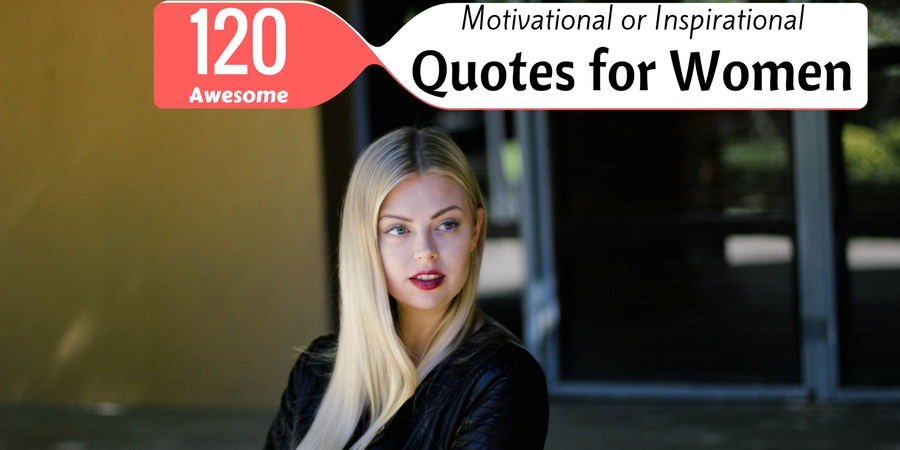 Women nowadays are in every sector that too very successful. They should not be just limited to or bidden within household chores. Though we are in the 21st century still in many places women are not allowed to work or do as they like. This lack of freedom is what they always get.
Being civilized and educated does not help if one does not behave in such a way. The following mentioned are a few inspirational quotes from women that help them to get inspired and help them believe that they are not inferior to anyone.
Best Quotes About Women:
1. "If I stop to kick every barking dog I am not going to get where I'm going." – Jackie Joyner—Kersee
2. "You are the one that possesses the keys to your being. You carry the passport to your own happiness." – Diane von Furstenberg
3. "Success is liking yourself, liking what you do, and liking how you do it." – Maya Angelou
4. "Cautious, careful people, always casting about to preserve their reputations can never effect a reform." – Susan B. Anthony
5. "Make the most of yourself by fanning the tiny, inner sparks of possibility into flames of achievement." – Golda Meir
6. "I didn't get there by wishing for it or hoping for it, but by working for it." – Estée Lauder
7. "The most difficult thing is the decision to act, the rest is merely tenacity." – Amelia Earhart
8. "You can waste your lives drawing lines. Or you can live your life crossing them." – Shonda Rhimes
9. "I hope the fathers and mothers of little girls will look at them and say 'yes, women can.'" – Dilma Rousseff
10. "If you don't risk anything, you risk even more." – Erica Jong
11. "The way we talk to our children becomes their inner voice." – Peggy O'Mara
12. "Success isn't about how much money, it's about the difference you make in people's lives" – Michelle Obama  
13. "If you don't like the road you're walking, start paving another one." – Dolly Parton
14. "You can't give up! If you give up, you're like everybody else." – Chris Evert
15. "Done is better than perfect." – Sheryl Sandberg
16. "One cannot accomplish anything without fanaticism." – Eva Perón
17. "It took me quite a long time to develop a voice, and now that I have it, I am not going to be silent." – Madeleine Albright
18. "You can imprison a man, but not an idea. You can exile a man, but not an idea. You can kill a man, but not an idea." – Benazir Bhutto
19. "Step out of the history that is holding you back. Step into the new story you are willing to create." – Oprah Winfrey
20. "What you do makes a difference, and you have to decide what kind of difference you want to make." – Jane Goodall
21. "I may be wearing makeup, but I can throw a fastball by you at the same time." – Jennie Finch  
22. As a leader, it's a major responsibility on your shoulders to practice the behavior you want others to follow." – Himanshu Bhatia
23. "A strong woman is a woman determined to do something others are determined not be done." – Marge Piercy
24. "Drama is very important in life: You have to come on with a bang. You never want to go out with a whimper." – Julia Child
25. "The question isn't who is going to let me; it's who is going to stop me." – Ayn Rand
26. "Spread love everywhere you go. Let no one ever come to you without leaving happier." – Mother Teresa
27. "Take criticism seriously, but not personally. If there is truth or merit in the criticism, try to learn from it. Otherwise, let it roll right off you." – Hillary Clinton
28. "You should treat your marriage like a business that you wouldn't want to let fail." – Lisa Ling
29. "No one can make you feel inferior without your consent." – Eleanor Roosevelt
30. "It takes a great deal of courage to stand up to your enemies, but even more to stand up to your friends." – J. K. Rowling 
31. "A woman is the full circle. Within her is the power to create, nurture and transform." – Diane Mariechild 
32. "Don't be afraid to speak up for yourself. Keep fighting for your dreams!" – Gabby Douglas
33. "If you obey all the rules, you miss all the fun." – Katharine Hepburn
34. "Forget about the fast lane. If you really want to fly, just harness your power to your passion" – Oprah Winfrey
35. "Life is not measured by the number of breaths we take, but by the moments that take our breath away." – Maya Angelou
36. "Take any challenges as a creative opportunity." – Alexandra Watkins
37. "It's possible to climb to the top without stomping on other people." – Taylor Swift
38. "Power is not given to you. You have to take it." – Beyonce Knowles
39. "We can do no great things, only small things with great love." – Mother Teresa
40. "Do you want to meet the love of your life? Look in the mirror." – Byron Katie
41. "I don't care what you think about me. I don't think about you at all." – Coco Chanel
42. "Power to me is the ability to make a change in a positive way." – Victoria Justice 
43. "No matter what you look like or think you look like you're special and loved and perfect just the way you are." – Ariel Winter
44. "Oh, How i long to run away from normal days! I want to run wild with my imagination." – Anonymous
45. "And the trouble is, if you don't risk anything, you risk more." – Erica Jong
46. "Life shrinks or expands in proportion to one's courage." – Anais Nin
47. "I'm not afraid of storms, for I'm learning to sail my ship." – Louisa May Alcott
48. "If you can't make it better, you can laugh at it." – Erma Bombeck
49. "Don't be the girl who fell. Be the girl who got back up." – Jenette Stanley 
50. "No country can ever truly flourish if it stifles the potential of its women and deprives itself of the contributions of half of its citizens." – Michelle Obama
51. "No matter how senior you get in an organization, no matter how well you're perceived to be doing, your job is never done." – Abigail Johnson
52. "I think the truth of the matter is, people who end up as 'first' don't actually set out to be first. They set out to do something they love and it just so happens that they are the first to do it." – Condoleezza Rice
53. "The way you tell your story to yourself matters." – Amy Cuddy
54. "What I do for my work is exactly what I would do if nobody paid me." – Gretchen Rubin
55. "Run to the fire; don't hide from it." – Meg Whitman
56. "We realize the importance of our voices only when we are silenced."– Malala Yousafzai
57. "I would rather be handsome for an hour than pretty for a week. "— Tilda Swinton 
58. "Instead of looking at the past, I put myself ahead twenty years and try to look at what I need to do now in order to get there then" – Diana Ross 
59. "I have come to realize making yourself happy is most important. Never be ashamed of how you feel. You have the right to feel any emotion you want, and do what makes you happy. That's my life motto." — Demi Lovato 
60. "Don't compromise yourself. You are all you've got. There is no yesterday, no tomorrow, it's all the same day." – Janis Joplin
61. "Never limit yourself because of others' limited imagination; never limit others because of your own limited imagination." — Mae Jemison
62. "The first problem for all of us, men and women, is not to learn, but to unlearn." — Gloria Steinem
63. "Everyone has inside of her a piece of good news. The good news is that you don't know how great you can be, how much you can love, what you can accomplish, and what your potential is." — Anne Frank
64. "You grow up the day you have your first real laugh at yourself." — Ethel Barrymore
65. "Great minds discuss ideas; average minds discuss events; small minds discuss people." — Eleanor Roosevelt
66. "I am not a one in a million kind of a girl. I am a once in a lifetime kind of woman." – Anonymous  
67. "A woman has got to love a bad man once or twice in her life, to be thankful for a good one." — Marjorie Kinnan
68. "Life shrinks or expands in proportion with one's courage." — Anaïs Nin
69. "Avoiding danger is no safer in the long run than outright exposure. The fearful are caught as often as the bold." — Helen Keller
70. "If you're not making mistakes, then you're not making decisions." — Catherine Cook
71. "She made broken look beautiful and strong look invincible. She walked with the universe on her shoulders and made it look like a pair of wings." – Ariana
72. "Do you really want to look back on your life and see how wonderful it could have been had you not been afraid to live in?" — Caroline Myss 
73. "It needs to be said and heard: it's OK to be who you are." – Hailee Steinfeld
74. "The most common way people give up their power is by thinking they don't have any." — Alice Walker
75. " Just don't give up trying to do what you really want to do. Where there is love and inspiration, I don't think you can go wrong." — Ella Fitzgerald
76. " A feminist is a person who believes in the power of women just as much as they believe in the power of anyone else. It's equality, it's fairness, and I think it's a great thing to be a part of. " – Zendaya
77. " The best protection any woman can have is courage. "— Elizabeth Cady Stanton
78. " Never doubt that a small group of thoughtful committed citizens can change the world. Indeed, it is the only thing that ever has "– Margaret Mead
79. " Success is getting what you want. Happiness is wanting what you get." – Ingrid Bergman
80. " Always be a first-rate version of yourself instead of a second-rate version of somebody else. " – Judy Garland
81. "One of the most courageous decisions you'll ever make is to finally let go of what is hurting your heart and soul." – Brigitte Nicole
82. " The truth will set you free, but first it will piss you off. " — Gloria Steinem
83. "Courage is like a muscle. We strengthen it by use." — Ruth Gordo
84. " As long as you keep a person down, some part of has to be down there to hold him down, so it means you cannot soar as you otherwise might." — Marian Anderson
85. " I think self—awareness is probably the most important thing towards being a champion." — Billie Jean King 
86. "One of the most courageous things you can do is identify yourself, know who you are, what you believe in and where you want to go." — Sheila Murray Bethel
87. "Woman must not accept; she must challenge. She must not be awed by that which has been built up around her; she must reverence that woman in her which struggles for expression." — Margaret Sanger
88. "Women hold up half the sky." — Chinese proverb
89. "You are more powerful than you know; you are beautiful just as you are." — Melissa Etheridge
90. "A strong woman understands that the gifts such as logic, decisiveness, and strength are just as feminine as intuition and emotional connection. She values and uses all of her gifts." — Nancy Rathburn
91. "A lot of people are afraid to say what they want. That's why they don't get what they want." — Madonna
92. "You only live once, but if you do it right, once is enough." — Mae West
93. "Optimism is the faith that leads to achievement." — Helen Keller 
94. "I was smart enough to go through any door that opened." — Joan Rivers
95. "Knowing what must be done does away with fear." — Rosa Parks
96. "Power's not given to you. You have to take it." — Beyoncé Knowles-Carter
97. "I'd rather regret the things I've done than regret the things I haven't done." — Lucille Bal
98. "Beware of monotony; it's the mother of all the deadly sins." — Edith Wharton
99. "I have stood on a mountain of no's for one yes." — B. Smith
100."You can never leave footprints that last if you are always walking on tiptoe." — Leymah Gbowee
101. "If you think taking care of yourself is selfish, change your mind. If you don't, you're simply ducking your responsibilities." — Ann Richards
102."No matter how difficult and painful it may be, nothing sounds as good to the soul as the truth." — Martha Beck 
103."One of the secrets to staying young is to always do things you don't know how to do, to keep learning." — Ruth Reichl
104. "Don't take too much credit for your children — or too much blame!" — Debora Spar
105."I firmly believe you never should spend your time being the former anything." — Condoleezza Rice
106."A good compromise is one where everybody makes a contribution." — Angevvvvla Merkel 
107."I choose to make the rest of my life the best of my life." — Louise Hay 
108."If your home environment good and peaceful and easy, your life is better and easier." — Lori Greiner
109."When we speak we are afraid our words will not be heard or welcomed. But when we are silent, we are still afraid. So it is better to speak." — Audre Lorde 
110. "Women will only have true equality when men share with them the responsibility of bringing up the next generation." — Ruth Bader Ginsburg
111."Above all, be the heroine of your life, not the victim." — Nora Ephron
112."Change your life today. Don't gamble on the future, act now, without delay." — Simone de Beauvoir
113."A surplus of effort could overcome a deficit of confidence." — Sonia Sotomayor
114."You can be the lead in your own life." — Kerry Washington
115."You can't please everyone, and you can't make everyone like you." — Katie Couric
116."Hold your head and your standards high even as people or circumstances try to pull you down." — Tory Johnson
117."Normal is not something to aspire to, it's something to get away from." — Jodie Foster
118."If you can't go straight ahead, you go around the corner." — Cher
119."Everyone shines, given the right lighting." — Susan Cain
120. "Think like a queen .A queen is afraid to fail. Failure is another steppingstone to greatness" – Oprah Winfrey