Many young women prefer to opt for the modeling career because of the popularity and importance one gets in such a career. There are several prominent brands which these young models wish to represent. One such brand is the Wet Seal. This clothing brand has a wide range of outfits for women. They have been in the trade for several years and have created a reputation for themselves. If you are one of those who coveted to be a part of the Wet Seal brand, make sure you take time to understand the brand first.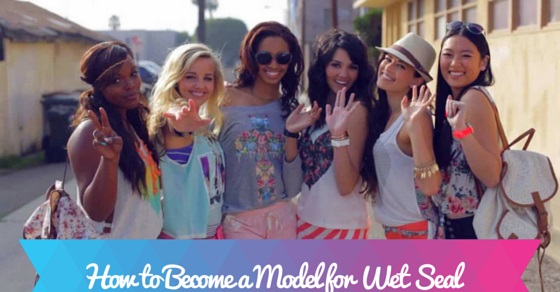 1. The Wet Seal Brand:
Wet Seal is a California based clothing brand that sells young women's clothing. The Wet Seal brand was established way back in 1962 under the brand name Lorne's. The brand represents budget clothing for young women. The Wet Seal brand had over 456 store locations as of 2011. The brand remains popular among young women. It is still growing to attract multitudes of people around the globe.
2. The outfits they market:
The Wet Seal brand markets trendy, short and casual outfits for young women. The brand even got its name based on these outfits. Lorne Huycke, the initial owner of the brand, once commented during a fashion event that women look like wet seal when they come out of bath in their bath outfit. It is from this very comment that the brand derived its name 'Wet Seal'. The brand sells midis, tops, denims, casual attires and dresses that target the teenagers or the younger women.
3. The types of models they prefer:
As the Wet Seal brand represents the young, it seeks models in the younger age group. They look for young women who have the cheerfulness of youth reflecting on their face and expressions. As they have plus sized dresses and outfits as well, they may not always look for the perfect specifications. A girl who has completed 13 years of age is usually eligible to apply for Wet Seal. To get a clearer picture of the type of models they seek, visit their official website. Check out the posters and ads on their website to get a feel of the type of models the brand hires.
4. How you can be a part of wet seal?
If you are one of the aspirants who wish to represent this brand, here we have listed a few simple guidelines that will help you get there. The modeling career is a challenging one and very few attain their goal. Most people who fail to achieve what they desire lack direction. These simple guidelines will give you a direction and understanding of where to focus your efforts.
5. Wet Seal Model Search
The Wet Seal brand has a model search organized every year. This model search is a great opportunity for aspiring models. This year, the entries for the contest can be sent till 29 May 2015. The entry procedure is simple. You just need to fill their entry form on their official website. You need to upload a photograph of yourself of Instagram with the hashtag for Wet Seal 2015. You may visit the website of the brand to gather further information regarding the same.
Wet Seal has a Voting Gallery where all the valid entries will be posted. The top 100 winners will get beauty products as a prize. The top five winners will get modeling projects.
6. Things to Keep in Mind While Clicking Pictures:
While Wet Seal and all other prominent brands that seek perfect pictures of models, there are some other factors you need to know. Try not to hire photographers simply to get a perfect picture of yours. It would be wiser to click your pictures yourself because the pictures will reflect your creativity too. The people who hire assess the pictures based on creativity and originality.
The pictures need to reveal your perfect figure and style. Yet make sure that none of the pictures are explicit or sexually appealing. Avoid using props like cigarettes or alcohol to add style to your picture. These props may act against you.
Once you have applied and the voting rounds are over, the brand will select you if they think you are worthy of representing them. There are some specific qualities that are required in a model if she has to model for the prominent brands. Here is a list of the virtues or qualities that a model should possess.
7. Avoid Shyness, Be Confident:
Shyness is not a trait that would be appreciated in the modeling field. You need to be confident about your body and should have the courage to flaunt your features. If you have a shy countenance, you need to work hard to get over it. You can do this by practicing the different poses in front of the mirror. Rehearsing in front of your own reflection is the best way to gain confidence and improve your performance.
8. Work to Enhance Your Sense of Fashion:
A sense of fashion is vital if you wish to survive in the modeling profession. You need to understand your body specs and also know what kinds of outfits suit you. You must frequently try out different casual outfits like Jeans, tops, midis, skirts and dresses that are sold by brands like Wet Seal. Try and identify what kinds of attires suit you and why. Gathering this information about your outfits will help you develop a superior fashion sense that will help you throughout your career.
9. Stay Healthy and Fresh:
In the career of modeling, your looks matter most and so you need to take care of your natural gifts. Take care of your skin by opting for natural facial therapies. Get rid of pimples or rashes on your skin. Use herbal alternatives that do not have any adverse effect on the skin.
You may appoint a gym trainer to help you with your fitness regime. You may also consult a dietician to know the best diet to suit your present health conditions.
10. Make an Early Beginning:
Brands like Wet Seal represent clothing for younger women. They look for models as young as thirteen. This means that if you have identified your special inclination to join the modeling profession, you can take steps to join the modeling career at an early age.
There are several advantages of starting early. You gain relevant experience in the field that helps you with your career. Yet, if you wish to start modeling while you are still in school, you need to gain the permission from your guardians. This step can be a bit difficult but if you explain your dreams and desires to your parents, they will surely understand you. Your parents can also support you with the proper contacts and the right approach if they get convinced that career you have selected is appropriate.
11. Keep Your Eyes Open to Opportunities:
You need to keep all the channels open and make sure opportunity will knock at your door. Submit your profile to all the prominent agencies in your vicinity. You may also have a profile updated on Instagram. Make a list of all the prominent brands that seek models. Apply on their website for any upcoming event or model search. You must also keep a keen eye on the print media. Surf through classifieds and advertisements. You never know when you come across a nice project or assignment.
12. Stay Patient and Be Open to Feedback:
There are multitudes of models who apply for modeling positions each day. If your form does not receive a response, you must not get dejected. You should be persistent and have the zeal to try again without losing your heart. Patience is the key to success.
When you participate in the events in your vicinity, you may receive positive as well as negative feedbacks. Take these feedbacks in the right light. Try and incorporate the advice that may help you improve in your profession.
13. Always Apply Your Sense of Creativity:
The different brands look for models who are confident, fresh, energetic but above all, who have a great deal of creativity in their approaches. You can reveal your sense of creativity while creating your portfolio. Make sure your poses and styles are clearly highlighted in the portfolio.
If you want to assess your own skills and abilities, you may do that by taking the opinions of your near and dear ones. You may also take the assistance of photographer friends to understand the best styles and poses.
14. Stay in Touch with Your Seniors:
You may get in touch with seniors who have taken modeling for a profession. You may also ask your school to help you get in touch with your seniors. You may also visit the blogs by different models and fashion brands to understand what these brands look for. Getting in touch with seniors working for the brand help you get first hand information on ways to get into the brand.
Check out the different social networking websites to know more about the different trends in the fashion industry. Understanding what is in vogue and tuning yourself to match the latest trends will help you achieve success in your career.