Remember the time when Germany won the world cup? They emerged victorious against opponent team Argentina and the match was memorable indeed. After several years of losing, finally Germany was crowned with the football world cup.
And we must say these guys were very much deserving. Not only are they hard working people but also dedicated. The national team works towards making the citizens of their country proud and that's what makes them standout. Here are some lessons you can learn from them.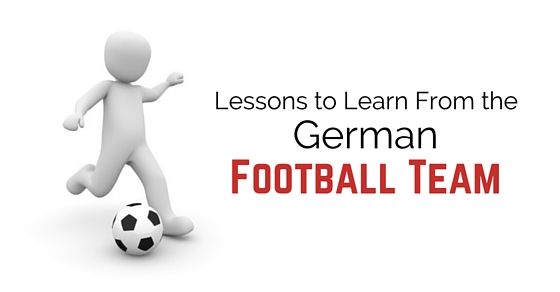 German Football Team Lessons for Entrepreneurs and Startups:
1. Set your goals first:
The first important lesson to learn from the German team is that they are determined. Their eyes were on winning the football league and so they did. They were quite clear about what they wanted from the start and passionate as well about what they want to accomplish in the future. To establish their names as world champions were their goal.
But one thing you should remember is that they were not focused on winning all that much, as much as they wanted to represent their country and make the people proud through their brilliant football skills. For this, they came up with a plan where they noted down how hard each player has to work, what they need to deliver and how they should be attacking their opponent or defending the team.
2. Be Innovative:
Being innovative is one of the most vital lessons introduced by the national team of Germany. It was brought in during the years 2004 to 2006 by Germany's coach Jurgen Klinsmann. He with the help of his assistant helped in building an atmosphere that works towards building new innovative ideas, willing to be more dynamic.
They also worked on changing their style of playing football regularly. He has shown enough confidence, a whole lot of conviction as well as resilience most of the time… even when he was attacked by the experts and media. Staying strong in his opinion is something that he has never failed to do.
3. Work hard and don't quit:
A third lesson that you should definitely learn from the German football team is to stay strong, work hard and never give up. You should stay intense, practise regularly and have that fighting spirit every sportsperson has. Plus discipline and diligence is something that matters a lot.
You have to keep working on yourself every single day because there are hundreds of others waiting out there to beat you. So if you want to emerge as champions of the world, then make sure there is enough practise. Also you should be playing with your body, mind and soul.
4. Be Flexible:
Flexibility is another vital lesson we can pick from the German team. Not only do these guys have a good plan but also try specific tactics in order to do well during a football match. Both discipline as well as strategy are something that will make you flexible.
Not only that, it will help you build a system that is open and will make it highly difficult for the other team so that they can anticipate the next moves. So what you should pick up from here is the power of courage. Have the courage to make changes in your plan if the need arises. If your plans are not working in any way, you should experiment with different tactics very often.
5. Always experiment and use their newest talents:
The head coach of the German national team has been in charge for 8 years approx. Even though he might not have won any significant or major title yet, he is still the best coach Germany has had so far. Whether it comes to experience or talent, he is always on top.
No wonder he helped his team fare well. And that is what matters. Plus if there are new members who have unique talents, they use and experiment with them as well.
6. Always stay focused:
Most of the players in the German national team are very balanced people and focus on their goals no matter what it would take them to get there. They are always on a mission to do something big. They have a program that they make sure to follow no matter how difficult the situation is.
The team will always make sure they are working themselves regularly in order to improve. The team is always willing to attack. They play limitlessly and try to make use of all opportunities that they get.
7. Be humble and don't forget to enjoy yourself:
The German national team has always been very open when it came to handling interviews, spending enough time with their fans, the local people and have often exchanged autographs and spoken to them. They have worked to ensure the citizens are proud of them.
The respect and support that they have from their people is because how humble and modest they are as people. They have enough self confidence to carry themselves out in public and always do their best during matches. Even when Germany won against Argentina during the world cup, they showed no signs of arrogance.
The team members remained humble, showed enough respect and enjoyed the tournament throughout. They are competitive and hard working but not arrogant and materialistic and that has taken them a very long way.
8. Have a great sense of determination:
The German National Team is also very determined. They do not quit, always fight battles one after the other and don't ever give up. This is one of the biggest and most crucial lessons you can ever learn from such a successful team. They are always in it to win it. You will notice it on their faces when they are playing.
9. Have a strong and unified team:
Germany is a very strong team. Even though they have several talented players, there are not many standing out stars such as Messi or even Neymar. Instead of that, there are several talented players who will work together as a team. The ethics of the team show how sacrificing they are and how hard they work for the sake of the team. Every single player of the team have some responsibility towards their team mates. They have messaging sessions that are regular, resolve conflicts regularly and always stay intact with the team members.
10. Have planned development for a long period of time:
In the last 15 years, we have seen how football schools work. Whether it is FC Barcelona or Manchester United, we have studied all these schools. The German Football Association is one such school that has a very long term development planning procedure. They have a very high level of commitment and make sure talent is not going to waste. They help people understand football and ensure that all members are working hard. The coaching and how it is being conducted always matters. There are so many players who learn new things and gather experience by being a part of leagues that are so competitive. Examples of some countries include Spain, England and Italy. They have a good understanding of identity and have good bonding with their players.
11. Are Excellent Players:
The German national team also have excellent players. Not only do they plan professionally but also give their best shot. Plus they work hard everyday. Just because they won one match doesn't mean they stop trying. This works most for tournaments such as the world cup. The main purpose is to score goals as much as you can so that you can stop the opponent team from doing the same thing. Later you can simply adjust your approach where you can either attack or even defence your people. No matter what it is, you don't have to come up with a strategic method. Neither do you have to come up with new rules for the game to do well in terms of playing and strategy.
Conclusion:
This brings the post to an end. If you have liked the post and have some interesting opinions, ideas and comments to share, please leave us your words in the box. Or if you have questions in mind, let us know some of them as well. We will try our best to answer all of them.
Always remember that nobody becomes popular and successful unless they work for it. So if you put your mind towards something and keep pushing yourself, you will see the result. On that note, good luck and here's hoping that through this post you have learnt enough from the German national team.