When you have a tight budget and yet want to dress impressively to office, it becomes a really tough task. Men and women have their exclusive dressing styles for professional wardrobe but the scope to experiment or explore is reduced when you have a tight budget.
Many people make the mistake of thinking that it is not possible to dress well to office if you have limited budget. This is not true. If you have a proper plan in mind on how to dress to office, you can manage even with meagre resources.
You just need to have the heart and willingness to experiment with clothing and fashion. Here we have listed down a few simple tips for men and women to dress to office on a budget.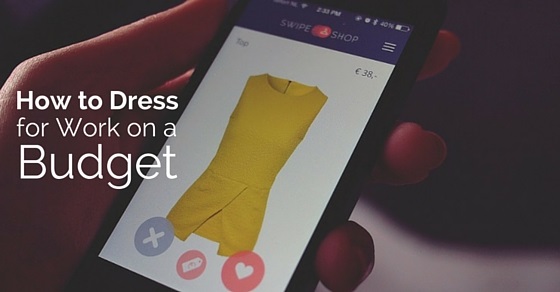 Ways to Build a Professional Wardrobe on any Budget:
Never Compromise on Quality:
One common mistake that most of us do when we have to make purchases within a budget is to compromise on cheaper stuff of lower quality. If you really wish to save money, never compromise on quality. If a product gets spoilt in a couple of months and you have to buy it again, it will cost you a lot more than a quality product. Hence, while purchasing clothes, accessories and footwear, be willing to shell out a little extra to get the best quality.
The brand fever is high in today's generation but it is best to not get carried away by brand popularity. Instead, you need to pick a brand that has a reputation of selling standard goods.
Know What is Trending:
If you are out of fashion and lack style, there are greater chances that people will notice you are dressing on a budget. Instead, if you keep track of the latest styles and trends and dress accordingly, even when you have fewer alternatives, your colleagues won't notice it. They may just assume you are playing the latest trend.
So it is vital that you stay in sync with the latest trends in office fashion. Follow some good websites that tell you how you can dress fashionably to a workplace. Even with few options, you can dress stylishly to your workplace this way.
Decide Your Style:
Do not just go with the flow. It is vital that you have your own style statement. For this, you need to assess your looks and check what attire goes best with your looks. There are some attires that look good on tall people while there are others that suit short men and women.
You may also have to take into account your physique or figure while deciding the attire you wear to office. There are some formal attires that suit pear shaped women while they make apple figured women look fatter. Pick a formal look that makes you look classy and impressive.
Stitch It Your Way:
It is often expensive to purchase an impressive and stylish attire of your choice. Most often the price of the outfit is beyond your budget. Even when you spend a whole lot of money, you can really not be sure that the outfit will be a perfect fit for your requirement. There is no scope for personalisation when you are buying a readymade dress. All these challenges are dealt with when you approach a tailor for your dresses and formal wear.
It is a great idea to get your attires stitched by a tailor if you have the basic fashion sense. When you get an attire stitched, you have the option to select the best clothing, pick your style and get it stitched to your style and comfort. The complete outfit comes at a lower price than a readymade attire. This is a great option only if you have a general knowledge regarding fashion and trends. If you lack the basic fashion sense, you can opt for what is trending in the stores.
Spend on the Trivialities:
Sometimes, the little things that seem to count so little is what matters most. Hence, do not hesitate to spend a little extra on trivialities. While your dress may be simple, use of the right accessories can make you look stunning. Do spend on the right watch, jewellery and footwear.
You can have a separate pair of footwear for parties and occasions while a simple footwear for daily office work. Women should spend a little on the hair clips and hair accessories. How a woman dresses her hair decides her true persona. Men may spend a little on hair gel especially if they have long bushy hair that is really difficult to set. Men may opt for short hair cuts as these give them a professional appeal.
Make Purchases During Festive Sale:
People who have to be careful about their finances should keep track of the product rates. Festive season is always the right time to purchase apparels, clothing and accessories. Often, these are sold at half rate during the festive season making them truly affordable and appealing.
You may also register yourself to some of major e-retailers. They send out coupons and special discount offers to their subscribers. This way you get to know of the latest discounts and offers simply by subscribing.
Let Simplicity Spell Elegance:
Many people have this wrong impression that you need to be excessively done up to look impressive. This is not true. Infact, you can look elegant by picking simple attires. Elegance is in the way you pick attractive attires that make you look better. Be simple and elegant. People around you and your colleagues will remember you for your fine taste and choice.
Men should opt for one or two good formal attires for regular office wear. Women can have some more variety when it comes to styles and colours but the simplicity should be the most impressive aspect of your office attire.
Repair What is Worn Out:
One habit that most of us are discarding because of our busy lifestyles is the habit of repairing what is worn out. Most things that get worn out can be repaired and used. Repair helps to increase the life of clothing as well as accessories. If you can stitch a torn cloth or repair a worn mechanism, it can help you avoid the expense of buying something new.
Accessories watches, mobile phones or jewellery can be repaired at any nearby shop at really affordable rates. Develop the habit of repairing what is worn out rather than discarding it. It will help you save a lot of money and make the best use of resources.
Sell off What is Old:
Many people still do not realise the significance of selling off what is old. They tend to hold on to things that are old simply due to emotional attachment. On the contrary, if you sell these things off at the right time, you can get some money from it which you may put to good use.
There are websites where you can sell off your old wares. These are ideal places to discard old stuff and get good returns for the same. Similarly, you can also sell off old newspapers and bottles and get some money for the same.
Choose DIY Fashion Elements:
Very often, you do not realise that you possess the key to changing professional trends. For instance, you may just start a trend of reusing waste to make useful office accessories. You may try and reuse old earring hooks to make new jewellery with shells and beads.
Men who have the habit of using pens in their office may opt for tissue roll pen stands. You can easily make these pen stands at home. You may just inspire others to make the best out of waste by using these tactics. Many ethnic stores today sell DIY crafts at exorbitant prices. Why don't you try making some of these all by yourself?
Maintain What You Wear:
Even the most expensive attires look shabby if they are not maintained properly and worn neatly. On the contrary, even cheap outfits look classy if you wear them well washed and ironed. So you need to take special care to maintain your outfits that you wear to office. This is one important secret that helps you look classy.
Very often, fabrics lose their beauty over the years as they fade. You may use fabric conditioners to maintain the beauty of the fabrics and help them stay new for a longer period.
Your looks define you. How you carry yourself when you walk into an office defines your true persona. There are some extra efforts you need to take to make sure that your clothes reveal your enigmatic persona. Even when you spend less on your outfit, you can look stunning by following the above mentioned tips.
Variety alone does not decide that you are fashionable. You need to have the right blend of variety, quality, style and fashion to create the lasting impression.