Phone interview could be way different from the face to face interview rounds. You need to have a clear idea what you are looking for if you want to hire by interviewing candidates over the phone.
An organised recruiter always manages to pick the right candidate even while interviewing on the telephone. Do you want to know his master plan that helps him screen out the right candidates?
It is a simple and organised method followed by the recruiter that helps him pick his potential candidate with ease.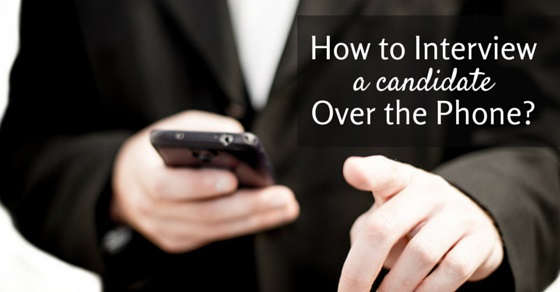 Steps to Interview Over Phone:
Step 1: Identify What You Seek in Your Ideal Candidate:
Most recruiters can tell you if they are impressed by a certain candidate but fail to identify what in the candidate actually impresses them. As a recruiter, you need to make a list of the most desirable traits in your ideal candidate.
Jotting down the key aspects helps you get a clear cut idea. This simplifies the whole process. When you are taking a telephonic interview of the candidate, knowing the checklist helps you identify your candidate quickly.
Here we have listed out a few of the most desirable qualities in candidates for different job profiles:
Confidence
Work oriented nature
Good leadership qualities
Inquisitive
Serious about deadlines
Maturity
Ability to shoulder responsibility
Having team spirit
You may add these qualities to the checklist as they are desired qualities in many diverse fields.
Step 2: Prepare a List of Questions to Sort Eligible Candidates:
In most interview calls, you will have responses from candidates who are truly not eligible. It is thus a great idea to recheck and confirm whether the candidate fits the select criteria.
Make a list of questions that may help you reject unworthy candidates at the very beginning. Here is a small list of questions that you take as an example while preparing your list:
Questions for Graphic Designers:
Do you know to use Adobe Illustrator?
Have you used Indesign before?
Which all graphic softwares have you used in your work?
Have you worked on posters, e-mailers and Infographics before?
Questions for Content Writers:
Do you know about SEO?
Do you know to create and use WordPress Blogs?
Have you used a content management system before?
Questions for Call Centre Jobs:
Are you comfortable working in rotational shifts?
How many foreign languages do you know?
The questions help to disqualify candidates who do not fit your requirements. You may research the questions by checking out the job details of the vacancy in your organization.
Step 3: Try to Get Acquainted with the Candidate:
You need to terminate the telephonic interview if the candidate does not fit your requirement. You will have to select few candidates who will qualify and you need to get acquainted with these candidates. You may start asking questions that help you know them better.
Here is a list of questions that most interviewers use to get acquainted with their candidates:
What are your parents doing?
Where do you stay?
Which college did you study in?
How much did you score in matriculation?
What are your hobbies and interests?
Who is your role model and why?
You can understand the core nature of the individual and the principles that govern him by asking him these questions. You can get acquainted to candidates only when you get a glimpse of their true nature.
Step 4: Understand the Pitfalls of a Telephonic Interview and Frame a Set of Questions Accordingly:
Yes, there are several drawbacks in telephonic interviews that do not exist in face to face interviews.
In face to face interviews, you get to make out from the expression of the candidate whether he is confident, scared or confused. It is difficult to judge these things on the telephone.
You need to sometimes interpose questions that would annoy the candidate or bring him out of his comfort zone. This may not be necessary in a face to face interview.
Here we have listed out a few sample questions that may help you understand your candidate better or cause him to reveal his true feelings.
You scored 90% marks in graduation and barely 60% in post graduation. Why is there such a big difference in the scores?
You have done graduation in science and then pursued post graduate diploma in broadcast journalism. Why are you applying for a position in sales? How is it linked to your qualification?
You have mentioned your salary expectation as 3 lakhs per annum. Why should we pay that high a salary to a fresher?
You have changed 3 jobs in past two years. Why?
You can observe the temper of the candidate by asking such questions. You can also test the level of maturity and diplomacy the candidate possesses to handle difficult people or situations.
You need to have a set of such questions prepared well in advance for telephonic interviews.
Step 5: Ask your Shortlisted Candidates to Appear for a Final Round of Video/ Face to Face Interview:
Even when you have asked your candidate all the questions, you still need to have a final round of face to face interview before hiring. It is always more satisfying to see the candidate once at least before you hire him into your firm or organization.
This will also help you ascertain facts that need to be visually ensured. You can't make out if the person has any physical disability through a telephonic interview. A face to face interview of the shortlisted candidates help you understand these facts.
In rare cases, it is not possible to have a face to face interview. For instance, if you are placed in Mumbai and hiring for Delhi location while the candidate is located in Gurgaon, it doesn't make sense to call the candidate down to Mumbai just for a face to face interview.
These are occasions when technology can be of great assistance. You may arrange a group interview with the shortlisted candidate through Skype or through Google Hangouts.
This final step will help you ensure that you have selected the right candidate for the position in your organization.
There are many factors that the recruiters need to keep in mind when they hire individuals for different positions. Here we have made a list of these factors for your information and reference.
Have an Open Mind:
Very often, recruiters tend to have a pressured image of candidates. This leads to a bias that affects the hiring process. Do not judge the candidates before you evaluate them.
You need to possess an open mind that is ready to accept the truth. Every candidate deserves a proper chance to be interviewed and assessed before being judged.
Check the Documents Before Shortlisting Candidates for Interview:
The candidates usually send their resume and the required documents on email. You need to check these and see if they fit the requirements.
You need to pick only the candidates that fit in. Documents help you understand the candidates better. Avoid candidates who do not possess all the required documents.
Research About Experienced Candidates From their Previous Organizations:
When you are trying to hire an experienced candidate, their previous organization can tell you much about the candidate. If they have a bad record, the organizations will help you know of their conduct.
A little research in this front will prevent you from hiring the wrong candidate.
Test the Freshers:
Fresh candidates have no prior experience in the industry and you can never decide how they will perform once they are hired and trained. It is thus a great idea to test their skills before you hire them for any particular position.
You at least get an idea what skills the candidates possess and how much training is required. Here we have listed down the different tests that would help in different fields.
If you are hiring for content writers, subject matter experts, research specialists, communication experts or editor positions, it is best to have a grammar test to assess their grammar and language skills. A language proficiency test will also be very helpful.
If you are hiring for developers, market research experts or other positions where logic needs to be applied, you may have a logic test to assess the candidate.
IQ test is commonly taken in research related jobs. If you are looking candidates to fill up positions where you need to know what is happening around the world, IQ test will again be helpful.
Be Emotionally Prepared to Conduct a Telephonic Interview:
Even you need a certain level of preparation so that you can conduct a phone interview without any hiccups.
Make sure you are in a good mood when you are conducting a phone interview. Your temper may affect the way you conduct the interview. It is a great idea to rehearse how you plan to conduct the interview.
It will help you gain more confidence while conducting the actually interview.
You can get your ideal candidate even through telephonic interview if you know how to handle the whole process. These guidelines will help you interview your candidate and find the right person easily.
Save