Let me tell you, the job search process is fraught with pit-holes to employment. As a retail manager for a major women's clothing brand, I accepted resume's and cover letters on a daily basis from walk-in job seekers. Many of those went right into the recycle bin, with nary more than a cursory glance.
Be sure to avoid all the top resume mistakes and get a trusted (detail-oriented) friend to look over your resume before printing 20 copies. Following mentioned tips for what to wear to a retail job interview.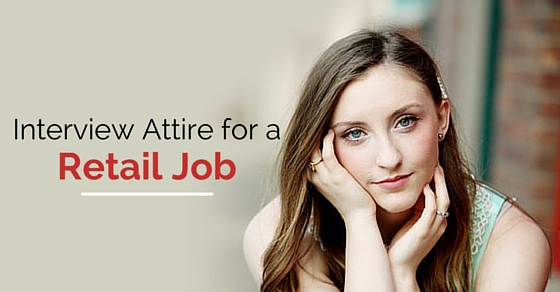 It stands to reason that most people with no relevant experience, grammatical errors, spelling errors, and incomplete applications are easily dismissed for any open positions. Also, nothing screams unprofessionalism like having an email like "hotsexymama666@yahoo.com" on your resume. Please don't. Quickly sign up for a new free e-mail with you first and last name – it's really fast and easy to do.
Likewise, how you present yourself visually makes a big initial impact. Be sure to be on the top of your game if there is even a slight chance that your potential employer will catch a glimpse of you. Dress interview ready – even to just drop off your resume in-person.
Read over the following advice and if you keep these ideas in mind you can avoid some common mistakes and land your dream job.
What to Wear to a Retail Job Interview?
Retail interview attire relies upon the kind of retailer and the level of position you are applying for. At some situations, you have to in a professional way. In different cases, business casual clothing is suitable.
The interview starts at first contact:
I hate to say it but it's true – you can't un-make that first impression. If you show up to a highly trendy women's retail clothing store just to drop off your resume in your pajama's and slippers, with no makeup and hair a tangled rat's nest, I can assure you that you will NOT be getting a call-back, no matter how strong your resume or experience.
I get it, you want to be comfortable – you may have just gotten laid off your other job. Being out of work, you may not be able to afford to purchase and wear all the latest styles and trends. But be sure to cobble together the best interview worthy outfit from what items you own while handing in resumes.
It will give you an edge over other applicants and also gives a good feeling to your potential employer how you look "cleaned up" and how you will dress if hired for the job. Browse "interview-ready outfits" on Pinterest for ideas on new ways to combine pieces you already own.
If you are able to actually hand your resume over to the store manager or other assistant mangers on duty, you may even get a mini-interview on the spot.
You scored an in-person interview – now what?
Great! You made it stage three! Not only did you make a good first impression but your resume was strong enough to warrant an in-person interview – congratulations!
Don't stress about retail job interview attire, keep it simple and professional. If you need some quick and inexpensive items, consider a pair of flattering slacks. Covering up a simply printed or embellished top with an on-trend slimming fitted jacket or classic blazer is all that's needed to impress.
Throw on an accent jewelry piece or two (unique steals and deals and statement pieces can also be found on Etsy) and you're good to go!
Avoid high heels if you are not confident walking in them. Instead opt for lower kitten heels, wedges, or flats instead. Remember that sandals are never appropriate for an interview – even in summer. If you are unsteady on high heels remember that the last thing you want to do is falter while walking into the interviewer's office!
Dress for Success:
Dress for the job you really want, not the job you're applying for. Employers will be accessing whether you have potential to grow with the company in the long term. I'm not saying to wear a suit, but it can't hurt! If, for example, you are applying for a sales position but would ultimately want to be an assistant manager, project director, or store manager – dress the part.
Take your outfit up a notch and show your potential employer that you've got what it takes to not only succeed at the job you are applying for, but are ready to put in the effort to advance up the ladder as well.
If you make a good first impression and your resume passes muster, be thrilled that you made it to the interview stage. Be sure to read over how to answer the 16 hardest interview questions so you are prepared for whatever curve balls your interviewer throws at you. If you dress to impress and combine existing and new interview-ready clothing items, your retail job interview outfit is sure to be a hit.
Author Bio: Janet Kozak is a passionate blogger who loves to write about fashion, health and technology.