They say that "first impression is the last impression" and it is actually true at times. When it comes to cracking interviews, every brick builds the bridge.
Your shoes tell what kind of person you are, you lipstick shows how brave you can be and sometimes your tattoos work the way. It all comes down to how you crack the code. So here are some tips for you.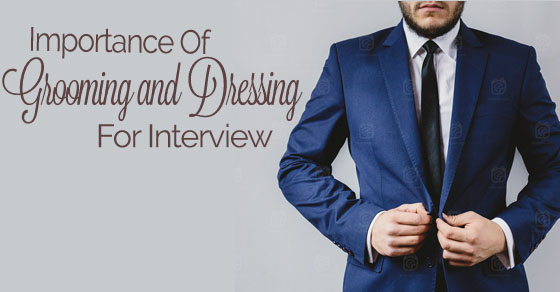 Interview Dress Tips and Grooming Checklist for Job Success:
The following mentioned are few tips on best interview dress code and the importance of grooming for interviews.
1. Be beautiful from the inside:
It is very necessary that first and foremost, you be ready for the interview from your heart. Do not press on what isn't in hand and focus on things you can still do. Like if there is a pimple on your head, don't freak out. Just try and focus on using the correct concealer, it is just as simple as that.
2. Be well-groomed:
The very previous day, always check for the hair on your eye-brow or the extras over your mustache. Pay yourself a visit to the salon for proper grooming. Both men and women, you cannot afford to look shabby, or unkempt; this makes you look like do not pay attention to your own self and if you cannot do that, you cannot take responsibility for others' action. Always be very clean and well-groomed, which will always leave you with an extra dash of confidence.
3. Don't be too Bright:
Statistics reveal that too bright clothing also hurts your position in an interview. Brightly-colored clothing pays bad impact. It is slightly harder than just picking what color you like.
You cannot just go blue because you feel like colors can make you look over-enthusiastic or bore. So, always chose subtle colors that have a mild impact on the interviewer and they can concentrate on you, rather than the powerful bright colors on your shirt.
4. Simple is the mantra:
Simplicity is actually appealing when it comes to interview clothing. When picking up a dress for interview keep certain things in mind; like you aren't going on a date or a party or on a holiday, your job interview attire should be formal and have normal, subtle and simple stitch lines.
This will show you as a very sought after personality and also state the fact that you have taken this interview quiet seriously.
5. Make-Up:
This is not only for women. Even men should try on a little makeup, but not too much. Don't go up like you just woke up; neither like you are just about to get married. Less makeup can show a less pretty face but more makeup is like a fake face.
Always use simple toned-down shades of lipsticks, don't overdo your hair, and don't go out being like a 'do not touch my face' doll. Always remember, the more earthly your look will be, you will seem like a down to earth person and that will definitely be an upside to your resume.
6. The length of your dress:
Mainly for women, it is so important that you pay attention to the length of your dress for job interviews.
If you are opting for skirt, always go for a mid-length. A floor-length will be a red carpet dress and too short is a party or summer dress. So, the medium length would be perfect and appropriate dress.
7. Accessories:
Men tend to wear fewer accessories, but youngsters these days use various bands and piercings, which can be of a negative effect too. Women should also not go out wearing a lot of things, wear simple jewelry or none at all, the watch will ace you.
Your accessories must go with your professional clothing and should be as simple as possible. Too many accessories will keep you engaged and also will make you feel heavy unnecessarily.
8. Dress like theme-parties:
When you go to theme parties, you always dress accordingly; so profession also matters when it comes to interview clothing.
A fashion designer should dress like one and an artist should speak his mind through clothing; a Wall Street aspirant should dress into his best suit for an interview; yeah! That's how it goes. Your clothes don't only make you look good but also show what you are in the flesh.
9. Match colors on your shoes and belt:
This is common mistake men and women make. The color of your shoes and your belt should match.
They work in a sink when someone looks at you. And they show you as a synced candidate, who has all things well organized and like to match alike things. It is definitely a negligible but noticeable factor.
10. Bag:
This is as important as any other thing on this list. Carrying a tote or a messenger bag instead of a briefcase or a professional bag can also come off on you. It is part of the organization.
The tote or messenger bag mixes up the things inside and so when during an interview you need a document or anything, you can go on searching in your tote or either just carry a briefcase so that it is right in front of you.
11. Sleeves:
Short sleeves are a big no-no. They are too unprofessional. You are on a job interview, not on a vacation. As mentioned earlier, always pay attention to every bit, a little extra can make you come off or on. And consider shopping if you generally don't have formals in your wardrobe.
12. Say no to open-toed shoes:
Peep toes – no, Flip-flops – No, Stilettos – No. Any shoe that shows your toe, say no to them and wear classic closed shoes, they are formal, they are easy to break in and they are good for an interview. It is true that the first thing the interviewer notices is your feet, so, wear proper shoes to get going.
13. Matching Socks:
In an interview, it is a must that you should always wear matching and same pairs, at all times. Buy and keep stock of socks and especially a socks check is necessary on the night before an interview.
You don't want them to see, a pink or a yellow or even un-matching socks under the seam of your pants. You don't get to do that.
14. Tuck your shirt, button the sleeves:
Remember when not tucked shirt or rolled up sleeve punishment; well, here is the same case too. Only here, it won't be a punishment, you will lose the job. An interview is a serious affair and you need to act like it actually is.
Be well dressed and never forget to tuck your shirt in and never roll your sleeves up, keep them nicely buttoned, and cufflinks can be an add on.
15. What to never wear?
Here are few things which women should avoid or never wear when attending an interview
Deep V neck dress or shirt
Sequin shirts and dresses
Miniskirts
Large jewelry pieces
Too many accessories
Platforms
Stilettos
Pumps
Tote bags
Things men should avoid or never wear when attending interviews
Character ties
Formal shorts
Trendy shirts
Powder blue suits.
16. Talk to the experts:
If you are a first-timer and it is too difficult to pick one, you can also hire a professional or search online. There are many experts advises when it comes to dressing for interviews, from trench dress to the wide-legged pants; you get to weigh all your options.
So, you can talk, consult and then shop; it will bring you more confidence since now you have pitched in with the expertise.
17. The color game:
Sometimes even monochrome can come out as a bold and impressive statement. Too much black can be depressing, whereas too much color can be too eye-catching.
Color is the real trick. The most recommended colors are neutral tones. Blues and grays are also preferred by experts. Wear any color, just be confident and ace it.
18. Seasons:
Winter or summer or rains, what season is it? This is the main question. Look out the window and check the weather, so that you can decide the clothing accordingly.
You have to carry an umbrella if it's going to rain, or you will need a trench coat if it is winter. So, even the seasons play important role in deciding your formal dress for the interview.
19. Don't wear shades:
Okay! This one is too obvious, but it is important. Glasses are okay but no, not at all, no shades. They will block your view and it will come off as hiding a hangover. So, never do that. It is stylish but no way should it be considered for interviews.
20. They can be the deciding factor:
"Statistics suggest that 65% of hiring managers say that clothes can be the deciding factor between two similar candidates".
So, remember those days when you were better than the boy who got the girl, just because he was wearing her favorite color.
Well, it can come true in similar but a very different way. So always chose and pick and match everything you wear for an interview.
21. Don't forget to smile and be nice:
There are certain do's and don'ts when it comes to clothing but always remember that a smile can do it all, win it all; similarly, too much smile is also not good. And so are some more things.
Never fail to make eye contact, maintain a good posture, don't be nervous, don't cross your arms, don't play with your hair; and don't have a weak handshake; that can be the worst thing you ever do in an interview.
22. Not sure yet?
Well, when it comes to interviews, there is no one-suit-fits-all approach. You can get confused and in that case, you can always contact the HR department and ask what they prefer.
Dressing and Grooming Skills:
Right dressing and personal grooming surely help you make good first impressions. Moreover, it holds a special place during job interviews. So working on it would be better.
If you are dressed well then it boosts your confidence level which can help you while attending interviews. Also following a dressing etiquette as per the occasion is the right method, especially on your professional front.
This does not mean that you need to spend too much on only your dressing. You should select your attire which suits your personality and body type well, as appearances play a vital role. Avoiding all this and attending the interview would surely affect in a negative way. The interviewer would even think that the person is not really interested in the job.
Some of the best dressing and grooming tips for professionals are,
For Male Professionals:
Should have a clean shave/ the mustache or beard need to be trimmed
The shirt should be wrinkle-free and neat
The color of the shirt should be matching to the pants
Hair should be combed properly
Nails should be trimmed and clean.
Can use a mild perfume
For Female Professionals:
Avoid any type of heels and use flats instead
Avoid loud lipstick and nail paints
Make use of minimum makeup
Use a mild perfume
Hair should be tied as a bun or ponytail.
Dress should look professional
Final Words:
Every detail counts, so make sure you have clipped nails; your hair is behind your face, be simple and be elegant; and one more thing, there are no take-backs.
Once you are in the interview room, there is no coming back from there, so give it your best shot. Stay different from everyone else and go get that job.
Save
Save