One should start with getting their mind set to a fixed thing which can help them focus better. One should prepare well before the interview.
It is necessary to be professional and confident. They observe not only skill sets, but also they check body language.
Do not show your tension in interview, be cool to face the interview. All one has to do is go with the right attitude and be successful.
Do not make any flaws out of tension. Even the interviewers check the job seekers attire.
So one should dress up well in an interview. Here are a few tips on how to face interview.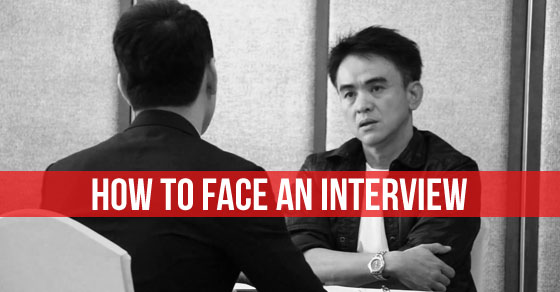 How to Face an Interview for Freshers:
Interviews are tricky when it comes to a person who is a real fresher in the field and there may be a possibility that a fresher can end up look weird or nervous during their interview and to overcome that situation a fresher needs to keep these things in his / her mind.
1. Preparation:
One should get prepared well before the interview, check all the certificates and documents required for interview.
Prepare a resume with information just required, do not mess up with all details. Rehearse your introduction and correct yourself if there are mistakes.
Take few topics and prepare yourself for group discussion round, this will really help you to perform in interview well. There are a few commonly asked questions in the interview, which a fresher needs to prepared to answer them.
2. Attire:
Attire plays a vital role when attending interviews. It creates a good impression at his/her first look in an interview.
Employers do observe their appearance and they will know how professional a candidate in work place is.
though you performed well in interview, bad dressing may lead to lose an opportunity. So be prepared with formal dress before the interview.
Groom yourself to present best which is comfortable and appropriate for the interview.
3. The resume should be precise:
The foremost thing a recruiter observes, is candidate resume. This should cover all the major skill sets and experiences.
It should not be too long, just right enough. If there are skills which are helpful and relevant to the organization, this might be useful to grab opportunities in the company.
Be sure of each and everything mentioned in the resume, so that you will not be questioned and trouble yourself.
4. Be punctual:
Do not be late for an interview. Prepare a day before with all the necessary arrangements to attend so that you do no get late on the day of the interview.
Anticipate the travelling time to reach the venue, so that you can be on time. Late arrival indicates the person is irresponsible.
Reach the venue early so that you will have time to comfort yourself in that place. This reduces the tension and makes you feel ease.
5. Study about organization before attending interview:
It is very important to know about the company info and what role you are going to play, how it exactly relates to your qualifications.
Know it from a friend if they are already employee of that organization. Employers may ask questions why do they chose this field, how relevant the job position to them, so it's necessary to be prepared for all the answers.
Understand the work culture and try to impress the interviewers.
6. Overcome fear:
For Freshers this might be a first interview, and maybe this is good opportunity to prove yourself. So do not get tense and overwhelmed.
Be cool and patient, do not do anything out of curiosity. Your face must be glazed with a smile. You may make many mistakes out of this.
Do not show up it on face. You may answer wrong with stress. Sit firm and attentive.
7. Self confidence:
Answer everything with confidence. Go with a positive attitude and answer everything with confidence.
Your attire, skills, qualifications and preparation are perfect one can easily face the interview.
Maintain eye contact with the interviewer do not distract, do not shake legs or bite nails just be stiff and professional. Analyze the question properly and answer them with confidence.
8. Be honest:
Do not provide false information regarding your skills or experience. This may lead to lose an opportunity.
Be honest with your opinions and flexible to the workplace environment. Ask questions if you have any doubts, since they are the best person to answer all the queries so that you can be comfortable with the next hiring process.
This also shows your stability to work in that organization.
9. Prove how better you are, than others:
Many applicants will attend the interview. So one should prove that you are more unique than others.
Let them know how good you can fit into the company and how can you support the growth of the company and also individual growth.
Also, let them know how excited you are working with that organization.
How is the company performing and about the company work culture, etc, this will let you know the recruiter that he/she is very much interested to work with the organization.
10. Know your strengths and weakness:
Employers may ask about candidate strengths and weakness. So prepare yourself and know about your abilities and potential.
Display all your strengths as they are favorable to get selected in the interview. Do not say about your weakness which will lead to lose your opportunity.
11. Give a flawless pitch:
They do check communication skills, which are very important in a workplace. So prepare well with your introduction.
Do not pause in middle of your speech. Keep talking with an elegant voice so that all the persons in the hall can clearly understand your voice. Make it precise without skipping important points.
Allow the interview to question, make him complete the sentence then answer it. Do not speak about the elements mentioned in the resume, talk about things which has to be elevated to place in the interview.
12. Leave a thank you note while leaving:
Be polite with the recruiters, before leaving say "thank you for giving this opportunity" or " nice talking with you".
Whether it is successful or not, take this opportunity as challenging and face it. You may succeed or you will learn something new from this opportunity, this may help you to prove at the next interview.
Analyze the mistakes in the interview, and try to rectify them and present yourself to face the next challenge.
13. Be positive with the feedback:
Sometimes it happens that after attending an interview a candidate who can be considered as a fresher when it comes to attending an interview, may end up experiencing some bad stuff that may be lower level of confidence and some bad experiences.
For example, when a fresher attends an interview for a position for which he / she have prepared confidently but eventually the interview didn't go well as he / she expected and at that time that candidate might feel low about their first experience in that company or organization.
How to Face an Interview for Experienced Candidates:
And when it comes an experienced candidate they need to be confident about themselves and follow below mentioned things before going for any kind of interviews.
1. Give a brief about Previous experience:
While you were asked to tell about yourself, briefly explain about your previous job role and field in which you worked.
Let them know your track records in that company and how you balanced work life. Also the biggest achievement while working in a team. How many years you survived for that organization.
Also try to link that experience with this organization in which you wanted to get placed. So that interviewer may note it and you may score good to pass the interview.
2. Do not criticize previous employers:
Never talk badly about the companies where you worked. Do not criticize them. Even you have a bad experience in previous company do not open up with the recruiter.
This indicates a person's positive attitude towards company so never talk negative. This may also indicate that you will give up things very easily.
Take it easy and think of succeeding in this interview, instead of losing the chance by talking badly about previous organization
3. Explain your strongest reason why do you want to change into the new company:
May be you are working already for a company and you may attend an interview to work in the new company.
In that case, let the employers know about your aims and goals. How you wanted to use previous experience and take up chance in the new company and grow in your career, also tell them how important this opportunity for you.
Do not just elevate your personal growth also tell them how you are going to serve the company and live up to your duties.
4. Display of skills and abilities:
An experienced candidate who has appeared in most of the interviews maintains a level of communication where he/ she can communicate better with the interviewer.
Most common communication sources would be communicated through skills and abilities. It is one of the important source of communication where a candidate gets an opportunity to display their skills and abilities to the company or the organization.
5. Presentation of utmost knowledge:
A person who is well experienced in a field presents their best in that particular field as compared to others.
Fighting for jobs and getting hired for a position is two different things, these things seem to create a situation where a candidate tries to explain the interviewing panel about the beneficial knowledge about the field whereas no one else can have that knowledge.
It is possible by the disclosure of such knowledge, a person can end up being hired for the position applied.
6. Communication:
It is a silly thing to explain that a person who have such level of experience in job interviews and such experience may be because of refusal of jobs or may be change of job.
And in both the situation a person who have experience in attending an interview might be able to handle the interviewers by his / her communication level.
The communication level of an experienced candidate might be greater than a fresher because an experienced candidate would have understood the thinking level of the interviewing panel.
7. Suggest some new ideas:
Most of the experienced candidates who used to work in a similar field might be asked a question where he / she might analyze the current situation of the company and try to bring some new ideas for the sake of the overall development of the company.
An interviewer asks such question to the experienced candidate because the skill and the abilities that a person claiming of being best at it, is true or not. By these kinds of case studies a person would get a chance of making a small change in the company goodwill.
8. Bring confidence:
It is one of the last thing that we expect from an experienced candidate because all of us know that an experienced candidate is declared of being experienced in confidence level.
This confidence level of an experienced candidate is higher than the fresher candidate. And it is necessary to confide unless over confident about certain things.
Final Words:
At the end, we would definitely suggest all the fresher and experienced candidates that it is healthy to feel nervous before going for any kind of interview and there is nothing wrong in feeling it, but the thing which all the fresher or experienced candidate needs to avoid is being over confident.
And the rest of the mentioned things will help you improve you during an interview. Therefore, it is highly important for both of the parties that they should be prepared in advance before attending an interview.
Save