While you are a sales rep, you will have to take in consideration various points in mind while doing your job. The first and foremost is the attire which is the first thing our contact lenses recognize.
Having a proper attire according to the prospect is one thing which is taken into the notice so one should make sure to understand the rules and norms when it comes to company's uniform. In order to dress up for sales, one must know some of the vital points which are as follows: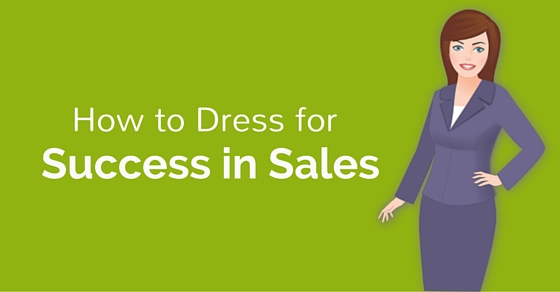 How to Dress and Market Yourself for Success in Sales Job:
1. Read your prospect well:
Before heading for the task in the field make sure you read the complete prospect and also read about the uniform required for your main prospect.
Being casual in approach can raise number of questions in one's mind, positive and negative both so do not give others a chance to raise a question. Here the point is to understand the company's uniform policy.
2. Dress well from head to toe:
It means that only wearing ironed clothes will not make sense. Ironed suit with tie but hair messy and long will surely put a bad impression on the client. Your dress becomes the benchmark to judge whether you are serious about your job or if you are just passing the time.
Do not let the non-serious attitude enter the client's mind after having looked at you. So, to avoid any wrong query, just dress pretty well that too according to the situation.
3. Dress according to the customer:
This says that if you are going into the fields to farmer to address your product, then you need not dress in suit and tie. In that event, simple casual dress can also make a point, but if you are going to some company for your product, then do dress in a formal manner. In such an event suit with tie and well pressed shirt, black polished shoes will make a mark.
Dressing well not only presents you well before others, but, also the image of your organization will become positive. So remember, your attire showcases your company too. Be specific about it.
4. Stay Neat and clean:
Cleanliness is next to godliness. If you wear a branded suit for an event, but if the attire is not at all clean and has spots or the holes on it, it will create a bad impression on the viewer.
Once you are dressed properly, always have a mirror check in the restroom before meeting the client. If you look presentable, it does make a difference.
Being clean and spotless will have head turns and will surely make an impression over those who take dressing for granted.
5. Offensive odors should be given a went:
Make sure not only your attire smells good but also the body goes through the same. Alcohol, perfumes, plain old breath and the body odour will shun off the people from you.
You will be making people go away only because of you. You should avoid all those things which can give your body or attire pungent scent before you for meeting the prospect.
6. Make sure you do not smoke before you go for the presentation:
Smoking done even for a while, leaves it's odour, so make sure you do not smoke while you leave for the finalization of the prospect.
If you smoke, it will give an impression of your non-seriousness towards the work. So, do not create such a bad impression and prove yourself best in front of others.
7. Wear it well:
Whatever you wear, just wear it according to the requirement. Do not over accessorize yourself, neither underplay your worth of dressing. Just try and be up to the mark. Leave no stone unturned to make yourself look smart and in accordance with the task.
You wear a smart black color suit, but matching it with a terrible haircut, you will make a bad impression. If you are not aware of how to dress up, then taking advice will be the best option.
8. No accessories at all:
Men and women should take into notice that there is no appreciation for the heavy jewellery or any other accessory in the office. Just be simple and present yourself smartly. It represents simplicity in terms of formal wear.
Women should not opt for short dresses and all. You are not going to impress anyone but going for the motive of increasing sales, so focus on that and not on yourself.
9. Wear comfortable outfit:
Something in which you feel easy and comfortable in should be worn. Wearing an oversized suit or tight one will make you feel really uncomfortable and it will also affect the sales prospect of your company. Your outfit really affects your sales, so make sure you are up to the mark as per the event you are going to attend.
If the event you are going to attend is somewhat formal, then you follow the formal approach and if it has an informal approach, then you too run for the informal one. Remember, you have to dress like a customer. You have to make yourself as well as the customer feel comfortable.
10. Do not wear fluorescent colors:
Being decent is the demand. Do not go for the florescent colors while you are going to represent your product. You are after all not going to the party, it's a formal, serious event, so you should make sure you look serious about what you have gone to do at work place.
Also make sure that what you wear goes in compliance with your task of the day. Don't even go for light colors like white, cream as these colors look dirty very soon and it can put a wrong impression on others.
11. Dress one step ahead of what's told in the company's uniform portray:
If you are told to dress in denim, you can dress yourself up in khaki. If they prefer to wear a sports coat with ties, you can go for suits with ties, so this way you can move a little ahead of others.
Obviously the ahead you will go, more effective you will look and it will certainly create a positive effect on the sales of the product.
12. Shoes should be properly polished:
Wear shoes according to the dress and it's color. If you are wearing black color shoes, then make sure those are properly polished and have that kind of shine which can make people turn their heads.
From head to toe, one must look perfect, as it will make an impact positive or negative. Think it of your own, the suit is branded, ironed and pristine, but the shoes are torn, unpolished, the whole getup will go in the gutter at first glance only, and it will raise the number of brows as well as questions for you.
So, never give anyone an opportunity to question you, or you will have to suffer many consequences.
13. Weather conditions:
Before you wear your attire, make sure what you wear is according to the weather outside. If it's little cold, wear blazer if required and if it's not, then you can only go with shirt, pant and a tie. So put anything but all according to the season and the weather.
14. Do not run before the fashion:
Fashion is not meant to be flaunted in office. So, do not run before the fashion. You are destined to stick to the professional uniform provided to you, so follow that and be upto date with the fashion being followed in the office regarding the uniform.
15. Your attire should speak at first:
If you wear a loose pant and a loose t shirt, people may think of you as a dancer but if you go in somewhat formal, they will take you seriously.
It depends upon you that if you want other to take you seriously or no. it will all depend on what you wear and how you present yourself.
Conclusion:
So, above are the points that one should keep in mind while dressing up for the sales. It's not always about sales, but all other formal events that take place within the company or outside it. Wear your best and see it will help in flaunting the sales prospect for you, thus increasing the sales for your company.
Remember whatever you wear will be caught by the eyes at first glance and will certainly be talked about. So try your best not to give anyone a chance of questioning you, about your attire. Your attire must make others understand the purpose of your visit and if it does, then you certainly are successful in enhancing the sales.