Are you someone who gets super tensed before an audition or performance? Does your heart begin to pound and sweat starts to break out? Do you perspire the moment your name is called out during a presentation? If the answer is a yes, then this post would be a good read for you. Not only are you going to learn on how do you work under pressure but also know how to answer a question like this when asked! On that note, keep reading the article to learn more!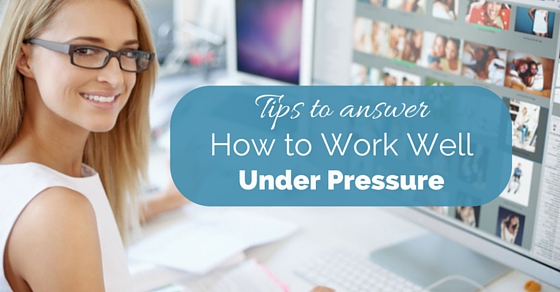 Tips to Answer the Question 'How Do You Work Under Pressure':
1. Make sure to practise the basics:
You can tell the manager that you always make it a point to go through the demonstration a few times. You do ensure that all kinks are smoothened and that you are well aware of what you are doing. Plus you may also begin to ask yourself some questions so that you know how much you are aware of and how many needs to be done.
Rehearse and practise all the things you might have to say and do if your client asks you to explain and show something again. When you do that, you will feel less stressed and work well under pressure.
2. Work on the basics once more:
Another thing you can mention is that you like to work on the basics a bit more. You don't always have to start with step 1. It is okay to start backwards and work your way up. Feel free to skip a few steps if that suits you.
When you rehearse a different order, you are able to reinforce the knowledge you already have of the material in front of you. This will help you understand what you know right now and what is already left to know. In that way, you will be able to deal with all problems right away.
3. Practise What If:
Once the presentation you are working on is already in good shape, you have to start preparing for things that will lead you to freeze. What would happen if the software suddenly locks up? You may then figure out on what you really need to do.
What if your client bailed out on you suddenly and is thirty minutes late instead of ten? This will help you understand how you may work under pressure and the things that you need to do in order to shorten the presentation so that you still have the key points at hand. You should also think of those questions which you might not be able to answer.
4. Visualize:
This is something that you definitely tell your clients while answering the question on how to handle the pressure. Tell them that you like to mentally rehearse that you are performing the situation and that it actually helps you. In fact, athletes have tried and tested this and it works wonders for them.
You don't have to make the product fail so that you are able to practise what to do. All you have to do is rehearse what is on your mind. You don't have to get any of your friends to role play hijacking the meeting so that you are able to rehearse on how you will respond. All you have to do is picture it in your mind and how you will respond. Not only will visualization be effective but also have a calming and good effect on you. You can picture yourself being successful. This would be a good way to build more confidence and self-esteem.
5. Repeat:
This is one approach you can apply almost anywhere. It could be both business and personal. All you have to do is give feedback, pitch investors and discipline all employees. You can also play a sport, start and find new ways to build relationships and new ways to networking. There is no need for you to be brave.
All you have to do is gather a smart and systematic method of developing skills and gaining more confidence. You have to work, be brave, and build more composure if it is necessary.
6. Write all worries on a piece of paper:
There are many who have done this and have found it effective. You can do this as well. All you have to do is write down all the worries on a piece of paper. This will improve and boost the working memory that allows you to remember things in a better way. You will feel less pressure when there is enough work in your hands if you can simply jot down all your memories in a piece of paper. The only way to work best is to work without stress. Only in that way you can overcome pressure.
7. Meditation: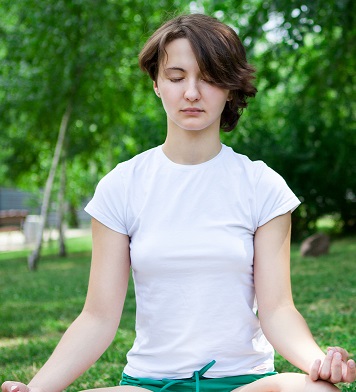 A few minutes of meditation would do you no harm. In fact, it is one of the top methods people use these days in order to fight work pressure and find mental peace. In fact neuroscience recently stated that meditation can relax your body and allow you to perform better under work pressure.
It will help your brain to process things faster. You need to know how to stay positive when it comes to important situations and always know that in order to perform the best, you need to meditate once in a while, even if it's just for a bit.
8. Take good care of yourself:
One of the best ways in which you can handle work pressure like a pro is by taking great care of yourself. This is something your boss should know when you answer the question.
The biggest problem with job stress is that it can make people sick sometimes both physically and psychologically. So one of the most effective ways to handle stress at work is to work towards reducing the level of pressure felt.
9. Be organized:
Always remember to stay organized if you want to handle work pressure like a pro. Physical and mental discomfort is bad for your overall health and will never let you do your best. So never let that happen. When we speak of being organized, we mean you don't have to rush things early in the morning and make sure everything is ready.
You might have to stay up at night while trying to finish some of your chores but it will always be helpful if you look at it. So when your boss asks you about work pressure, tell them you like to stay organized. Also, mention how you like to stay that way.
10. Don't multitask:
Multitasking isn't really for everyone, especially if its work pressure! At times like these, you have to keep in mind that multitasking will never help you. You should always learn how to maximize your time and get things done within the deadline that has been assigned to you.
Do one thing at a time. There is always a frazzled kind of feeling that happens when your mind is everywhere. You can avoid that in order to handle the pressure.
11. Relax yourself after work: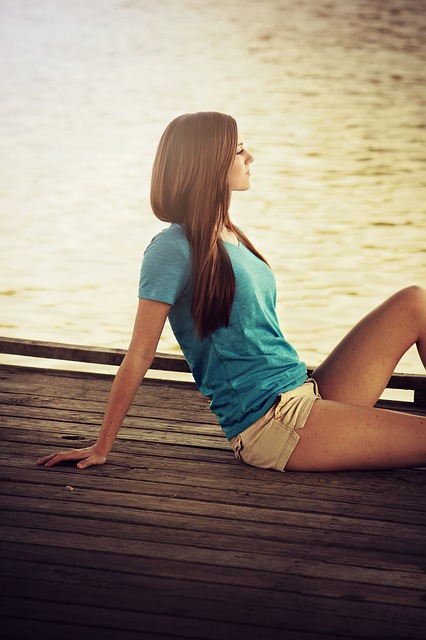 Reducing stress at the end of the day can be very helpful if you look at it. It will prepare you for the next day. You can always find effective ways to relieve stress by listening to some music at the end of the day while driving back home. It will make you a much more social person and you will be able to deal and interact with people in a better way. Combating stress is one of the most beneficial ways to deal with work pressure.
12. Other answers you could try: You could say something like you choose to answer the situation instead of stress directly. Another option could be that you like to set your priorities straight, focus and make sure your job is done. Some people have mentioned that they understand the difference between negative and positive stress.
They deal with negative stress by simply dealing with the situation and perform under pressure that is positive. Always remember while answering these questions that stress is quite an inevitable part of life and it will always occur. You need to be smart and know how to handle it. After all, people who respond to stress the right way always come out successful.
Do You Work Well Under Pressure?
Other ways the interviewers might be asking this question "how do you work under pressure" are like
How Well Do You Work Under Pressure?
How Do You Handle Stress / Pressure?
How Do You Handle Stress?
Do you work well under pressure?
Can you work under pressure?
Usually, candidates in the interview process answer it as YES as answering it in the opposite  way can ruin the chances of getting a job. But just saying YES won't work as the main challenge still stays and the interviewer expects how you deal with pressure. So you need to give a detailed answer along with an example situation which would act as icing on the cake.
Explain any real-time instance which you have faced earlier, that could be easy for you to answer. Do not try to fake, as your interviewer would be smart enough to assess your answer.
For better understanding here we have mentioned a few examples
How Do You Work Under Pressure example answer
Examples:
Short Answer:
"
Working under pressure helps me a lot as it boosts me up to work even harder and proves my worth.
Pressure usually doesn't bother me as I try to stay calm and confident as far as possible. I am good at analyzing the situation and device the solution accordingly. I have also experienced many such challenges earlier so it is not new to me."
Long answer:
"
No matter how good you are at work, the pressure is something that can come upon you at any time. Workplace pressure is inevitable and to survive in this corporate, one need to overcome it in the best way possible. This is the key mantra I have learned from my past experiences.
Earlier I used to get very nervous when pressured and was not able to handle it. But with experience and some mentoring, I am now capable to deal any kind of pressure at work. In fact, I have started enjoying challenges which help me grow and improve myself. Not only I handle pressure situations at work but also help others to deal with it and motivate them to do well. I would like to share an experience from my previous company. We had a project at hand and were working on it, all of a sudden we found that there was some mistake in the planning and working on it will not help us complete the project.
Thus management and deadline pressure started clouding upon us but I was able to handle the whole process effectively. We immediately prepared a new plan which was better and time-saving and also I was successful to motivate the whole team which leads to complete the project day before the deadline. Though the pressure was huge but dealing with it helped me gain a good experience. I was even awarded a special memento by the management."
Conclusion:
This brings us to the end of the post. Hopefully the tips and ideas have helped you. You can combine some of the points together while answering the question. Plus you can implement some of these ideas in real life and we are sure it will work in your favour.
Also if you have some unique ways to handling stress and pressure, you can let us know by simply leaving a comment below. We would love to hear. Plus you can state some of your questions and doubts below. It would be a privilege to answer them all! On that note, good luck!
Save