It is the hardest part of a father's and mother's life that they have to see their son face unemployment. The part of unemployment not just effects the son, but half part of it does affect his family which means his mother and father. They both go through some sort of personal trauma while their son is grieving over a job.
Therefore, to cope up with such a situation the family needs to help their son to be strong during employment and try to console him with that very soon he will get a job which he always wanted. In this way, the family can hold their son's expectations over a job.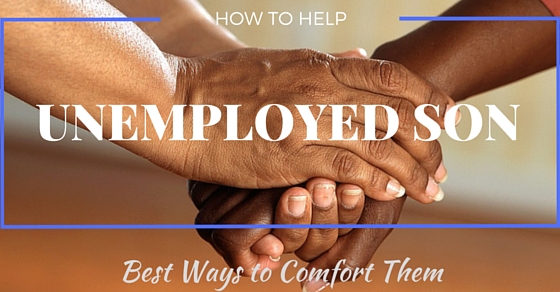 Ways to Help an Unemployed Son Living at Home from Going Broke:
There are many ways to help an unemployed son, but most of the way can be an emotional and personal journey for his parents. Some parents handle their son's depression over unemployment very well, but some don't.
The parents need to understand that if they're stronger emotionally and mentally, then they can handle their son without any extra effort and even can make him confident all over again.
1. Handle with patience:
Most of the time the parents will be in a situation when they hear about the reason behind their son's unemployment, then the common reaction would be anger. But it is not the way to react when a son is going through depression because of unemployment.
It is advisable to all the parents that they need to make their son understand very patiently. So that he doesn't a thing that his unemployment is embarrassing his parents. Therefore, it is good to be patient with an unemployed son to provide some space.
2. Give them some time:
Being a parent it is their right and duty to protect their child from all sorts of pain and trouble, but sometimes that pain can be healed with little space and time. Therefore, the parents must understand that during unemployment parents need to give some time to their son so that he can figure out the reason for continuous job rejection and then he can come up with better along with positive mindset about his efforts.
3. Ask before providing help:
It is that protective nature about parents that they consciously and unconsciously provide help to their son who does not need their help. So it is always better to ask before making an effort, in other words, the parents need to understand their limitations in relation to their son's expectation.
Therefore, all the parents must understand that when their son is going through some sort of unemployment, then they should wait for their son's permission before helping on their own.
4. Avoid advising:
When a person talks with his parents then it is quite easy to guess that they always advise their kids about things in their life. But the kids need to understand that whatever advice one's parents provide is just for the sake of their kid's welfare.
Moreover, the parents need to understand one ground rule about advising that whenever they see their son in grief, then they should listen to him first instead of advising before listening to him.
5. Encourage him to follow his heart:
It is the most common thing that no parents want their kids to follow their hearts when it comes to their career unless it is fine with them.
So the parents need to understand that when their son is trying for the job and attending interviews, then it is a process where he goes through a lot of pressure and if at all he gets rejected, then it is really painful for him.
Therefore, before the son comes to a conclusion where he feels that he is good for nothing phase, being parents they need to encourage his dreams and tell him to follow his heart.
6. Take a vacation:
Sometimes it is even possible that after attending so many interviews the person might keep failing in his attempts. And one day suddenly he can receive a job call which can state that he is selected.
Then the family thinks that it would have been great if their son had a little more time to spend with them. Therefore, whenever it is possible, then try and go for a small vacation so that the parents can spend some amazing time with their son without any regression.
7. Be sensitive:
It is possible that the person who is going through a serious depression over his or her unemployment can be aggressive during that phase. So it is the duty of the parents that they need to be sensitive to their son so that he can be calmer during this phase of his professional life.
Therefore, being sensitive will always work for parents when their son faces job rejection and it is one of the best ways wherein which the son can share his feeling with his parents.
8. Treat him like an adult:
Most of the parents forget this thing that their son is a grown man and they need to treat him like one. For example, when he faces rejection, then the parents should leave him alone so that he can figure out the reason for all that going in his life.
By avoiding comforting him during his tough time, it will make him stronger and it also lets him try something new for himself which can help him grow in his life. Therefore, the parents need to respect their son's decision no matter what.
Conclusion:
Finally, the bottom line is that at the end of this discussion about how to help an unemployed son, one will understand the relationship between the parents and their son.
There are some aspects of this discussion which people mostly encountered in their personal life, but those all aspects helps both the parties understand their limits and efforts.
Therefore, if there is anyone interested in reading a similar discussion about unemployment, then they can read all the above mentioned topics which can provide better clarification about it.