Recruiters and hiring managers are trying their best to attract the right talent for their organization in the market. The hiring and recruitment process has been changing as time is passing by. Gone are the days when recruiters used to use the standard age old methods.
Even candidates have become smart enough before choosing an employer or receiving a job offer. So to match up to it , recruiters need to adopt modern way by using best recruiting software which help them with all the additional features that make their work easier and stress free.
The primary thing to attract the right talent is by posting the job at right time and right place and WISESTEP helps you do it effectively by providing a feature of FREE JOB POSTING.
There are many ways to post a job and latest method which most of the recruiters use are paid job advertising models and social media networks.
With the advancement of technology and internet usage , around 60 % of hiring managers rely on free classified job listing sites and social networking sites to post their job and find candidates as per their requirement. There are also many online services which offer job distribution programs which make the hiring process even more complex and tiring for the recruiters.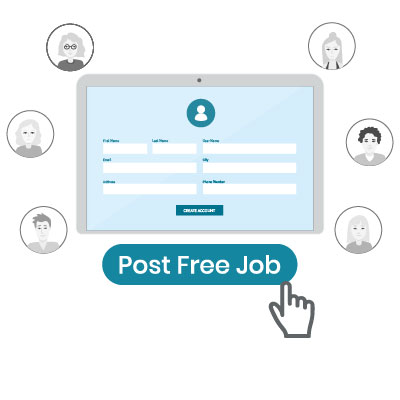 The main aim of the recruiter is to recruit the best talent to their organization so that they can turn out to be an asset to the organization. Moreover the cost of a wrong hire will not only be loss of money but also the time of the organization.
So job posting holds an important place in the recruitment process. A job description helps the candidate to understand about the job role, required qualification, preferred skills expected by the employer, etc. It also comprises of complete responsibilities, about the company that help the candidate get a clear idea regarding the job role.
Now posting such an important piece of information should be done smartly by using right sources. Though there are many ways for job posting, which include even free job posting sites, free job listings, even free classifieds but you need to choose the best source so that you do not miss out the right group of candidates.
Wisestep offers you the best hiring experience by not only providing free job posting features but also many other features which makes your recruitment and selection process efficient and productive. Let us look at some of the benefits of free job posting
Benefits of Free Job Posting:
Attracting the right talent to your job post
The cost of job posting is completely FREE
Able to showcase your job post a wide range of audience
Get the best of job applications to fill in the job vacancy
Provides you the option to choose from multiple talented applicants
What WISESTEP OFFERS to the recruiters:
Free job posting
Reach the job post to millions of people who visit Wisestep
Provides you better hiring experience
Make use of the Wisestep's existing talent pool
Customize the job post as per the organization requirement
Post to multiple job boards
Managing the applicants in an efficient process
User friendly interface and Single click process
| | | | |
| --- | --- | --- | --- |
| Applicant Tracking System | Mass Mailing | Career Pages | Sourcing Candidates |
| Sign up for Wisestep's data driven, agile and intuitive recruitment software that helps companies find, evaluate and hire better candidates faster | Easily Create, Send & Analyze Your Mass Email Campaigns. Reach the Inbox. Advanced Analytics, GDPR Compliant and NO IT Knowledge Required | Using the Wisestep Intuitive toolkit, Improve your Employer Brand and candidate experience by turning your career pages into talent magnets | If you are looking to tap top talent outside your talent pool, Wisestep's candidate sourcing software helps you with building candidate pipeline, communication tracking and activity tracking |

More than 1000+ companies use
Wisestep  everyday for their hiring needs
Wisestep is Built for Everyone. From Small Recruitment teams to Large organizations with detailed processes.