You have submitted your resume and 4 days have passed! Still, you haven't received a response!
Surely, the next thing alarming your mind is that whether you should make a follow up call or not.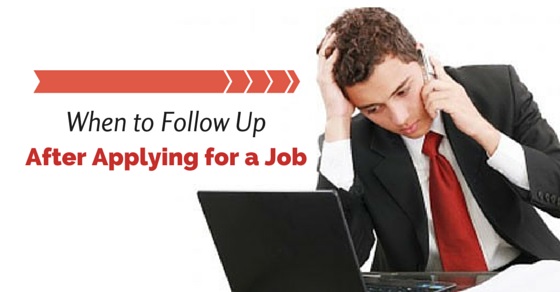 Making a follow-up message is a very crucial step in the process of job search. May be because, you don't know that how the concerned person will react.
But, the vital thing is that, it is essential to follow up, when you don't receive any response within a week or after 10 days are gone.
Moreover, it is also essential that you opt for a follow up process that doesn't seem pesky.
So, read the complete article if you really wish to know the A to Z of when and how to follow up after submitting the resume.
Need to Follow Up Job Leads:
If you opt for a precise follow up process, then this makes the prospective employers believe that you are really enthusiastic and interested to work in their company. This may also give you another opportunity to sell your skills and qualities.
So, if you really want to be sure that your resume does not go unattended, then do follow up once you have applied for the job.
When should I follow up after a job interview? – How to Decide:
Which way you follow up your job leads specifically depends on how you met the employer initially.
Job seekers who are pure extroverts can go for the straight method of talking on the phone. For others, who don't feel comfortable while talking on the phone; can opt to get in touch via email.
No matter to which way you select, there are certain guidelines or tips that you may follow, so in order to be sure that you achieve desired results for your job, from the follow-up process, note points below:
Rules to Follow After Applying for a Job:
1. Be Sure to Take Time to follow up:
After applying for a job, the candidate must take time to follow-up as it is an excellent way to show employers that you are interested to be a part of their company.
2. Read clearly the instructions on the Job application:
Before beginning the follow up process, it is required that you read all directions and instructions on the job application form clearly. This is because, sometimes it is indicated on the form to not contact the hiring manager or do not go for following up.
3. Send an Email or Letter after a Week or Two:
It is suitable to begin the first follow up call via mail or letter after a week of submitting the resume. This will be like investing an additional energy in the given opportunity.
4. Frame Your Messages with politeness:
No matter how much eager you are to know the status of your resume, but it is imperative that you talk in the absolute polite manner.
In case you send an email, then frame the message with the use of decent, polite words only. There is no space for anger or hurry in this step of the job search.
5. Don't make your calls too frequent:
If you are making calls or mail, and still there is no response, then this does not imply that you start calling the company again and again, or every day.
Make it a point that your calls are regular but not so frequent, so that it may annoy the concerned authority.
6. Try contacting with the Hiring Manager:
If you are applying for a job that you particularly want to acquire, then it is better that you carry the follow up process with the hiring manager.
If you are able to do so, then this is the finest way with which you can secure all accurate details of your hiring status.
7. Take it as an opportunity to add more information to the resume:
If you haven't received any response then don't take it negatively. Rather, consider it as an opportunity to add more information in the resume. You can be more specific and add more valuable information to the resume.
8. Send a well written short note to the contact person:
An impressive short hand written note to the contact person can differentiate you from the rest of the generation. It shows that you have to actually put in two more minute's effort in  writing the message and to impress the employers to grab the job.
9. Be Precise in what you wish to say:
Whether you make a call or outline an email, you must highlight your enthusiasm along with the points that is why you are a good fit for the job.
Don't ask the employers only about receiving of the resume; also tell them about your experience and specific skills that may be beneficiary to the organization.
10. Utilize your network in a most eminent way:
Most of the times, managers don't have enough time to respond to every call. Also, they wish to face the disappointment of every rejected candidate.
So, it is wise if you contact directly to the concerned person. You can secure their contact from social networking sites such as LinkedIn.
11. Do check your spam folder:
Many organizations receive high number of job applications at present and they are not able to deliver direct updates to every single applicant.
So, there is a possibility that you need to dig up their responses. It is therefore better to check not only your inbox, but also your email spam folder.
12. Always check the 'close date':
It is essential for job seekers to keep an eye on the close date of job openings. This is because there is no need to follow or call up before the posting is closed, specifically if there is a close date mentioned in the application form.
13. Avoid resending same resume:
In case you wish to send the resume again, then make sure that you don't send the same resume again and again. This will lessen your chances of getting hired as it may seem disorganized and desperate.
So, you can make slight changes or improvise your resume before sending it the second time.
14. Develop a realistic approach:
Even you might be a topper throughout your studies, but you may not secure adequate results from your job application.
For such reasons, it is essential that you develop a realistic approach throughout your process of job search.
15. Don't take rejection personally:
Last, but not the least, if in case you have been rejected in your previous job, then this does not imply that this will happen with the present job also.
So, no need to take the rejection personally, and try to learn from past mistakes in order to secure optimal results in the future.
Conclusion:
Following up after submitting the job application can draw employer's attention to your candidacy and might increase your chances of getting hired.
However, it is vital that you do not pester the employer as that will alter the entire situation.
So, try to carry the follow up process in regular manner, but don't overdo it, unless the employer has recommended otherwise.