It is a fast-paced world and there isn't time to do everything we want. In a single day which has just 24hrs there are ample things to be finished and projects to be completed before deadlines. As we rush and stress on completing things there is no satisfaction in the work we complete.
The situation seems like burning candles on both sides where you need to run your work at one side, take care of your personal stuff on the other side, family and other aspects. Do you have any idea about how to achieve all things without leaving out any? Let's run through a few pointers about how to find time to do everything you want?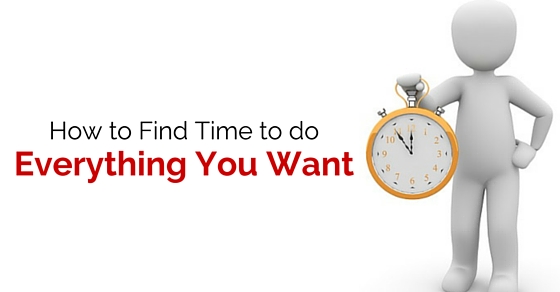 Don't Have Enough Time? How to Find Time To Do Everything:
1. Managing your work:
When you're drenched with loads of work remember that there is work which is tagged as urgent and others as important. Urgent jobs as the name suggests requires immediate attention and insist on us. In the same manner important work is something that has to do with the results.
When you mention something as important it dedicates towards your values, life vision, and enhanced priority goals. To find time to do everything, the basic criteria is to avoid activities which are not important. Try to spend more time on important and urgent activities than on activities that are not important and urgent.
2. Think of possibilities:
You can have a goal in your life and may have a set of desires. Do not rule out anything with regard to time. You may have mass of wants in your life. Make yourself clear and find out which want is possible and important for you. Decide and choose which you want and work towards it first.
3. Getting rid of 'should':
In a day you can face many chores in and around in your family, office, from colleagues, neighbors etc. Take a deep look and find out which task is more important and ignore the ones that are forced from family, friends and society. Work on ones which are really worth and matters a lot to you.
4. Happiness isn't completing all the tasks on the checklist:
When you have a set of task for the day or week, try to do things which are meaningful and enjoyable. Enjoyable work is something great to do and gives complete satisfaction when achieved. Though they may be simple, silly or crazy do the work you enjoy.
5. Tracking time:
One of the best as well as powerful time management techniques is tracking your time. Not all people would try for a time management technique. When you want to find time for everything you want, following time management technique is important. People always have a diary or a food chart when they work for financial management or dieting.
This is because by having a diary or a food chart they are able to see clear picture and makes their actions. In the same manner when an individual tracks time you can clearly find out where exactly your time is going and how you're utilizing your time. By this way you can find out the time you exactly use for the activities you desire to do rather than wasting on tasks which does not bring you satisfaction.
6. Pen down your tasks on a diary:
When you have ample chores to complete in a stipulated time you find it difficult to organize and can put them off easily. The best way to enhance your work is to pop all the tasks in a diary so that you can sort and work accordingly.
7. Saying no:
When you have planned a schedule for any task, remember to follow it without deviating at any cost. There may be many other tasks which may sync along with your schedule and individuals should be bold enough to say no at any cost.
Do not hesitate to say no when you are asked to attend a party, helping neighborhood, or any other commitment. By saying no you are travelling towards each goal in your diary and your part-way to something which you really wanted to do.
8. Focus on time-waster and eliminate them:
Hunt for the various things that you do each day which isn't essential in your list. Take a deep look on these aspects and segregate things which aren't really necessary for you. Once this is done minimize or reduce such things in life.
There are things in your daily routine which you think are necessary but you can always make sure to get rid of them. Few time-wasters in your daily routine can be watching TV, surfing, chatting unnecessarily and lot more. All these time-wasters can be eliminated and time can be dedicated for important stuff. By this way you find time for what you want to do and make you happy too.
9. Consolidating work:
You can have abundant work in a day or week which is scattered throughout. Instead you can always learn to unite and work on your task so that you complete your work and time is also saved.
A good example is errands which can be completed together in a day rather than one or two in a day. By this way, time is saved and work is also completed. In the same manner emailing or any other communication can be batch processed instead of reading, checking or responding throughout the day.
10. Eliminating meetings:
Meetings are something which eats up lot of your time where very little information is obtained. Eliminating meetings is not possible but by discussing with your boss that you have other priorities to do can be one simple way.
Decisions and simple discussions can be made through emails and phone calls, whereas very important tasks can be discussed in a meeting. By avoiding unnecessary meetings you can save an hour or more and concentrate on other tasks.
11. Declutter your schedule:
This is yet another way where you can find time to do everything you want. You might have a tight schedule where you have projects, assignments, meetings, errands and lot more. Since you are jam-packed you can surely weed out some tasks.
Take a look and pick out some chores that aren't necessary and cancel or postpone them. Make your schedule look clear with more of blank spaces so that you perform all tasks with peace and satisfaction.
12. Dedicate time every day for planning:
You have abundant tasks to complete and so make a plan every day for the tasks to be completed that day. Do not proceed your day without making a daily schedule. Dedicate at least 30 minutes each day and plan a schedule. This is considered the most important part of the day which helps you accomplish your tasks.
13. Schedule time for phone calls and emails:
Always have a separate time scheduled for answering phone calls and replying emails. Do not keep answering calls as they come in and replying for emails as they pop in. Try to disconnect instant messaging and do not get yourself instantly available to others unless you're needed. When you're at work, please put a 'do not disturb' sign and keep working. When you avoid such hindrances which are unwanted and work with concentration you can complete your task quickly and move on to the other.
14. Follow 4 D's:
Do it- if the task is important, then take initiatives and do the task with complete dedication and concentration.
Delay it- if you have decided to postpone the task due to some other reason, transfer it to the day it needs to be completed.
Delegate it- if you have decided to assign the task to someone else, then do so immediately.
Dump it- and when you have decided not to do the task, then dump the task and abandon it without fear.
Following these four D's does can also help you get more time so that you can concentrate on others.
15. 3 to do list:
As mentioned earlier you make a daily routine or schedule of tasks every day, make sure to add three main important tasks to the schedule. Do not just make a list of vague tasks; make sure to achieve something each day so that important stuffs are completed each day.
Finally :
These mentioned points are useful and help you to find time to do everything you want each day. For people who are fighting against time and struggling against completing their schedule can run through these points and make each day productive. Time is the basic factor in life which decides each and every task, and so scheduling time and focusing on work are mandatory in order to accomplish all scheduled tasks each day. Make your day productive and start a fresh day in an enthusiastic manner by following the hints mentioned above.