All of us know that to live our life properly first we must find a good and stable job so that our life will go on swiftly. But what if the job we choose isn't of our interest or choice. Sooner or later the job will be a burden to us. A burden which we have to carry for the rest of our lives.
Many dream jobs are comparatively difficult to achieve as there is heavy competition going on and that's why many people choose to abandon their dreams in midway and go for something which will provide them with a stability in life.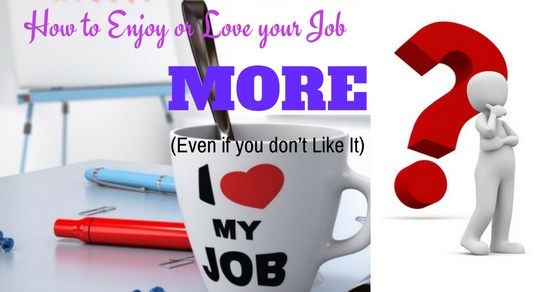 Importance of Loving your Job:
Many people choose jobs in which they are not even interested in only because the salary is good. It will be alright in the starting but as the day pass by, you will feel irritated or sad because you are doing something in which you are not at all interested which will lead you towards monotony or a bad experience.
Kickass Ways to Love Your Job:
It is not easy to get to know about your talents and then find and get a job accordingly. We have to know our interest first. As a child, everyone thinks of becoming something in their life. No matter how unrealistic everybody thinks of something. As we grow up we know what are we good at and what we enjoy doing.
For example, in the course of time, you get to know that your painting talent is good and you can do better if you get a professional training. Then in future, you decide to do something related to your talent. This kind of job will keep you happy as you are enjoying your job. But if you think of giving up on your talent and go for something else then there is no way you will like it much. So here are some ways from which you can enjoy and love your job more.
1. What makes you smile:
Try and find out what makes you happy or smile. Note it down, analyse yourself and think about everything which happens to you and which one makes you happy or sad. No matter how trivial it looks, do that and try to think about it. It will sound quite useless but it really helps to know you better and to make you feel good. You won't find much in the beginning but stay focused and you surely see the increase in a number of the things that makes you smile throughout the day.
2. Ask why?
After the list is completed, try to find out why these certain things make you cheerful. You rejoice some feelings or situation while you don't like few others. As you have already discovered what makes you happy, it won't be too hard to find out why? Take your time and list out everything.
For example, you like having a long drive with your friends. So try and find out why you like it, because of your friends or you actually like driving to distant places. Try to figure these out and you will surely get a good answer.
3. What makes you sad:
This time, try to know what makes you sad or low. This is the complete opposite of the previous ones but it is a necessary evil. This will help to figure out the problems you are having right now with your chores or life.
4. Ask why?
Like the previous one try and find out why these things make you sad or unhappy. If you don't appreciate working in a team, ask yourself why? Is it because you don't feel comfortable with those people or the ideas of those around you hamper your own ideas. Try and figure out the reasons and take notes.
5. List out the good things and bad things in your job:
Have a calm mind and try to list down everything you like in your current job. Ofcourse, if the job isn't of your liking there must be something you like about your job. It's not like that you are continuing your job for absolutely no reason. What in your job makes you happy. Maybe it is your colleagues, canteen, boss or whatever it is. After that figure out the bad things or happenings, the things in your job which you dislike and try to avoid those situations. The things which make you sad or unhappy. It could be anything you think of. Of course, if the job isn't to your liking it will have many, but still think of those and note all of it.
6. Think why you are sad or happy?
After you list out all of these now it's time to think of why are you sad of these things or why are you happy because of those things. You have to think in every aspect and make a note of all of it. It is important as it will help you to figure out yourself and think better of certain situations or conditions.
7. Change the way you look at things:
After you note all these try and ignore bad ones or think of it in a positive way. Look towards the good things. If you don't like something about your job or colleagues then try to sort it out or settle it down. Try and find a solution to the problem. Don't run away from it.
8. Try to work differently:
If your work is getting boring or hectic try and change the way you work. Try to see things in a different aspect. Try new and fun things. Don't be the same and old person which is bore even to himself. Breathe and let the things change. Look up for little changes if possible in your routine or anything you like.
9. Find things you appreciate:
There will be many things you will appreciate about your job. Be thankful to those around you as they helped you grow in a good way. Well, wishers praised you and haters ignited you to do even better in your job. So always be thankful and make sure to pay your gratitude as everything happens for a reason.
10. Try and not mingle personal life with work:
The reason for your bad performance or bad experience or mood can also be because of a recent tragic event that happened in your life. Don't try to mingle the personal affairs with the professional life as it will hamper your own work. Try and stay focused on your work when in office and if you can't then take a break unless you feel better. Talk to a therapist or have a good talk with your friends. Realize how to manage your life with the current downfall in your life.
11. Have good friends:
To lead a peaceful work or personal life you must have a good circle of friends as they have a great influence over your life. A good circle of friends will help you to look at the big or good picture of the work you are currently doing. On the other hand, a bad friend can ruin everything and can make you more sad or worried. You must also have a good friendship with your colleagues. You don't need to incline on them if you don't like them but always have a good relation with them as it can be useful later on.
12. Keep your workplace clean:
You must keep all your belongings of the office or office table clean and should be arranged properly. A messy area will also make you feel irritating or stuffed. A clean area will help you to focus better and stay calm. If you like you can also put the picture of your loved ones so that you will like the space more and you will be happy remembering them.
13. Have a good diet and routine:
A proper balance diet or a healthy and sumptuous food intake will help you to feel better during your work time. A lazy routine will only slow you down. Always have an active and good routine so that you can always stay fit. Have a bath everyday and keep yourself clean as in clean body you will feel much better and will be ready to take on any work as your body and mind will be all refreshed and clean. Make your routine more fun or active. This will keep your brain and body health good. Have a good breakfast before leaving for work and always think positive while doing anything. If you are clean, then staying positive in any condition won't be much of a task.
14. Talk to your manager or boss:
It is necessary to have a face to face conversation with any of your superior as they must know which problems are their employee having right now. You tell what problems you have to the trusted ones and then you can ask for suggestions or advice which may help you to tackle those problems. No matter what the problem is if the person is a helpful listener then don't hesitate to share your concern or views.
15. Ask for more salary:
If you think you deserve more money for your performance then talk about it to your boss. Have a conversation with him properly and don't jump into conclusions. Make him have a look at your current performance and plan the whole conversation from before. Don't rush and take much evidence that you can prove him that you deserve a raise. Also, have a backup plan if he denies, try to console him or have a negotiation with him to what kind of improvement he would like to have to increase your salary.
16. Find a new job if you like:
If you are sad or not liking the current job then you can have a change of job if you like as it can create a change in emotion. If getting another job with a much better salary or a job of your interest then don't hesitate to change places as it will be helpful for you only. Meeting new people and having something better than the previous one is going to rejuvenate your mood always.
So these few ideas will help you to perform better and to love your job more. Always keep in mind that your job is providing you what you need so make sure that you provide your boss a good performance.
A confident attitude and a healthy relationship with your colleagues will always help you to stay calm and happy during your work time. As we know at the end of the day one has to get along with others in work as they are the only ones who can help you during your work. So having a fight with them won't take you anywhere. And ofcourse, try to be more precise and punctual with your work as it will create a good impression on your boss and he can help you get a raise.
Small Tips to Get Going:
Talk politely with your seniors and boss especially. You don't want to be on the bad side of him as it will be a sour situation for you only. No matter how rude your boss is, don't be rude to him as it will only become a bad experience for you as well as for him.
Always stay positive and happy. A smile can make your day good and a sad or lowly face can make others around you feel weird or sad as well. If you want to stay happy with your job you must initiate it yourself as nobody but only you control your emotions. Work hard and stay calm. This mantra will come in handy a lot. Respect others and get respected. Make your colleagues and your boss proud and this will eventually lead you to a better work experience.