The intention behind to dress for business meeting is to establish connections and to make an impression on the fellow professionals in your industry. Thus it is very important for you to be at your best.
Before deciding what to wear, it is essential to know whether there are guidelines set on a dress code for the meeting. If not, employ your greatest judgment to find out what is the level of dressing appropriately for the meeting.
It is without a doubt not appropriate to show up wearing shorts, flip-flops or hoodie.
It is crucial for you to dress like the professional you are or aspire to be. Here are few tips on choosing the best business meeting attire.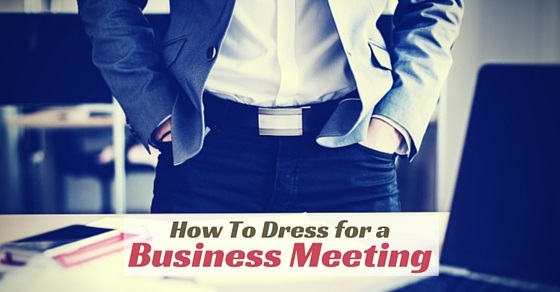 Tips to Dress for Business Meeting:
Learn how to dress for success for business meetings with these tips.
1. Appropriate attire matters:
Employees and managers both agree that appropriate business attire makes people more lucrative.
The professionals must always dress up in accordance to their professionalism. A suit is the best business meeting attire.
Even though a t-shirt or jeans may be appropriate, suit has its own way to make you look highly productive.
2. Business casuals:
Business casuals usually is a combination of classic formals with trendy modern patterns and crop wear pieces.
Business casual for women can be Capri pants or regular well fitted pants or knee length pencil skirts. On it tailored shirts and blouses would be apt.
Never forget to add a blazer or even jacket which goes the same for men and women as well.
Business casual attire for men can be a combination of pants, sweater and a jacket which is another version of business casual yet leaves you looking professional.
3. Extreme skin exposure is not allowed:
Women flashing lot of skin during a meeting will be misinterpreted and it can distract people's attention.
On the other hand, men wearing shorts and t-shirts will be taken as immature, incompetent and unprofessional by others at the meeting.
4. Perfect blouse for women:
For women, a knit or silk blouse or a close weave sweater will be apt. These will help you for not being too revealing.
Ensure that the top you pick must flatter your upper body figure. Go for solid colors and rich hue pattern on silks would be ideal.
5. About the tie:
No doubt ties are pretty essential if men choose the classic formal style of apparel. It will make you look professional.
However when you go for business casuals, ties are not necessary. So make sure you are teaming up all the right pieces for your final outfit.
Choose a good quality tie made of high quality fabric such as silk. Go for subdued patterns or color and not any character prints.
6. Match the belt with suit or the shoes:
Not any piece of your apparel should be missed out and mismatch with your entire success look. When choosing a belt go for a color that matches your suit or the color of your shoes.
7. Match trousers to jacket:
In business casual, if you are going for the two piece suit, it is the best.
However if you are buying trousers separately make sure it matches the color of your jacket.
8. Go for the perfect fit:
Whether you choose to wear a business casual or formal suit, the crucial thing to keep in mind is that all the pieces of the proper attire must fit you perfectly.
It looks really unsuitable when your clothes are tight for you, conversely, when your clothes are loose for you, it might appear as if you have borrowed them, or were the clothes before you lost your weight and you forgot to buy new ones.
9. The right fit:
Pay attention to the cuts and fit of the business formal attire and make sure it suits your body shape.
When you wear a suit, the shoulders must sit square and the trouser end should be right before the shoe line.
10. Consider khakis:
In business wear, khakis are common for both men and women. It is really ideal to stand out in a meeting. Make sure the khakis are well ironed and wrinkle free.
11. Match the socks with your trousers:
It goes for both the sexes. Black color socks are versatile and the most common ones, however you may want to match your sock's color with the color of your shoes or trousers so that it blends with your entire outfit.
Avoid socks that are colored or have flashy patterns or even a white colored one.
12. Hosiery for women:
Sometimes it is necessary for women to opt for hosiery for skirts, or some trousers as well.
You do not expose a lot of skin with the help of these and make others to pay attention to what you have to present and say other than anything else.
13. Attention to details:
Your clothes should be clean, fresh as well as ironed. Ensure you do not have any loose buttons or unwanted creases or even stains. Pay attention to grooming; nails must be clean and short.
For women, avoid wearing extremely funky nail paints and if you choose to apply nail paint then wear a lighter shade, suiting your outfit. Avoid chipped nails. Men should polish their leather shoes.
14. Your shoes speak a lot about you:
Women can wear the classic low-heeled black shoes. However for one to look and feel more confident, high-heeled shoes will be ideal.
It is not necessary your shoes have to be black; you can go for the color that will compliment and match the rest of your outfit.
Men must always go for leather oxford shoes. Make sure it matches the same color as the trouser or a shade darker. .
15. It's incomplete without a hairstyle:
Your entire professional business attire will fail if you lack the perfect hairstyle that goes well with your apparel. People in the meeting should not be distracted by your scruffy, messy hair.
Men must trim the hair well and women must take care that their hair is not falling over their face, as it will just not distract you but the others in the meeting.
So women can select from tying their hair into a loose ponytail or a bun. These can be easily done by using a hair band and totally reflects elegance.
16. The perfect amount of makeup:
Make sure you are wearing a light perfume, appropriate for daytime and is not overpowering.
The overpowering smell of a perfume may linger around the room for hours and disgust the people in the meeting. Women must go for natural look while doing their makeup for a meeting or work.
17. Accessories to display elegance:
One must wear a watch that is simple yet elegant to display success and professionalism. In case you have colorful watches, ensure that they match your casual business attire. But a timeless leather banded watch is ideal.
Women should avoid wearing earrings and necklaces that are huge or flashy. A single, simple and elegant piece of jewelry on one will be enough to speak taste. Avoid being a hipster at the meeting.
18. Regard any social or cultural influences:
If the business meeting is with international clients, you need to do a little research as to what is appropriate and what is not.
It implies what attire their business dress culture considers professional; it can mean covering up a little more or upgrading your overall look for decorum.
19. Consider your seniors or clients:
Try to dress up to the same level as your seniors or your clients.
For instance, if the meeting is with high level executives who wear and prefer suits, dress up in the same manner.
20. Stand by comfortable clothes:
You would not want synthetic materials as they trigger sweat, which is unacceptable at the time of a business meeting. Opt for crease free cotton material clothes which will allow your skin to breathe.
21. Proper handbag:
You undoubtedly require a handbag as you do not want to enter a meeting room with all your personal stuff hanging out from your hand.
To look organized is highly essential if you want to appear professional. Men and women must invest in a good corporate handbag which is timeless and stylish.
Select a black color handbag or a color that matches your outfit for the meeting.
22. Be confident and feel comfortable:
Dressing up for a business meeting is about developing your own style statement.
Since you are representing a position with specific power, you must not take risks with the business opportunities by wearing odd clothes.
It doesn't confine you to only wearing suits that are sometimes uncomfortable or shirts that you dislike. Discover your best suit for a formal attire in which you feel comfortable and self assured.
Dress for Success: What to Wear to a Business Meeting
The dress you wear tells a lot about you, especially at the professional front. So when you are out for work or a business meeting your outfit should be professional and impressive.
Dressing appropriately makes you have a stronghold in the meeting. Also, it gives you confidence and worth to perform well at work.
Now if you are also one who is confused before every meeting on what to wear, then continue to read on as you are at the right place.
Here we have enlisted a few tips for both men and women on what to wear for a business meeting.
Formal Meeting:
When the meeting is of formal types like board meetings or annual general boarding or an online conference, you should always have an executive look. So professional attire is the right choice when attending formal meetings.
For Men:
Attire: A formal suit
What to Wear:
Shirt: Plain white or a simple light color
Suit: A 3 or 2 piece suit, navy, black or dark brown colored
Accessories: Watch, matching tie, leather belt, and cufflinks
Shoes: Black or brown laced
For Women:
Attire: A formal suit
What to Wear:
Top: Chiffon or cotton buttoned-up shirt in a light color
Bottoms: wide-legged trousers or tailored trouser suit in a dark color
Skirt: Black or tweed pencil skirt
Dress: A high-neck A-Line dress
Accessories: Watch, simple jewellery, and a structured bag
Shoes: Court shoes or brogues
Business Casual Meeting:
The right dress for such causal meetings depends upon the company's behavior toward their employees. While few prefer professional attire some others do not mind wearing something casual.
For Men:
Try something casual and comfortable
What to Wear:
Blazer: Drak color (optional)
Shirt: Buttoned-up shirt, collared shirt
Bottoms: Jeans, chinos or simple trousers
Accessories: A belt matching the shoes and a watch
Shoes: Boots or brogues
Outerwear: In winter season a wool jacket or a trench coat
For Women:
Try something fashion-friendly
What to Wear:
Top: simple jersey top, turtleneck or a chiffon shirt
Bottoms: chinos or structured wool trousers
Skirt: Midi skirt or a Pleated A-line,
Dress: Bold colored bodycon dress
Accessories: Light jewellery and a watch
Shoes: Brogues, loafer or high heels
Outerwear: A pea coat or trench coat
Quick Instructions:
As per di Giusto, "In general, paying attention to the visual details of your look conveys preparation, planning, and respect for those whom you meet"
Wear something comfortable
Be confident
carry minimum accessories
Have a light makeup
Use only a mild perfume
Have a neat and right hairstyle
Choose the right fit
Do not show too much skin
Conclusion:
Following the above-mentioned business meeting attire tips, you will recognize the importance of being dressed for success.
For a business meeting, go for a suitable style for you, let business clothes speak for you and leave an impression on the others of your field of you as a credible and successful expert in the field. The next time you are preparing for your meeting, take some time to prepare to look your best at the meeting as well.
Save